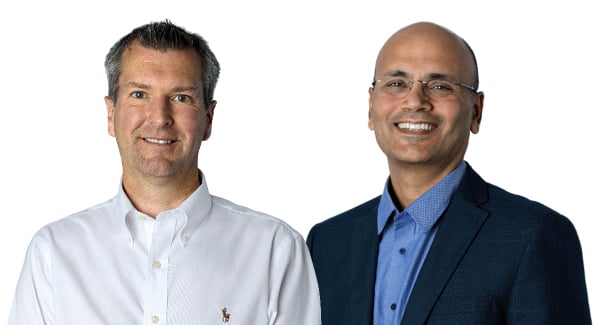 London, United Kingdom – Asite has announced the appointment of Devendra Gera as its new Chief Technology Officer (CTO) and Tony Pickworth as Chief Financial Officer (CFO).
---
These appointments are both promotions from within and highlight Asite's commitment to continue strengthening its leadership team. Devendra and Tony both bring a wealth of experience to their new roles.
Devendra has been with Asite for over 18 years; his most recent role as Technical Director focused on leading Asite's technological innovations and developments. Responsible for the design, development and delivery of Asite's platform and global technology partnerships, Devendra will play a vital role in ensuring the continuous improvement of platform security and compliance as well as supporting our growing ecosystem of Asite partners.
Tony joined the business in 2016 as Finance Director. Prior to joining Asite, Tony worked at Board level for various technology businesses, helping them to achieve their strategic goals in the capital markets through organic growth. Tony will oversee financial governance and the general well-being of the company as it increases its global footprint.
Nathan Doughty, Asite CEO, said:

"As part of our strategic plan to become the global leader in digital engineering, we're building the underlying foundations for a stronger business, and I'm pleased to welcome Devendra and Tony onto my executive leadership team.

Devendra was the first person I hired at Asite in 2002, and has been with us every step of the way as we've built a world-beating platform to integrate supply chains for capital projects and infrastructure developments around the globe. Since joining the team in 2016 Tony has put in place the financial reporting structures we need to move us forward into the next stages of our growth as a business.

Our success is driven by passionate and innovative people, and both Devendra and Tony's leadership will help to drive continued growth and development across the Asite Group."
---
Asite's vision is to connect people and help the world build better.
Asite's open construction platform enables organizations working on capital projects to come together, plan, design, and build with seamless information sharing across the entire supply chain.
Asite's comprehensive range of solutions connect dispersed teams across the lifecycle of capital assets, enabling them to build better and build resilience. With Asite, capital project owners stay at the forefront of innovation, maintaining a golden thread of information throughout a project to facilitate the creation of digital twins.
Asite is headquartered in London's Tech City with regional offices in New York, Houston, Dubai, Riyadh, Sydney, Hong Kong, and Ahmedabad.
For more information about Asite, please contact sales@asite.com
Asite Insights in your inbox.
Sign up for product news and our latest insights published monthly. It's a newsletter so hot, even global warming can't keep up.