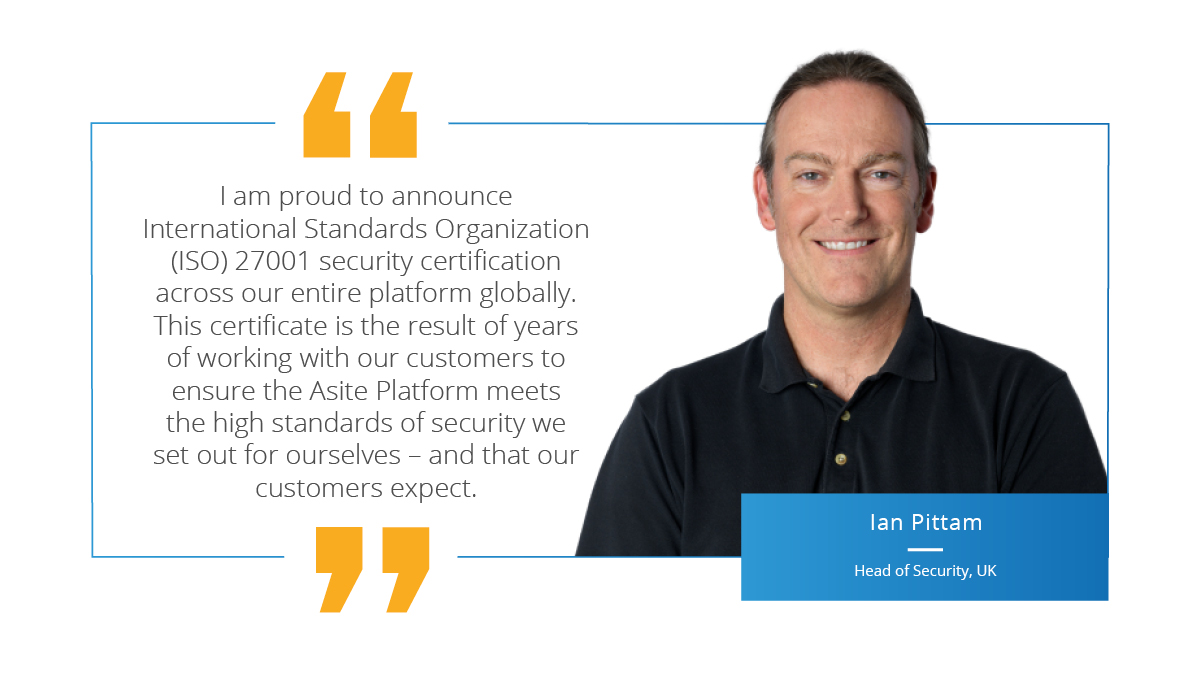 The International Standard Organization (ISO) 27001 designation is considered the global gold standard in information security
London, United Kingdom (October 2020) – Asite is delighted to announce it has received the International Standards Organization (ISO) 27001 security certification across all its products, services, offices, and operations globally.
The ISO 27001 designation is considered the global gold standard in information security. The international standard outlines best practices for an information security management system (ISMS), which is a framework of policies and procedures that includes all legal, physical, and technical controls involved in an organization's information risk management processes.
The new certification highlights Asite's longstanding commitment to ensuring unparalleled security and reliability to its clients.
Ian Pittam, Asite Head of Security said:

"I am proud to announce International Standards Organization (ISO) 27001 security certification across our entire platform globally. This certificate is the result of years of working with our customers to ensure the Asite Platform meets the high standards of security we set out for ourselves – and that our customers expect.

At Asite, we are committed to providing our clients with a secure platform they can rely on to be the single source of truth for their capital project and asset data. Security is of the utmost importance to the team, and we remain wholly dedicated to delivering a world-class Software as a Service Platform and to helping the world build better."
The attainment of the new certificate follows a six-month assessment process by independent experts, and builds on Asite's existing information security controls which ensure all areas of the network are protected. It guarantees that Asite's clients can expect precise and continuous management of information security risks.
Implemented controls include security-by-design product development, data encryption, vulnerability management, business continuity and disaster recovery plans, and much more.
This new certification is in addition to the long-standing ISO 27001 certifications of Asite's global data center partners, reflecting the quality of operations and excellence of the Asite service. The Asite team manages a global platform with underlying data centers spread across the UK, EU, USA, Middle East, and Australia-Pacific regions.
---
Asite's vision is to connect people and help the world build better.
Asite's open construction platform enables organizations working on capital projects to come together, plan, design, and build with seamless information sharing across the entire supply chain.
Asite's comprehensive range of solutions connect dispersed teams across the lifecycle of capital assets, enabling them to build better and build resilience. With Asite, capital project owners stay at the forefront of innovation, maintaining a golden thread of information throughout a project to facilitate the creation of digital twins.
Asite is headquartered in London's Tech City with regional offices in New York, Houston, Dubai, Riyadh, Sydney, Hong Kong, and Ahmedabad.
For more information about Asite, please contact sales@asite.com
Asite Insights in your inbox.
Sign up for product news and our latest insights published monthly. It's a newsletter so hot, even global warming can't keep up.