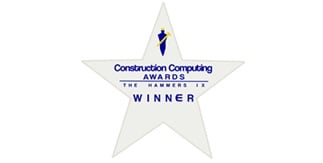 The winners of the 2016 Construction Computing Awards were announced last night at a gala event at BMA House in London where Asite sponsored a delightful Champagne reception with our super-friendly mascot Adoddle on hand to greet guests and take selfies! Over 180 supporting guests gathered to see the outcome of the readers' online voting and judging panel's deliberations.
After the Champagne reception, following a short speech from Francesca Roberts representing charity CRASH and a superb 3-course dinner the 2016 awards ceremony then commenced and the results of the voting and judges' deliberations where shared. Asite wishes to congratulate all winners and nominees. We would also like to thank our loyal voters and users for all the support! Tony Ryan, Asite's Group CEO said; 'It was great to catch up with the great and the good of this industry of ours at Adoddle's Champagne reception before dinner. We were delighted to pick up the award, it meant more to me that it was our new young talent that made it happen. They celebrated in style when the tunes came on by giving us a team dance display - so proud - well done Ateam, and a big thanks to the organisers for such a great event'
Asite went on to win the 'Collaboration Project' of the the year award for outstanding work with our client, Royal Haskoning DHV globally. Asite were also runners up in the following categories; Product of the Year: Adoddle and Best use of IT on a Construction Project: Imtech's BBC Studio refurb project in London where Adoddle is the Enterprise Common Data Environment (CDE).
All the Videos and photos of all the action will be available soon and there will of course be a full round up of the evening in the next issue of Construction Computing Magazine.
About Asite
Asite's cloud technology gives everyone involved in construction projects access to key information online. It allows for increased collaboration, fewer mistakes, reduced rework, and time and cost savings. Asite's Adoddle platform allows firms to store and manage all project data in one central and secure repository. It also enables customers to fully customize the structure of their content with highly controlled access and rich configurable workflows to allow project controls. The Adoddle platform is used by leading architecture, engineering and construction firms, as well as property owners world-wide to manage their largest and most demanding capital investment programs.
Adoddle helps people manage their projects and supply chains collaboratively; accessing the information they need, when and where they need it. It enables AEC companies to measure and track capital projects and asset operations.
Asite was founded in 2001 and is head quartered in London's Tech City in the UK, with North American operations based in New York, and regional offices in Australia, India and South Africa.
For more information, please visit http://www.asite.com
Asite Insights in your inbox.
Sign up for product news and our latest insights published monthly. It's a newsletter so hot, even global warming can't keep up.