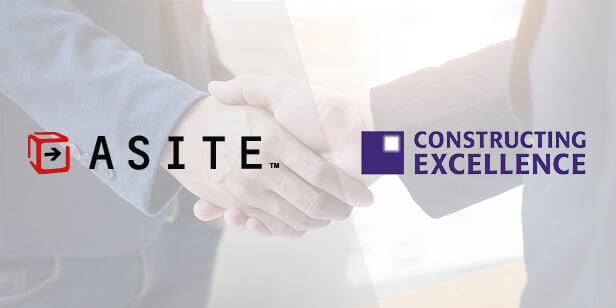 Through this new partnership Asite will work to transform the sector and help UK companies build better
---
London, United Kingdom (January 2020) – Asite is proud to announce that it is the newest National Member of Constructing Excellence.
Through joining this platform Asite is committed to stimulating debate and driving much needed change in the construction sector.
As one of the only market players who provide their clients with a fully integrated and seamless platform which enables open information sharing across the supply chain, Asite is looking forward to bringing their own unique expertise to the movement.
Nathan Doughty, Chief Executive Officer at Asite said:

"The construction industry is experiencing continual disruption which is dramatically changing the way we design, build and collaborate. Asite is excited to re-join Constructing Excellence as a National Member. We look forward to using our long experience and client-centric approach to connect people and to help deliver better project outcomes in the UK."
All members of Constructing Excellence share one vision; change through innovation and collaboration. They set the agenda and are the driving force behind the movement.
Through working groups and forums, Asite will help explore key issues that are impacting the industry and use their expertise to help drive change.
Alison Nicholl, Head of Constructing Excellence said:

"We are delighted to welcome Asite on board. Systemic change in the construction industry relies on the entire sector coming together to solve problems and find solutions and innovative companies like Asite have many of the solutions we need to transform the sector.
Asite and Constructing Excellence share a vision of connecting people and digitally enabling teams to work collaboratively. This shared vision will be at the heart of the work Asite does with Constructing Excellence.
Constructing Excellence have a number of key strategies they are working on for the coming year and beyond. Transforming performance, driving change in the sector, building KPI capability and sharing best practice are just some of the areas Asite is looking forward to developing with Constructing Excellence.
Members of Constructing Excellence range from across the entire supply chain, including BIM Academy, Crossrail, Bre, WSP, University of Reading, Imperial College London, Environment Agency, Institute for Collaborative Working and Heathrow Airport.
---
Asite's vision is to connect people and help the world build better.
Asite's open construction platform enables organizations working on capital projects to come together, plan, design, and build with seamless information sharing across the entire supply chain.
Asite's comprehensive range of solutions connect dispersed teams across the lifecycle of capital assets, enabling them to build better and build resilience. With Asite, capital project owners stay at the forefront of innovation, maintaining a golden thread of information throughout a project to facilitate the creation of digital twins.
Asite is headquartered in London's Tech City with regional offices in New York, Houston, Dubai, Riyadh, Sydney, Hong Kong, and Ahmedabad.
For more information about Asite, please contact sales@asite.com
About Constructing Excellence
Constructing Excellence is a platform from which to stimulate, debate and drive much needed change in the Construction sector. Their thought leading members from the entire supply chain – clients, industry and users – share a vision for change through innovation and collaboration.
Constructing Excellence is funded and governed nationally by corporate membership, and invites anyone who wants to be part of the change process to become active members. For more information about Constructing Excellence click here.
Asite Insights in your inbox.
Sign up for product news and our latest insights published monthly. It's a newsletter so hot, even global warming can't keep up.