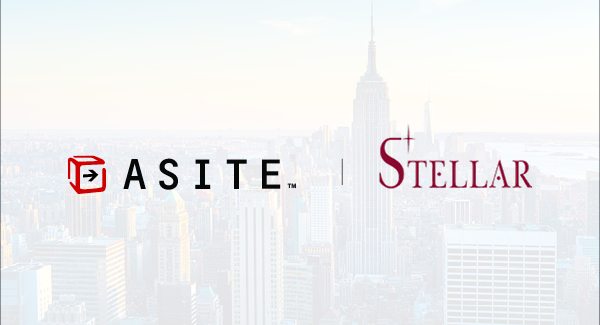 The partnership will help expand opportunities for Asite in North America and continue to help the platform grow in the region.
New York, NY (February 2021) –Asite is excited to announce that Stellar Services, a capital project management software solutions company, has joined the Asite Ecosystem.
Stellar Services brings an arsenal of sophisticated technology and expertise, including operational excellence through a high functioning IT infrastructure to several sectors including E&C, Energy, Utilities, Transportation, and Government.
By partnering together, Stellar Services will expand Asite's reach across the construction industry throughout North America, helping Asite to build new relationships with construction and engineering organizations, streamlining their processes and improving collaboration across their supply chains.
Chris Peters, Senior Vice President North America said:
"Stellar opens up a breadth of opportunity for Asite by providing us access to an array of industries in North America.

We are excited to grow our reach in the region in a way that is valuable for our customers, and meaningful for both Asite and Stellar.

With two decades of experience under their belt, we look forward to partnering with them and helping provide efficient technical solutions to capital projects in the region."
Liang Chen, Stellar CEO and President said:
"Stellar Services has over 27 years implementing capital project management software solutions, working with our clients to help them select the "best" solution for their needs. Partnering with Asite enables us to do exactly that.

Asite is at the forefront of digital transformation, providing an open platform for construction and engineering organizations that challenges today's long-standing solutions in the North American marketplace. Our partnership with Asite will allow us to broaden the options available to our clients, providing them with flexible licenses and the comprehensive cloud solutions they require.

We're looking forward to a long term partnership with Asite."
An expanded customer base, bids, and government RFPs will be available for Asite through the partnership helping improve capital projects in a cost-effective way. The partnership will also broaden the arsenal of technology available to Stellar's clients by providing flexible licensing options and allowing clients to access the broad range of functionality available on the Asite Platform.
With over 100 projects with government agencies, commercial and private industries, Stellar ensures that all solutions are unique to client needs by working one on one and implementing efficient systems and processes.
The new partnership will support Asite and its product offerings in the region, including the Asite Project Portfolio Management (PPM), the Asite Supply Chain Management (SCM), and the Asite Asset Performance Management (APM).
Asite's products enables all project stakeholders to seamlessly collaborate across the asset lifecycle, ensuring information is maintained in a secure, central location and enabling projects to build better.
To join or learn more about the Asite Ecosystem, which reduces project costs by allowing clients to expand their capabilities and offerings without having to implement new software, click here. Alternatively, to find out more about how the Asite Platform can transform your projects, speak to a member of the team or Book a Demo.
---
About Asite
Asite's vision is to connect people and help the world build better.
Asite's open construction platform enables organizations working on capital projects to come together, plan, design, and build with seamless information sharing across the entire supply chain.
Asite's comprehensive range of solutions connect dispersed teams across the lifecycle of capital assets, enabling them to build better and build resilience. With Asite, capital project owners stay at the forefront of innovation, maintaining a golden thread of information throughout a project to facilitate the creation of digital twins.
Asite is headquartered in London's Tech City with regional offices in New York, Houston, Dubai, Riyadh, Sydney, Hong Kong, and Ahmedabad.
For more information about Asite, please contact sales@asite.com.
About Stellar Services
Stellar Services purpose is to provide customers with the benefits of high functioning IT infrastructure and later expanded to to include project and business management solutions to some of the largest public and private organizations. They bring an arsenal of sophisticated technology to the field, and work one on one with our clients to ensure that the solutions fit their unique needs.
The solutions company has worked in a wide variety of industries including education, energy, utilities, pharmaceutical and several veins of the transportation industry covering ports, subways, metropolitan transportation, airports and airlines.
By trusting Stellar to put these solutions into place, clients have greatly benefited from notable improvements which were a result of efficient systems and processes, while drastically reducing their costs.
To learn more about Stellar Services, click here.
Asite Insights in your inbox.
Sign up for product news and our latest insights published monthly. It's a newsletter so hot, even global warming can't keep up.