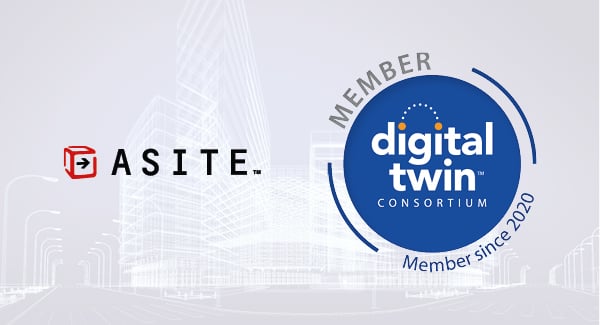 Asite to drive the use of digital twins worldwide with global Consortium of leading industry, academic, and government entities
Houston, Texas (December 2020) –Asite is now a member of Digital Twin Consortium. Through its membership, Asite will work with the industry Consortium to help accelerate the digital twin market and demonstrate the value of digital twin technology.
Digital Twin Consortium are an open and collaborative global ecosystem of technologists, who define the standards requirements, architectures, and open-source code, and identify gaps in these areas.
Asite firmly holds that the key to safeguarding the AEC sector's digital future lies in the openness of its technologies and is looking forward to working with the group on these shared values.
Nathan Doughty, Asite CEO, said:
"We are excited to be part of this expert community, driving the adoption of digital twins and advancing research and development in the space. Asite has developed a robust digital engineering strategy, of which digital twin technology is at the center.

Asite was built around the principles of collaboration and openness in the technology space, and our membership with Digital Twin Consortium allows us to further pursue these goals. We look forward to bringing our own expertise and knowledge to the Consortium as well as learning from our peers."
Dr. Richard Soley, Digital Twin Consortium Executive Director, said:
"We are delighted to have Asite as a member of Digital Twin Consortium. Their knowledge and experience in managing supply chains in the infrastructure industry will be valuable to our members as we work to advance the widespread use of digital twins across industries."
The Asite Platform provides infrastructure and capital projects with the capacity to develop comprehensive digital twins. Correspondingly, the Consortium is dedicated to driving the widespread adoption, use, interoperability, and development of digital twin technology.
Digital Twin Consortium is a program established by the Object Management Group® (OMG®) – an international industry standards association for a range of technologies. The goal of the Consortium is to be 'The Authority' in Digital Twin technology as it relates to policy, security, interoperability, and overall development of digital twins, accelerating the market and guiding outcomes for users.
---
About Asite
Asite's vision is to connect people and help the world build better.
Asite's open construction platform enables organizations working on capital projects to come together, plan, design, and build with seamless information sharing across the entire supply chain.
Asite's comprehensive range of solutions connect dispersed teams across the lifecycle of capital assets, enabling them to build better and build resilience. With Asite, capital project owners stay at the forefront of innovation, maintaining a golden thread of information throughout a project to facilitate the creation of digital twins.
Asite is headquartered in London's Tech City with regional offices in New York, Houston, Dubai, Riyadh, Sydney, Hong Kong, and Ahmedabad.
For more information about Asite, please contact sales@asite.com
About Digital Twin Consortium
Digital Twin Consortium coalesces industry, government, and academia to drive consistency in vocabulary, architecture, security, and interoperability of digital twin technology. It advances the use of digital twin technology from aerospace to natural resources.
Digital Twin Consortium is open to any business, organization, or entity with interest in digital twins committed to using them throughout their operations and supply chains and capturing best practices and standards requirements for themselves and their clients.
Asite Insights in your inbox.
Sign up for product news and our latest insights published monthly. It's a newsletter so hot, even global warming can't keep up.