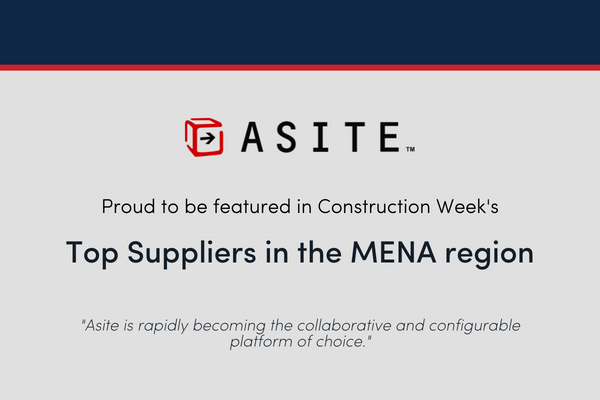 "Asite is rapidly becoming the collaborative and configurable platform of choice." – Construction Week Middle East
Middle East (August, 2022) – Asite is delighted to be named as one of the Top Suppliers in the MENA region by the premier digital and print publication for the Middle East's construction and engineering sector, Construction Week Middle East.
The Asite Data Platform is integral to the operations of more than 62,000 organizations worldwide and has a growing client base in the MENA region and globally.
Rob Clifton, COO at Asite, said:
"Over the last few years, we have grown considerably in the region, opening our first data center in 2020, followed by further coverage across the Middle East. We've grown our team tenfold and work with many exciting clients who are leaders in their respective sectors."
As the construction sector moves to a more collaborative delivery model, the Asite Data Platform facilitates this collaboration by providing a single source of real-time project and asset information.
It reduces the risk of errors and potential for disputes, whilst providing clients with fully auditable project and asset information. By delivering shared visibility, project teams make fewer mistakes and deliver time and cost savings across the complete asset lifecycle.
The Asite Platform collaborates with existing client tools and software, ensuring minimal disruption from a user perspective—a single source of data with over 50 APIs with external systems. It is intuitive, compliant with ISO 19650, and has the highest levels of data security.
Ensuring Data Sovereignty for Construction Projects in the Middle East
To ensure the needs of all clients in all regions are met, Asite holds server grids globally in its key operating locations. This ensures optimum data management processes that meet local requirements. Unlike many of its competitors, Asite has two data centers in the Middle East, one in the Kingdom of Saudi Arabia and a second in the United Arab Emirates.
In KSA, the data center maintains stringent compliance standards with the following certifications: ISO 9001, ISO 27001, ISO 14001, ISO 18001, ISO/IEC 27017:2015, and ISO/IEC 27018:2014.
While in UAE, the data center maintains stringent compliance standards with the following certifications: ISO 9001, ISO 27001, ISO 22301, ISO 20000, ISO 14001, OHSAS 18001, PCI DSS, and ISAE3402/SSAE16 Type 2.
These certifications reflect the quality of operations and excellence of the Asite service.
Several organizations in the Middle East, including a leading property developer in UAE, trust Asite with their project portfolio. They are seeing the benefits and security of the guarantee that their data remains in the region.
Asite's data centers command a world-class disaster recovery service model. Here, they deliver failovers in the event of an unplanned incident, natural or human-induced, by seamlessly transferring operations to a reliable backup and ensuring the seamless recovery of data.
Asite's Commitment to the MENA Market
Asite is rapidly becoming the collaborative and configurable platform of choice and is quickly growing throughout the MENA region.
With an established team based in both Riyadh and Dubai, Asite's customer and professional services teams support the implementation of its customizable data platform.
The opening of in-country data centers in 2020 was a move by Asite to strengthen its commitment to the KSA and UAE market and ensure project information for the region stays in-region.
This is a huge step forward in expanding the digital engineering capacity of the local market. The move also helps ensure data compliance and security, improves the performance of data management processes for regional projects, and provides the fastest possible response times when completing day-to-day project tasks.
For more information about the Asite Platform, visit asite.com or email sales@asite.com, or call +966 11 836 3902.
---
About
Asite
Asite is the world's leading data platform for the built environment, helping organizations come together, plan, design, and build with seamless information sharing across the entire supply chain. 
Founded in 2001, the Asite Platform has been used widely across the globe as the go-to- project management platform for complex, capital projects, including Dubai International Airport, Thames Tideway, and Australia's Bushfire Recovery Program. 
Today, more than 62,000 organizations, including Laing O'Rourke, Goldman Sachs, Transport for London (TfL), Aldar Properties, and the New York City Metropolitan Transportation Authority (MTA), utilize Asite's cloud-based Data Platform with their 127,000 projects and over 53 million files.   
Asite is headquartered in London with regional offices in New York, Houston, Amsterdam, Riyadh, Dubai, Sydney, Hong Kong, and Ahmedabad.  
For more information, visit www.asite.com.   
Asite Insights in your inbox.
Sign up for product news and our latest insights published monthly. It's a newsletter so hot, even global warming can't keep up.