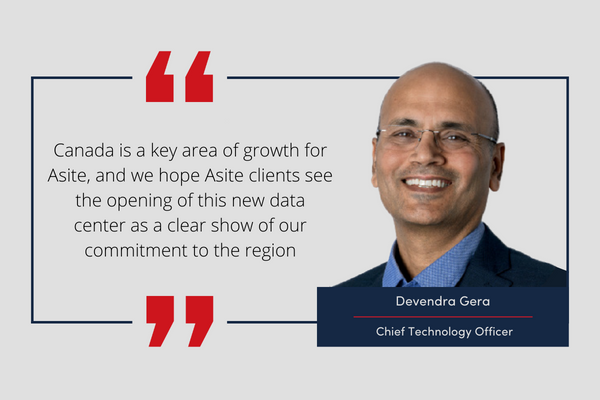 The new data center will support infrastructure developments and capital projects
across the country
New York (November 2022) – Asite is pleased to announce the opening of a new data center in Canada.
Serving Asite customers throughout the country, the data center will support infrastructure developments and capital projects in the region, ensuring that information for projects within Canada will remain in Canada. This latest expansion is part of the Asite platform's broader North American growth and marks Asite's fourth data center in North America and the first outside of the United States.
The primary Canadian data center is in central Canada, with secondary disaster recovery facilities in Québec.
Devendra Gera, Asite Chief Technology Officer, said:
"The opening of Asite's newest data center in Canada marks another milestone in our commitment to ensure the data and intellectual property of our clients is securely stored in accordance with the local regulations of our customers' projects.

Canada is a key area of growth for Asite, and we hope Asite clients see the opening of this new data center as a clear show of our commitment to the region."
The data center has the following certifications: ISO 9001, ISO 27001, ISO 22301, ISO 20000, PCI DSS, along with SOC 1, 2, and 3. This ensures it maintains stringent compliance standards.
Like all Asite deployments globally, it also incorporates a world-class disaster recovery service model that will deliver failover in the event of an unplanned incident, natural or human-induced, by seamlessly transferring operations to a reliable backup and ensuring seamless availability of data.
The opening of the new data center in Canada follows the recent openings of Asite data center deployments in the Kingdom of Saudi Arabia, and in the European Union, marking huge steps forward in expanding local platform access across the globe.
Asite holds server grids in each of its key operating locations globally, across multiple distinct underlying providers, to ensure optimum data management processes that meet local requirements. Data centers are currently in the United States, United Kingdom, Australia, Saudi Arabia, the European Union, the United Arab Emirates, and now Canada.
To find out how your project or organization could benefit from using one of the construction industry's most secure cloud platforms for building and maintaining assets, please contact sales-canada@asite.com or call (212) 201-0730.
---
About Asite
Asite is the world's leading data platform for the built environment, helping organizations come together, plan, design, and build with seamless information sharing across the entire supply chain.
Founded in 2001, the Asite Platform has been used widely across the globe as the go-to project management platform for complex, capital projects, including Dubai International Airport, Thames Tideway, and Australia's Bushfire Recovery Program.
Today, more than 62,000 organizations, including the New York City Metropolitan Transportation Authority (MTA), Goldman Sachs, Laing O'Rourke, Transport for London (TfL), and Aldar Properties use Asite's cloud-based Data Platform for their 127,000 projects and over 53 million files.
Asite is headquartered in London with regional offices in New York, Houston, Amsterdam, Riyadh, Dubai, Sydney, Hong Kong, and Ahmedabad.
For more information about Asite, please contact sales-canada@asite.com
Asite Insights in your inbox.
Sign up for product news and our latest insights published monthly. It's a newsletter so hot, even global warming can't keep up.