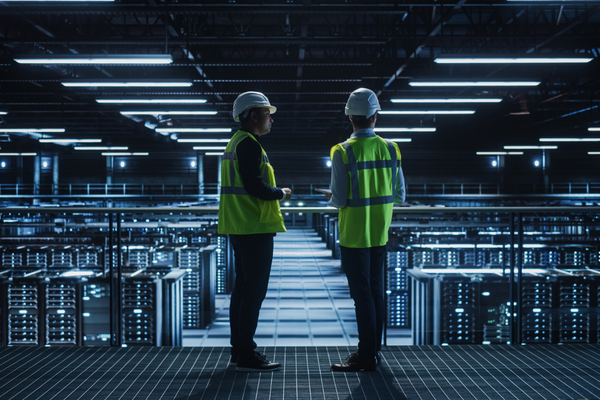 Cloud computing is revolutionizing how the Architecture, Engineering, Construction, and Operations industry does business.
In fact, according to Dropbox, 75% of construction companies use cloud storage. At the same time, the Associated General Contractors of America (ACG) have the number of construction contractors using or planning to use various cloud-based solutions at 85%.
With this move to the cloud comes the powerful data generated by organizations and projects. This comes with its own complexities and questions organizations want the answers to, including:
- How and where is project data stored?
- Is my data secure?
- Who protects my data?
- How do I harness and manage the data for maximum sustainability and efficiency?
Data sovereignty is quickly becoming a hot topic in the AECO industry.
But what does it all mean? Why is it so important?
---
What is Data Sovereignty?
Data sovereignty is not a law itself. Instead, it refers to digital data that is subject to the laws and governance of the nation where it is collected and processed.
For example, if you are an Australian company but the data you use is collected and located in the United Kingdom, you must comply with UK data law.
According to Auvik—a cloud-based network management software—data sovereignty "compels businesses to develop solutions that ensure they comply with relevant nations' data privacy and security laws. This means being aware of domestic and international data privacy laws. It might also require developing new infrastructure or using an existing one to collect, process, and store data so that it complies with relevant data sovereignty requirements."
What's the big deal? Due to the stringent nature of data sovereignty, your business could face huge fines if they do not abide by regional regulations. To avoid a million-dollar bill coming through their door, organizations have different responsibilities for data in different countries and regions. This helps to ensure they comply with relevant data privacy and security laws.
As more and more companies move to the cloud, privacy and data storage concerns continue to rise. It's interesting how large numbers of countries have begun to adopt or change their data sovereignty laws. Today, more than 100 countries have data sovereignty laws.
If you work for a large business operating across regions, this means a huge task to ensure your organization complies with all relevant regulations.

Managing and Protecting Your Construction Data
Let's look at data centers.
According to CloudScene—a marketplace platform connecting network buyers and sellers—there are over 8,000 data centers around the world.
As the name suggests, they are physical facilities equipped with computing and networking infrastructure to securely store, process, and access large amounts of data. This makes them vital to the daily functions of companies and people worldwide.
As Savills—the British real estate services company—states, "to compete for data sovereignty business, cloud and SaaS cloud providers need to offer multiple data center locations based on local regulatory requirements."
For the AECO industry, data centers host their critical data.
Ultimately, ensuring their project data is protected is the highest priority for most businesses. For many, this boils down to ensuring their data stays in its country of origin. For example, UK project information remains in the UK.
Many companies—most notably government projects—are hesitant to move to the cloud due to concerns about their data being stored outside the region.
---
Asite's Global Data Centers
Asite is the world's leading data platform for the built environment, helping organizations come together, plan, design, and build with seamless information sharing across the entire supply chain.
In line with Asite's operating model—a global platform of cloud services delivering for businesses worldwide—Asite works tirelessly to ensure the needs of all clients in all regions are met.
Unlike many of its competitors, Asite holds server grids globally in each of its key operating locations to ensure optimum data management processes that meet local requirements. Asite's data centers include:
- Two in the Middle East—one in the United Arab Emirates and a second in the Kingdom of Saudi Arabia
- Two in the United Kingdom
- Two in Europe
- Two in Australia
- Two in the United States
Speaking about the data centers, Devendra Gera, Asite Chief Technology Officer, said, "Our decision to expand Asite's data centers is in line with our commitment to ensuring that the data and intellectual property of our clients are stored securely and in accordance with local regulations."
The certifications held by each data center—for example, the data center in KSA holds the ISO 9001, ISO 27001, ISO 14001, ISO 18001, ISO/IEC 27017:2015, and ISO/IEC 27018:2014 certifications—ensure they maintain stringent compliance standards. These certifications also reflect the quality of operations and excellence of the Asite service.
Asite also utilizes AWS's services, as well as Microsoft Azure, to ensure data sovereignty.

Improving Data Management Regionally
Why is this important? The move is a huge step forward in expanding the digital engineering capacity of the local industry. It helps improve the performance of data management processes for regional projects, providing the fastest possible response times when completing day-to-day project tasks.
In fact, a number of Asite clients, including a leading property developer in UAE, trust Asite with their project portfolio and are seeing the benefits and security of the guarantee that their data remains in the region.
Asite data centers also command a world-class disaster recovery service model. Here, they deliver failovers in the event of an unplanned incident, natural or human-induced, by seamlessly transferring operations to a reliable backup and ensuring the seamless recovery of data.
As Asite continues to grow and develop its capabilities, the security of our users will remain at the forefront. All customers can expect their data to be handled and processed with a high level of protection, regardless of the quantity or sensitivity level.   
Ready to discover how your project or organization could benefit from using one of the construction industry's most secure cloud platforms for building and maintaining assets? Learn more here.  
Asite Insights in your inbox.
Sign up for product news and our latest insights published monthly. It's a newsletter so hot, even global warming can't keep up.