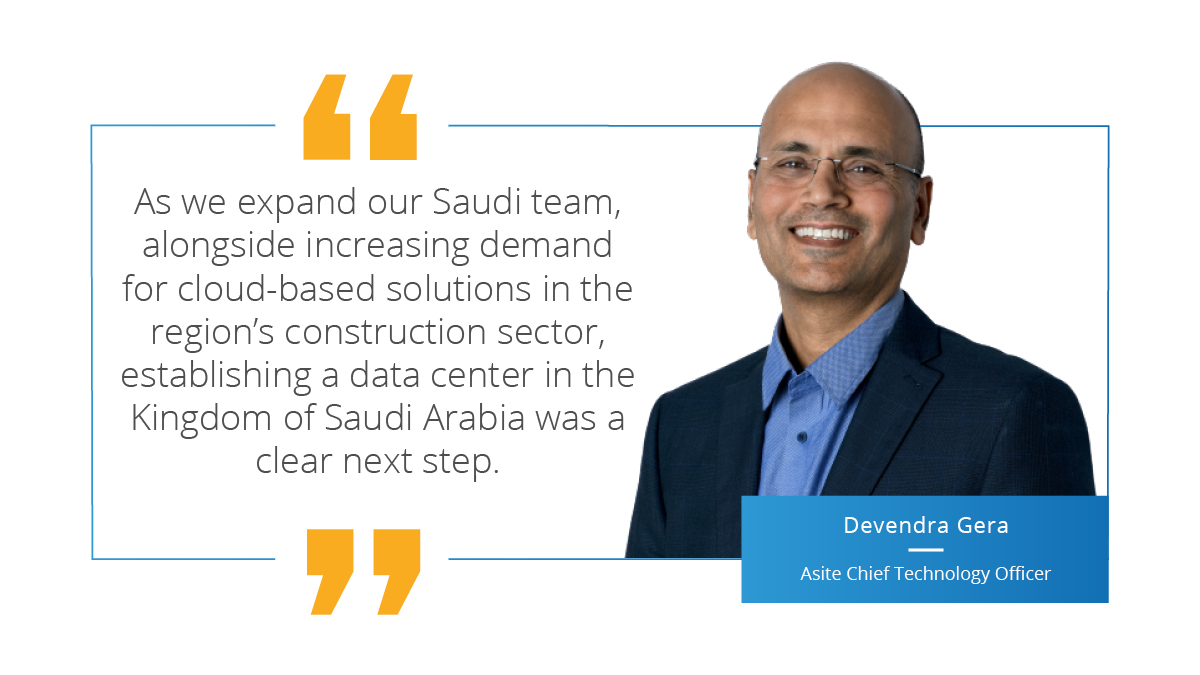 In its continued investment in the Middle East, Asite's new data center aims to support infrastructure and capital projects in the region
---
Kingdom of Saudi Arabia (October 2020) – Asite has announced the opening of its new data center in the Kingdom of Saudi Arabia as it works towards providing the best facilities to support infrastructure and capital projects in the region.
As Asite moves to strengthen its presence in the MENA region, the new data center will ensure that project information for Saudi Arabian projects remain in Saudi Arabia.
Devendra Gera, Asite Chief Technology Officer said:

"Our decision to expand Asite's data centers is in line with our commitment to ensuring that the data and intellectual property of our clients is stored securely and in accordance with local regulations.

As we expand our Saudi team, alongside increasing demand for cloud-based solutions in the region's construction sector, establishing a data center in the Kingdom of Saudi Arabia was a clear next step.

In terms of security and compliance, our platform is certified for quality management, information security, business continuity management systems, and service management systems, ensuring we're providing project teams with a secure and robust system to store their asset data."
Asite holds server grids in each of its key operating locations globally to ensure optimum data management processes that meet local requirements.
The data center maintains stringent compliance standards with the following certifications: ISO 9001, ISO 27001, ISO 14001, ISO 18001, ISO/IEC 27017:2015, and ISO/IEC 27018:2014. These certifications reflect the quality of operations and excellence of the Asite service.
Asite has been helping organizations build better since 2001 and has worked on some of the most challenging and complex construction projects worldwide, including Dubai International Airport, Transport for London's Crossrail project, and Heathrow Terminal 5.
Hosted by BIOS Middle East, the data center in Saudi Arabia marks a huge step forward in expanding the digital engineering capacity of the local industry.
---
Asite's vision is to connect people and help the world build better.
Asite's open construction platform enables organizations working on capital projects to come together, plan, design, and build with seamless information sharing across the entire supply chain.
Asite's comprehensive range of solutions connect dispersed teams across the lifecycle of capital assets, enabling them to build better and build resilience. With Asite, capital project owners stay at the forefront of innovation, maintaining a golden thread of information throughout a project to facilitate the creation of digital twins.
Asite is headquartered in London's Tech City with regional offices in New York, Houston, Dubai, Riyadh, Sydney, Hong Kong, and Ahmedabad.
For more information about Asite, please contact sales@asite.com
About BIOS Middle East
Established in 2002, BIOS Middle East (BIOS ME) is a Managed Service & Cloud Provider headquartered in Dubai, UAE. The company works to give its 300 plus customers the capabilities they need to become cloud-enabled and promote digital transformation.
To do this, BIOS ME provides managed services and cloud solutions with 24x7x365 support backed by a measurable SLA.
BIOS ME solutions include Managed Services, Security-as-a-Service, Infrastructure-as-a-Service, Disaster Recovery-as-a-service, Managed Multi-cloud across our cloud, CloudHPT, AWS and Azure and, most recently, Blockchain-as-a-Service.
The company's mission is to help customers use IT to free up time, money, and resources, so they can focus on the 'business of improving and running their business.'
Asite Insights in your inbox.
Sign up for product news and our latest insights published monthly. It's a newsletter so hot, even global warming can't keep up.