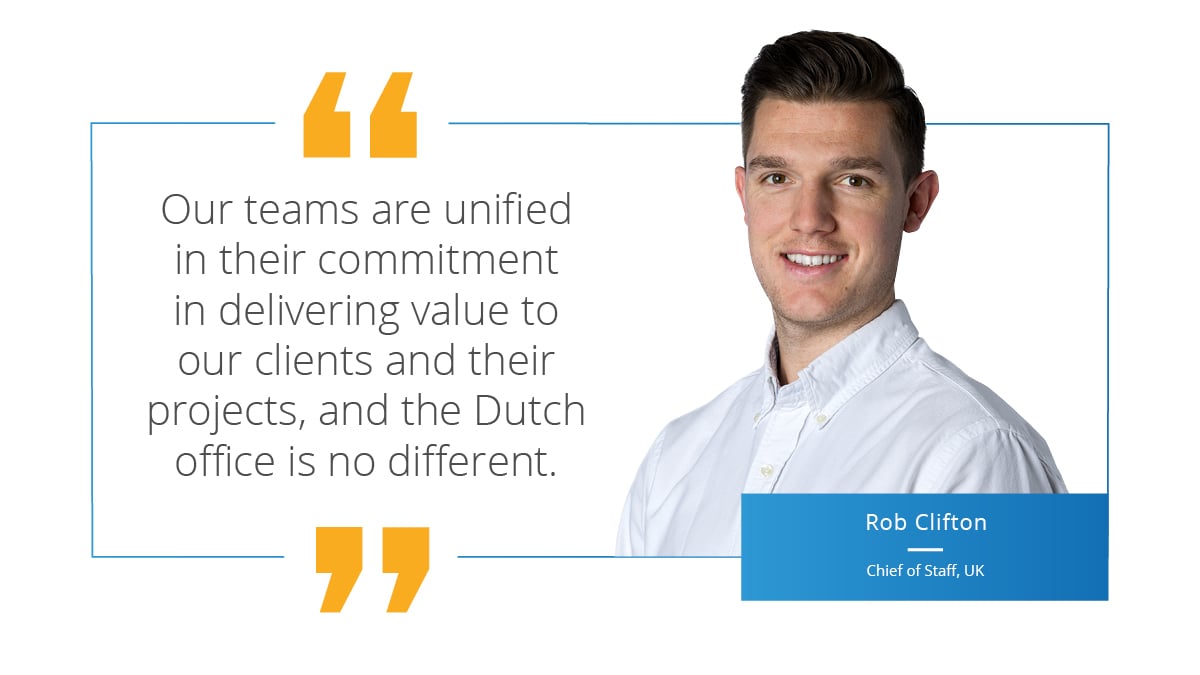 Asite establishes new Dutch base as part of continued expansion in the European market
Amsterdam, Netherlands (May, 2021) – Asite is delighted to announce the opening of its new European office in Amsterdam, The Netherlands.
This recent development is part of Asite's continued push to establish its global presence and demonstrates Asite's commitment to serving infrastructure and capital projects in the European Union.
Last year saw the opening of its a data center in the Netherlands, further highlighting the software company's investment in the region. The new primary data center supports all projects in the region and ensures that information for projects within the EU will remain in the EU.
Rob Clifton, Asite Chief of Staff said:
"The opening of the new office in Amsterdam marks another milestone in our company's growth. Over the past year, we have built amazing regional teams, who have been instrumental in us establishing footholds in these key operating regions.

Our teams are unified in their commitment in delivering value to our clients and their projects, and the Dutch office is no different. We are excited for this new chapter and this new level of engagement with the European market."
Characterized by fast-moving development and transformation, with a particular focus on technology, innovation, and sustainability, the European market has high technological maturity with many sophisticated buyers. Asite is well-positioned to add value to existing and prospective clients alike.
Asite has worked on a number of exciting projects across the EU, including Lansdowne Road Stadium in Dublin and the Oosterweel Link in Antwerp, Belgium.
The EU is a key area of growth for Asite and the new office, which will be home to regional Services, Sales, and Marketing teams, will ensure that European clients have local access to the excellent customer services that Asite is known for along with more relevant offers and events.
Alongside offices, Asite holds server grids in each of its key operating locations to ensure optimum data management processes that meet local requirements, with data centers currently in the United Kingdom, the United States, Australia, Dubai and, most recently The Netherlands.
Asite is excited to become further embedded within the community in the region and support the innovative projects and expanding the digital engineering capacity of the local industry.
To find out how your project or organization could benefit from using one of the construction industry's most secure cloud platforms for building and maintaining assets, please contact sales-ukeu@asite.com or call +31 20 808 9261.
---
About Asite
Asite's vision is to connect people and help the world build better.
Asite's open construction platform enables organizations working on capital projects to come together, plan, design, and build with seamless information sharing across the entire supply chain.
Asite's comprehensive range of solutions connect dispersed teams across the lifecycle of capital assets, enabling them to build better and build resilience. With Asite, capital project owners stay at the forefront of innovation, maintaining a golden thread of information throughout a project to facilitate the creation of digital twins.
Asite is headquartered in London's Tech City with regional offices in New York, Houston, Dubai, Riyadh, Sydney, Hong Kong, and Ahmedabad.
For more information about Asite, please contactsales-ukeu@asite.com
Asite Insights in your inbox.
Sign up for product news and our latest insights published monthly. It's a newsletter so hot, even global warming can't keep up.