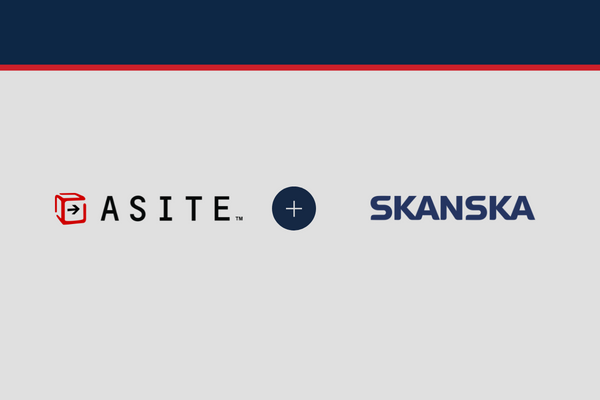 Asite will support Skanska in the delivery of the Vehicle Storage Support Programme (VSSP) for the British Army's land equipment fleet
Tewkesbury, UK (July, 2022) – Asite, the world's leading data platform for the built environment, is excited to announce Skanska, one of the UK's leading contractors, has chosen Asite as its data management platform for the Vehicle Storage Support Programme (VSSP).
The VSSP will see Skanska and the Technical Services Provider, MACE, provide modern, sustainable, and effective storage and maintenance solutions for the British Army's land equipment fleet.
Established in 2000, Skanska has more than 3,300 local experts delivering projects across sectors including real estate, defence, education, highways, rail, and water.
Skanska was awarded the £259 million contract earlier this year by the Ministry of Defence (MOD), the British government department responsible for implementing the defence policy.
The contract will involve a complex programme, including demolishing 58 buildings, constructing 12 new buildings, refurbishing one existing facility, and renewing site-wide infrastructure.
Once completed, the modern facilities will create a sustainable and safe way of maintaining and protecting British Army equipment and its vehicle fleet.
Skanska chose the Asite Platform to support the delivery of the contract. Here, Skanska will utilise the Asite Common Data Environment (CDE), Field Management, and Tender Management solutions to achieve its digital strategy.
Pietro Leo, Asite VP of Operations, UK & Europe, said:
"Asite is incredibly excited to strengthen our partnership with Skanska by supporting this landmark project. With its advanced document management solution and ability to support projects across their lifecycle, the Asite Platform is a perfect fit for this large-scale, complex project.

This announcement follows Asite's recent security accreditation, which enables Ministry of Defence information to be stored and processed through our cloud platform—a key requirement for Skanska and this project.

We've been collaborating with Skanska for over a year now and are pleased to support them in achieving their digital strategy and continue developing our partnership with this leading organisation."
Asite's five-year contract with Skanska will see the Asite Platform drive delivery of the VSSP, increase collaboration, streamline processes and enhance data security across the programme.
In March 2022, Asite became one of the only software platforms for the built environment to achieve the prestigious accreditation issued by the Cyber Defence and Risk (CyDR) Team.
The accreditation enables MOD data at the 'Official Tier' (including 'Official Sensitive') to be stored and processed with an acceptable level of risk, ultimately providing Asite customers with the highest level of security for their data.
Using the Asite Platform on the VSSP will support Skanska in achieving one of their key project goals of DREAM Excellent—the defence estate environmental assessment standard.
Skanska also plans to use modern methods of construction to reduce carbon emissions on the project through the offsite manufacturing of key components that will be installed on-site.
Work is due to begin on-site in the Autumn, with demolitions starting in September to enable the site's regeneration.
All construction activity is expected to complete by 2027, when the Ashchurch site will provide Controlled Humidity Environment (CHE) storage for 4,100 vehicles.
To find out how your project or organization could benefit from using one of the construction industry's most secure cloud platforms for building and maintaining assets, please contact sales-ukeu@asite.com or call +44 20 4579 0736.
---
About
Asite
Asite is the world's leading data platform for the built environment, helping organizations come together, plan, design, and build with seamless information sharing across the entire supply chain. 
Founded in 2001, the Asite Platform has been used widely across the globe as the go-to- project management platform for complex, capital projects, including Dubai International Airport, Thames Tideway, and Australia's Bushfire Recovery Program. 
Today, more than 62,000 organizations, including Laing O'Rourke, Goldman Sachs, Transport for London (TfL), Aldar Properties, and the New York City Metropolitan Transportation Authority (MTA), utilize Asite's cloud-based Data Platform with their 127,000 projects and over 53 million files.   
Asite is headquartered in London with regional offices in New York, Houston, Amsterdam, Riyadh, Dubai, Sydney, Hong Kong, and Ahmedabad.  
For more information, visit www.asite.com.   
About Skanska
Skanska Group uses knowledge and foresight to shape the way people live, work and connect. More than 135 years in the making, they're one of the world's largest development and construction companies, with 2021 revenue totalling SEK 148 billion (around £12.5 billion). Skanska operate across select markets in the Nordics, Europe and the United States.
Together with their customers and the collective expertise of their 30,000 teammates, they create innovative and sustainable solutions that support healthy living beyond our lifetime.
Skanska in the UK:
Established in the UK in 2000, Skanska has more than 3,300 local experts delivering projects across sectors including real estate, defence, education, highways, rail and water. Their work today includes:
- Connecting communities across the UK, with major highways improvement schemes including A428 and M42 Junction 6
- Improving the rail network by building a low-carbon, high-capacity railway that increases reliability and enables faster journeys, with the London tunnels section of the UK's new high-speed railway, HS2
- Creating inspiring places to work including Blossom Street in London and Unity Place in Swindon
- Taking care of critical facilities for major organisations, including the Ministry of Defence and City of Edinburgh Council
- Providing sustainable homes for the many, with developments in Bristol and Worthing. (Delivered by BoKlok, a 50/50 joint venture with IKEA).
For more information about Skanska, click here.
Asite Insights in your inbox.
Sign up for product news and our latest insights published monthly. It's a newsletter so hot, even global warming can't keep up.