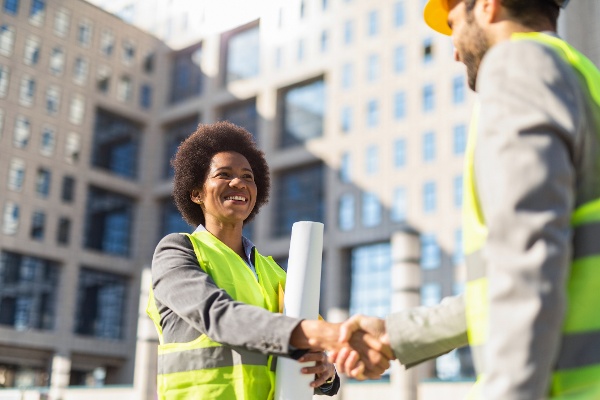 There are two major shortages affecting the construction industry: building supplies and labor.
In the final quarter of 2021, the Houzz Renovation Barometer showed more than nine in 10 construction businesses were experiencing moderate to severe skilled labor shortages. And, according to data compiled from a survey distributed by the Associated General Contractors of America, six in 10 contractors are experiencing project delays due to worker shortages.
Every day you add to the time it takes to complete a construction project, thousands or tens of thousands of dollars are being added to the project price tag. Of course, this figure depends on:
- The size of the project
- The amount of equipment rented
- The number of salaried staff
- Any legal or financial penalties for missing pre-scheduled project completion milestones
Project delays due to staffing shortages often lead to changes, such as to delivery schedules. And this can impact subcontractors who are scheduled to use those items, such as a group of pipe fitters who need the pipe on premises to complete their work.
As you can imagine, it's easy for one project delay to have a snowball effect that throws your entire schedule out the window. For example, if you reschedule your subcontractors, and they have another job scheduled for when you want them, you may have to wait a week for them to be available, which impacts something else.
While you may not always be able to control building supply shortages, there are some ways to battle labor shortages. One of the best ways is to create a talent growth strategy. Otherwise, you'll not only struggle to hire and retain people, but it will decrease your profitability and cap your ability to grow as a company.

How to Create a Talent Growth Strategy
Attracting top construction talent includes cultivating and advertising the competitive, differentiating factors that weigh into an employee's decision-making process.
Here are five steps for attracting talent:
1. Create a Culture That Attracts People
The first step is to create a company culture that is attractive to the people you want to hire. Appeal to their values. What is it that will make them enthusiastic to come to the job site each day? Is it a fun work environment? A commitment to training and career growth? Setting goals and achieving them as a team? A culture of safety and well-being?
Of course, you can't just implement the culture you want. You must consider your current staff. You can start by asking them:
- What do you like about working for the company?
- What don't you like?
- What do you want from your employer?
- How can we help with your career goals?
Then, think about the type of roles you need to fill in the near-term. Ask yourself:
- What sort of people do you want to attract to those roles?
- What culture do they want at the job site?
For example, many young people are more interested in values than compensation. A report by Glassdoor reveals 66% of millennials place culture above salary. Can you push the environmental aspects of the work you perform? Or its safety commitments? These can be more valuable than cash.
Younger people are also more interested in working for a company with greater gender and racial diversity. Diverse workplaces have also been shown to have less turnover and higher employee satisfaction rates, so you should aim to achieve diversity with your talent growth strategy.
---
2. Attract People by Retaining People
Retaining existing talent will have the biggest impact.
A 2016 Capital Benchmarking Report published by the Society for Human Resource Management estimated companies spend an average of $4,129 and 42 days per new hire. It's less costly and less time-consuming to give an employee a $4,000 bonus or raise than it is to replace that employee.
People are attracted to companies who manage to hold onto employees for a few years. When job seekers see a high turnover rate, they suspect the company either treats employees poorly or is incompetent in its business practices.
By retaining staff, you won't need to spend as much time on training or staff as many supervisors because retained employees work more independently.

3. Invest in Your Employees
Beginning at the hiring process, you should show people how you invest in your employees.
"I've worked for companies that gave us only a laptop, a phone, and a pat on the back for good luck," says Casey McEndree, CEO, Calosso Construction. "Some of us [who went through that process] realized that's not the best way to set people up for success. So, we created an onboarding process that includes training, office tours, and job site tours. And by providing these 'training wheels,' retention improved by 30%."
According to the Worker Learning Index, 76% of employees say they are more likely to stay at a job that offers tuition reimbursement.
Before you break for winter, tell select people, you will provide training or a bonus for them if they return in the new year. Follow-up with key employees about their plans to return weeks ahead of your expected start date.
Apprenticeships are also a great way of training and retaining people. But if that seems too involved and costly, how about a mentorship program?
"Is career growth and upward mobility communicated clearly? I've heard from companies they don't want to make those kinds of promises, because they don't want people thinking at year five, they will be a superintendent, or a project manager, and the company can't guarantee there will be a job for them. Then use it as a guideline to show people the opportunity."

4. Use Social Media
Use social media to promote what makes your company stand out. Of course, a lot of the time, you will use social media for sales lead generation, but you also need it for potential employee lead generation.
For many people, what is on your social media is more important than anything you can say in an interview. In fact, most candidates have already decided from your social media whether they will even apply to your company.
A study from App Annie reveals 98% of GenZers spent an average of four hours daily on social apps in 2020. Houzz research reveals only one in five construction companies use social media for recruitment.
Having no social media presence or even a weak one creates a big unknown for people who are considering your company. Candidates will avoid companies with little-to-no social media as they may view it as a risk.
You can also use employee testimonials. However, images and brief descriptions of your day-to-day activities will probably be more impactful. Call out employees for their contributions on social media and this positivity will be felt by your current employees, as well as recognized by potential employees.
---
5. Invest in Technology
Technology and innovation are important to many job seekers, especially young ones.
Construction companies that adapt new technologies more quickly are seen as having greater growth potential and longevity.
Some technologies have a bonus benefit of decreasing your labor needs by making end-users more productive and efficient, so you can accomplish more with less people.
Ready to make the leap and start looking for new construction technology for your project or organization? Get started here.  
Nathan Medcalf
Nathan Medcalf writes about technology, heavy equipment, and construction for numerous clients and has been published in more than 30 trade publications since 2006.
Asite Insights in your inbox.
Sign up for product news and our latest insights published monthly. It's a newsletter so hot, even global warming can't keep up.