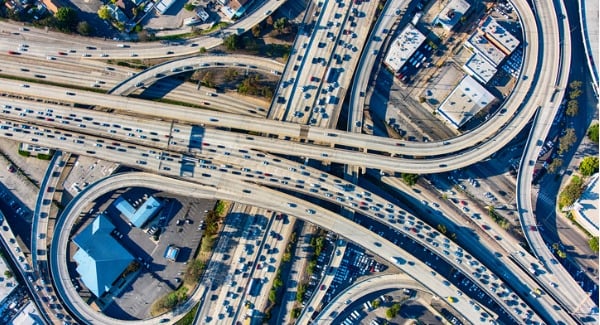 President Biden's ground-breaking legislation—the Infrastructure Investment and Jobs Act of 2021—will transform the U.S.'s aging infrastructure.
And by all accounts, it can't come soon enough. The American Society of Civil Engineers (ASCE) regularly compiles "report cards" on U.S. infrastructure, and the results make for uneasy reading.
In the 2021 report, U.S. infrastructure averaged a "C-." This mediocre performance can be attributed to a host of ailments:
- An estimated 6 billion gallons of treated water is lost each day in the U.S., with water main break occurring every two minutes
- Air transport supports over 1 million U.S. jobs and brings billions to the economy; however, reports suggest frustration with the flying experience, avoided trips, and delays cost the U.S. economy $35.7 billion
- American Road and Transportation Builders Association estimate 178 million trips are taken across 45,000 structurally deficient U.S. bridges every day. A third of the country's bridges need repairs, with 79,500 needing to be replaced entirely
Biden's Infrastructure Bill is already starting to take shape with funding rolled out across sectors.
In January of this year, the first installment of a new $26.5 billion program to replace and rebuild bridges countrywide was released by the U.S. Department of Transportation (DOT). The funding will help repair, replace, and construct approximately 15,000 highway bridges.
With infrastructure topping the construction industry's agenda in the U.S., let's look at some of the bigger infrastructure projects set to mark 2022.
---
1.

$9.5 Billion Redevelopment of JFK International Airport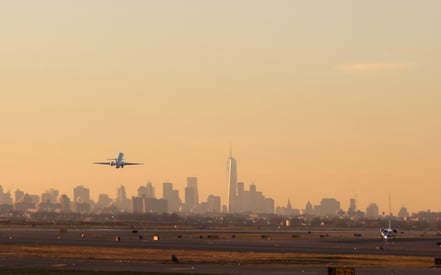 In December 2021, it was announced that Terminals 1, 2, and 3 on the south side of John F. Kennedy International Airport in Queens, New York, would be redeveloped to make way for a new $9.5 billion terminal.
Developed by a coalition of four international airlines—Lufthansa, Air France, Japan Airlines, and Korean Air Lines—the new 2.4-million-square-foot Terminal One will be the largest at JFK. Once complete, the new terminal will comprise 23 international gates, interior green space, and over 230,000 square feet of retail and leisure facilities.
The project is being delivered through a design-big-build system, with some key stakeholders already appointed, including architects Gensler, Mott MacDonald, Grimshaw Architects, and AECOM, alongside consultants and construction managers Tishman Construction Corp Inc, STV Inc, LiRo Program & Construction Management, Tectonic Engineering & Surveying, and VJ & Associates.
The State-owned project will break ground in phases, with the initial phases commencing this year and the first of its 23 gates anticipated to go live in 2026.
---
2.

Improving Rail Lines Between Newark, New Jersey, and New York City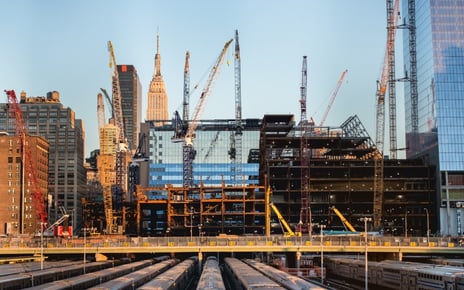 The Gateway Program is a series of rail infrastructure projects that will expand and renovate the Northeast Corridor rail line between Newark, New Jersey, and New York City.
As part of this project, which includes rail, tunnels, and bridges, two flood-resistant tunnels will be created under the Hudson River to improve access to New York. An entirely new tunnel—Hudson River rail tunnel serving Penn Station New York—will be built, alongside the rehabilitation of the existing North River Tunnel, which was severely damaged following Storm Sandy.
The new tunnel will be built parallel to the existing tunnel. Once completed, the existing tunnel will be taken out of service for rehabilitation, which will take two years.
The $12 billion Amtrack project is being delivered on a design-bid-build system. It already includes architects Howard Needles Tammen & Bergendoff, contractors Tutor Perini Building Corp, and program managers Hill International.
Construction is penciled in for January 2023, but officials hope to move the project to an earlier start date of late-2022.
---
3.

Improving Penn Station Access in NYC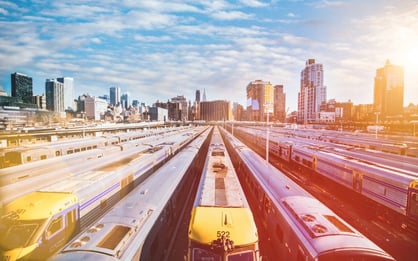 Penn Station Access is a public works project to connect Penn Station to Metro-North's New Haven rail line, dramatically reducing commute times to the Bronx, Westchester, and Connecticut.
The $4.7 billion project will see the creation of additional passenger tracks, traction power substations, overhead contact systems, new interlockings, updated communication systems, new signal systems, and the retrofit or replacement of bridges. Four new accessible stations will also be built in the eastern Bronx—Hunts Point, Parkchester/Van Nest, Co-op City, and Morris Park.
Empire State Development Corporation jointly owns the public project with the Metropolitan Transit Authority (MTA). Architects Howard Needles Tammen & Bergendoff and general contractor Halmar/Railworks, A Jv are also part of the project team.
The project will be delivered through a design/build system, with construction work beginning in earnest in 2022.
---
4.

Removing Amtrack's Biggest Bottleneck in Baltimore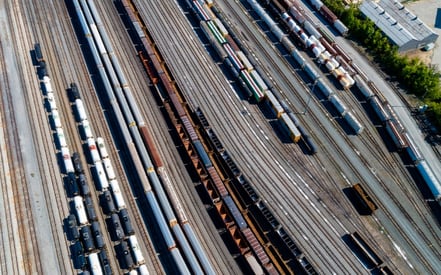 Another part of the Northeast Corridor Gateway Program will see the Baltimore and Potomac Tunnel replacement.
The B&P Tunnel Replacement Program will modernize and transform a four-mile section of the Northeast Corridor.
At nearly 150-years-old, the newly named Frederick Douglass Tunnel will be the centerpiece of the project, replacing a deteriorating tunnel that has been around since the Civil War era. The new four-track tunnel system will help remove the current bottleneck. More importantly, it will eliminate the nearly seven hours of train delays commuters face during the average weekday.
The $5 billion project is in the planning stages and will be delivered through a design-bid-build system.
Working with the Maryland Transportation Authority and the Federal Railroad Administration, the Amtrack-owned project is set to begin early demolition in 2022, with the first bridge replacement planned for 2023.
---
5.

Coastal Storm Barrier for Texas?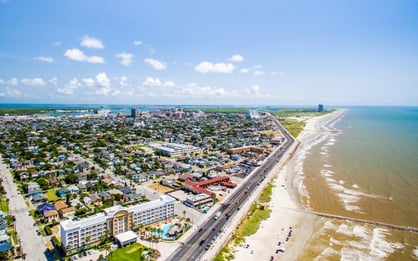 Following the announcement of Biden's Infrastructure Bill, hope was reignited for a Texas coastal storm barrier to protect the state from potentially devastating storms.
The $29 billion project—named the Ike Dike—would be delivered through and design-bid-build system and would see the creation of a dune system—14-foot dunes on the landward side and 12-foot dunes on the Gulf side—, a storm surge gate system across the water between Galveston and Bolivar Peninsula, and "ring barrier system," stretching 15 miles around the backside of Galveston Island.
Conceived by Professor Bill Merrell of Texas A&M University at Galveston in response to the damage caused by Hurricane Ike in September of 2008, the storm barrier would protect the Houston-Galveston region including Galveston Bay from hurricane storm surges.
The proposed project's design reached its final stages in late-2021, with the project nearly ready to go forward for financial approval.
While no construction schedule is set, and further action is pending the City of Galveston's decision to proceed or not, this may be a project we hear a lot about in 2022.
---
Prepare for the Project Influx
With the average age of America's infrastructure being 30 years or more and the ASCE estimating "infrastructure investment gaps" could cost the U.S. $10 trillion in lost GDP by 2039, the industry needs to get its skates on to improve performance.
Digital is touted as the way forward.
The Infrastructure Bill calls for $100 million to be invested over five years to accelerate the deployment and implementation of advanced digital construction management systems.
This money will be used to accelerate the adoption of ConTech throughout the asset lifecycle—design to operation—and help to boost productivity, manage complexity, and reduce project delays and cost overruns.
With digital solutions set to help businesses deal with the influx of infrastructure projects coming their way, maybe it's time to learn more about adopting a construction technology platform? Find out how the Asite Platform can help you transform your projects here.
Asite Insights in your inbox.
Sign up for product news and our latest insights published monthly. It's a newsletter so hot, even global warming can't keep up.