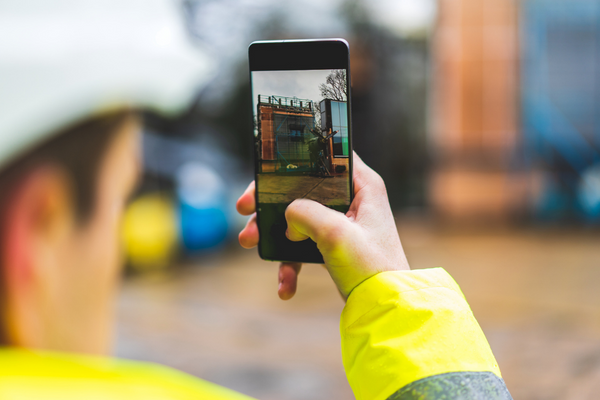 Whether we want to admit it or not, most of us have become dependent on mobile tech.
And in the construction industry, this is no different.
According to the JBKnowledge Construction Technology Report 2021, mobile devices are commonplace in construction. Of those surveyed, just over 90% use smartphones every day for work purposes. Over 80% used laptops, while over 65% said they use tablets daily.
The usage of mobile technologies in the construction sector has expanded dramatically in recent years, with tech becoming a common and expected part of working in construction.
Since 2018, the percentage of construction workers using smartphones has remained consistent, with numbers between 91% and 93%. At the same time, tablets have seen an increase of 62% in 2018 to 65.5% in 2021.
Today, mobile applications assist with every stage of a construction project—pre-construction or scheduling, project management, field reporting, and back-office activities.
This growth and continued steady use of mobile tech in construction are hardly surprising given the popularity of the tools and the benefits they can bring.
If you're still on the fence about adopting mobile tech on your jobsite or in your office, consider five ways mobile tech positively impacts your project:
1. Improves Reporting
Reporting is one of mobile technology's biggest benefits.
Real-time data collection and transmission between the jobsite and project managers back at the office is made possible with mobile solutions.
Using a smartphone or tablet, workers on-site can quickly submit daily reports, RFIs, change orders, or timecards without needing to head back to the office.
2. Reduces Rework Costs
It's estimated that 4%-6% of total project costs can be attributed to rework. For a project costing £50 million, this is between £2 million and £3 million.
While errors happen—information goes missing, documents are updated on short notice, and equipment is misplaced—mobile tech is quickly becoming a solution to rectifying these issues.
With mobile tech, information can be updated and accessed in real time. While mobile apps can be used to track labor hours and field equipment.
3. Collaborate in Real Time
Communication and collaboration are critical components of a successful project.
Mobile tech and cloud solutions keep everyone involved in the project on the same page in real time. Information can be sent to contractors as they work on-site.
In return, they can document snags with a camera click and send them back to the office to be resolved.
However, mobile or collaboration is an underutilized resource. According to studies, only 18% of construction businesses consistently use mobile apps to access project data and collaborate.
4. Makes Life Easier
Mobile tech makes any Project Manager's' life easier.
With mobile tech, all the information about your project is at your fingertips—literally.
Project managers can easily access and analyze all the project data. This allows you to decrease downtime, make better, faster decisions, and improve overall productivity on your projects.
5. Keeps Projects on Track
According to reports, 35% of construction professionals' time is spent (over 14 hours per week) on non-productive activities. These include looking for project information, conflict resolution, and dealing with mistakes and rework.
With mobile tech, you get your time back.
With access to information in a few simple clicks, time is no longer wasted, and projects remain on track.
---
Solving Problems with Construction Technology
What remains clear is that technology is solving countless problems for construction projects—both on-site and off-site.
Spurred on by the increasing digital uptake over the last two years, the industry has quickly realized digital savvy is no longer a nice to have but is, in fact, essential.
Research suggests construction technology could raise productivity by 14%-15% within the next decade, reducing project costs and increasing return on investment.
With savings like this up for grabs, it's high time construction ditched the manual processes, spreadsheets, and printed docs and adopted digital. And high on the list of must-haves is mobile technology.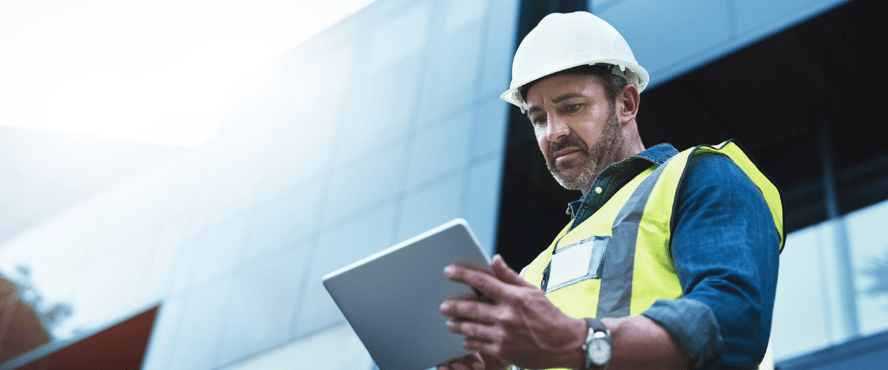 Getting on Board with Digital Transformation
According to a new update to the International Data Corporation (IDC) Worldwide Digital Transformation Spending Guide, global spending on digital transformation technologies for 2022 is expected to reach $1.8 trillion (£1.7 trillion), with estimates for 2025 in the area of $2.5 trillion (£2.3 trillion).
Despite the construction industry's traditional digital dissatisfaction—which is often contributed to risk aversion, lack of training, and complex platforms—times are changing.
Construction technology is booming, and the industry is beginning to bridge its digital divide.
Digital transformation helps you take advantage of the possibilities and opportunities of new technologies in a faster, better, and more innovative way.
But digital transformation isn't a simple tick-the-box exercise.
Introducing one piece of new tech—a smartphone or swanky new mobile app—won't cut it. Fundamentally, you need to be ready to embrace disruption and encourage risk to implement a digital transformation strategy that will achieve long-term change.
Only then will you be able to reap the rewards digital transformation offers.
Ready to embrace mobile and everything construction technology has to offer? Take the Next Step—Download Your Ultimate Digital Transformation Guide or contact our team today.

Asite Insights in your inbox.
Sign up for product news and our latest insights published monthly. It's a newsletter so hot, even global warming can't keep up.