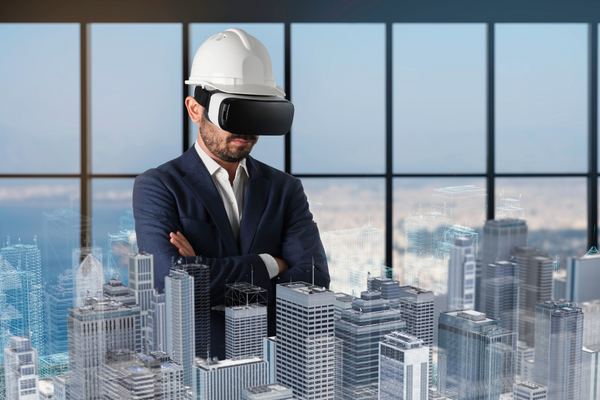 Digital twins are revolutionizing the construction industry globally.
The technology can:
- Provide the answer to construction's sustainability issue
- Improve the way we build and operate capital projects
- Help us weave the golden thread—maintain an accurate and up-to-date record of the data needed to maintain and operate an asset
The potential is immense. A recent study suggests the digital twin market will be worth $48.2 billion by 2026.
So, with the tech on the rise, where does it hold the most promise? The answer is in smart cities.
Of all the use cases and potential, cities have become early adopters and are reaping its rewards, including:
- Better quality of life for the city's citizens
- Ability to make effective, data-driven decisions
- Reduced environmental output
- Improved asset performance and operation
With the global smart city market expected to reach $3.4 trillion by 2026—let's take a deep dive into the role digital twins play in this growing phenomenon.

How Cities Are Using Digital Twins to Get Smart
Digital twins are disrupting the way capital projects and infrastructure are planned, built, and operated.
A digital twin enables more effective asset design, project execution, and asset operations by integrating data and information throughout the asset lifecycle. As a data resource, it can improve the creation of a new asset and understanding of an existing asset.
For stakeholders across the supply chain involved in the operation of a city, this technology provides them access to more tools and information than traditional methods and techniques.
With these benefits at their fingertips, city planners are using virtual models to gain a competitive edge.
How? As digital twins replicate buildings, systems, and operations, a federation of connected digital twin models can be created that transcends sectors. Everything that comprises a city—transport, pavement, building, energy, water, and telecommunications—can be monitored within the digital twin.
Here, the tech can anticipate problems, simulate scenarios, and make decisions with remarkable foresight, providing a digital snapshot for future works. This creates invaluable information that helps city planners understand how a city operates or could operate—depending on whether the digital twin is used before the city is built or retroactively.
City planners, construction stakeholders, and operation and asset managers can use these insights to improve energy consumption, environmental conditions, public safety, waste management, security monitoring, mobility improvements, and infrastructure management.
With benefits like this, it's not surprising that digital twins are big business. According to ABI Research, by 2025, approximately 500 cities worldwide will be using some form of urban twin.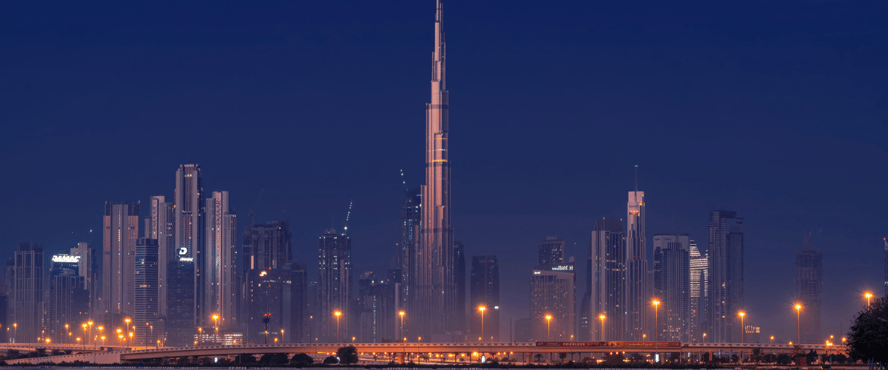 Creating Metaverses in the Middle East
The Middle East has long been a global hub for the latest technological advancements. It's no surprise smart cities and digital twins are rising rapidly in the region.
In fact, the tech is being advanced even further throughout the Gulf with the introduction of the "metaverse"—an embodied 3D virtual-reality experience.
For example, let's look at NEOM—a planned $500 billion high-tech city on the Kingdom of Saudi Arabia's northwest coast and the flagship project of the KSA's Vision 2030.
Included in their ambitious plans for "The Line"—a 170km belt of hyper-connected future communities without cars and roads and built around nature spanning the length of NEOM—is a metaverse. And at the heart of this metaverse are digital twins.
Digital twins will be used to create this new space—combining with physical architecture, hyper-connected technologies, and AI. The project states one of the core features includes a "dynamic digital twin," which will be a mixed-reality twin with "live cognitive virtual twins."
The goal of this metaverse? To allow future residents to experience how life will operate at this "crossroads of worlds." The project is seen as a revolution in urban living and is set to become a blueprint for how people and the planet can co-exist harmoniously.
Similarly, in the United Arab Emirates (UAE), Dubai Municipality recently revealed plans to create a version of the city in the metaverse.
---
Getting Future-Ready with Data
Digital twins can vastly reduce errors and improve a city's planning, building, and operation.
However, while it's clear smart cities, enabled by digital twins, can revolutionize how cities are created, data security and sharing of data and information remain challenging.
For digital twins in cities to realize their potential, the global AECO sector needs to adopt an interoperable, integrated, and inclusive approach to construction. One way is by developing an open, integrated global platform that users across regions can easily interpret. Such a platform would allow information to be easily shared and ensure it remains secure.
Since 2001, Asite has been at the forefront of innovation in the AEC sector. We recognize the potential of digital twins to not only transform and improve our industry but also transform and improve our lives.
Asite's mission is to ensure that, as an industry, we can send and receive, capture, share, and collaborate on all the data we are collecting to derive actionable insights and thrive in this new digital-led world.
Asite's platform supports the collaborative nature of digital twins and provides stakeholders with the tools they need to collaborate and share information in a secure online environment. With the right tools and software, we can deliver on digital twins and enact real and innovative change.
Want to discover how Asite can help you embrace and thrive in this new digital world? Learn more here.
Asite Insights in your inbox.
Sign up for product news and our latest insights published monthly. It's a newsletter so hot, even global warming can't keep up.