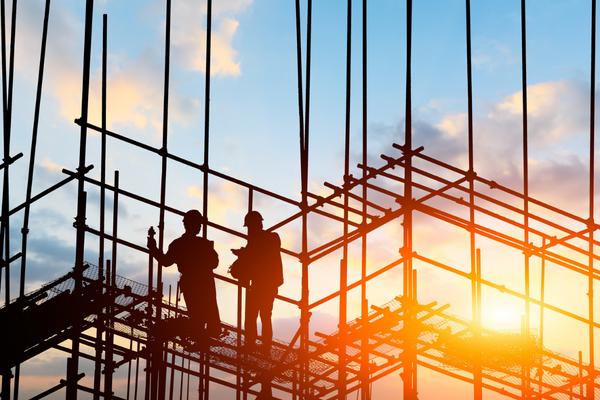 The construction industry is constantly evolving. Transforming from an industry once solely dependent on pen and paper to one now embracing everything technology has to offer.
2022 was no different.
What started as a promising year for the industry, with a bright post-pandemic outlook, quickly turned into a whirlwind of activity, challenges, and opportunities that hugely impacted the industry.
2023 is likely to follow a similar path.
Unfortunately, none of us have a crystal ball to accurately predict the future. But as we move into 2023, here are four of the trends set to make their mark throughout the coming year:
---
1.

Promoting and Embracing

Sustainable Building
The construction industry's role in the climate emergency is no secret.
The construction industry uses 32% of the world's natural resources and is responsible for 39% of carbon emissions globally.
This is not only from creating new buildings but also from the energy production of existing ones. It is predicted that 80% of today's buildings will still be in use in 2050. But 75% of this stock is energy inefficient. 
The construction industry has a long way to go to overcome its image as one of the world's biggest carbon emitters.
Change is afoot.
At COP26 in Glasgow, Scotland, world leaders dedicated a day solely to discussing decarbonizing and creating a more sustainable built environment. 
One of the most significant outcomes of the 'Cities, Regions and Built Environment Day' was the confirmation that 1,049 cities and local governments are now participating in the 'Race to Zero.' This is an UN-led campaign asking cities, regions, businesses, investors, and Higher Education Institutions to hit net zero emissions.  
Digital twins were also pushed to the top of the agenda as a way to mitigate the crisis.
With the climate emergency front of mind for leaders worldwide, finding ways to reduce construction's impact will continue to dominate the conversation in 2023.
Learn more about how smart construction could be key to construction's sustainable future here.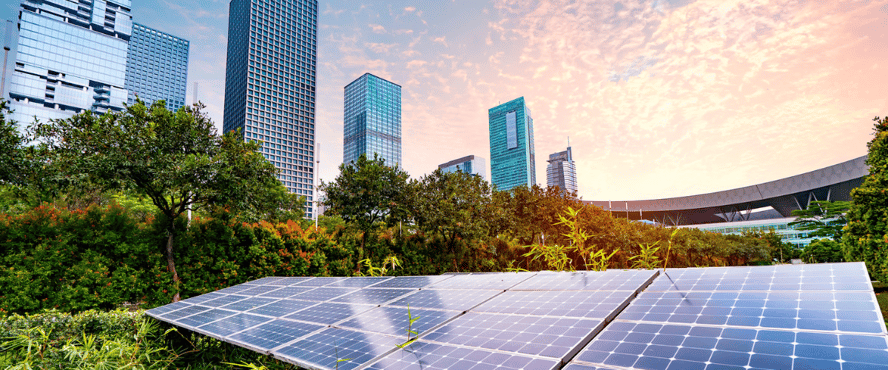 2.

Finding Ways to Overcome the

Labor Shortage
Labor shortages in the construction industry have been an issue for quite some time.
In 2022, the Association of General Contractors of America found that 83% of construction firms claimed to have difficulty filling positions.
The situation is not too dissimilar on the other side of the Atlantic, where UK and European construction industries also face a lack of workers.
These shortages have huge impacts on projects, including:
- Projects have difficulty getting started
- Projects take longer than anticipated
- Higher project costs
- Inexperienced skilled labor or workforce shortages create health and safety challenges
Unfortunately, these human resources struggles are projected to continue in 2023.
In the U.S., according to the Associated Builders and Contractors (ABC)—a national construction industry trade association—Chief Economist Anirban Basu, the worker shorter will worsen in 2023. He notes, "as outlays from the infrastructure bill increase, construction spending will expand, exacerbating the chasm between supply and demand for labor."
Learn more about the ongoing labor shortage and how to overcome it here.

3. High Material Costs

Set to Continue
Over the last year, construction material prices have fluctuated, reaching all-time highs and dropping again.
Why was this?
Lockdowns in China, shipping container shortages, and the Russia-Ukraine war exacerbated an already delicate supply chain.  
Cement, timber, paints, electrical equipment, and plastics costs rose as a shortage of materials impacted costs and created fluctuating prices throughout the year.
Let's look at lumber, for example. In the U.S., before the pandemic, this industry necessity was approximately $300 per 1,000 board feet. But by April 2021, the price soared to $1,500. It then fell to roughly $500 before rising again to approximately $1,300. Prices have been falling in 2022 and were nearing $400 but appear to be rising to nearly $500.  
This price volatility impacted projects, with budgeting and scheduling near impossible. How can you set aside money for materials when you can't guarantee the cost? Also, how can you schedule your project when you don't know when materials will arrive?
While many will hope to leave high construction costs in 2022, the projected outlook for 2023 also holds uncertainty.
In its September 2022 focus on housing, Real estate giant Marcus & Millichap said, "Material prices show signs of settling." 
However, according to Oxford Economics, global construction costs are set to remain high in 2023.
Learn more about the outlook for material prices in 2023 here.

4. Smart Cities

, Digital Twins, and the Metaverse
When we consider smart technology, it's easy to think of it as just for your phone, watch, or maybe even some household appliances. But what if you thought about smart technology on a bigger scale?
Utilizing digital twins to create smart cities is nothing new. Singapore and cities, including Newcastle in the UK and Phoenix, Arizona, have been making the most of digital twins, using virtual models to gain a competitive edge.
How?
As digital twins replicate buildings, their systems, and operations, a federation of connected digital twin models can be created that transcends sectors. Everything that comprises a city—transport, pavement, building, energy, water, and telecommunications—can be monitored within the digital twin.  
Here, the tech can anticipate problems, simulate scenarios, and make decisions with remarkable foresight.
City planners, construction stakeholders, and operation and asset managers can use these insights to improve energy consumption, environmental conditions, public safety, and waste management to security monitoring, mobility improvements, and infrastructure management. 
However, the tech's potential for helping construction move to the metaverse is a relatively new phenomenon set to gain even more momentum next year.
For example, let's look at NEOM—a planned $500 billion high-tech city on the Kingdom of Saudi Arabia's northwest coast and the flagship project of the KSA's Vision 2030.
Included in their ambitious plans for "The Line"—a 170km belt of hyper-connected future communities without cars and roads and built around nature spanning the length of NEOM—is a metaverse. And at the heart of this metaverse are digital twins.
Digital twins will be used to create this new space—combining physical architecture, hyper-connected technologies, and AI. The project states one of the core features includes a "dynamic digital twin," which will be a mixed-reality twin with "live cognitive virtual twins."
The goal of this metaverse? To allow future residents to experience how life will operate at this "crossroads of worlds." The project is seen as a revolution in urban living and is set to become a blueprint for how people and the planet can co-exist harmoniously.
Learn more about smart cities, digital twins, and the metaverse here.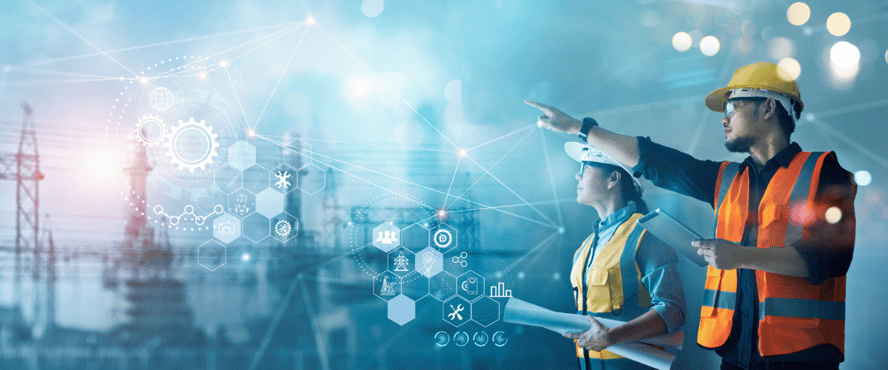 Bonus Trend: Construction Technology
With all the trends, challenges, and opportunities the construction industry faces, technology, and digital seems to be a common factor.
Whether it's embracing digital twins to combat the climate crisis or utilizing tech tools to maintain the pace while grappling with supply and labor shortages, ConTech is a shining light for the construction industry.
The potential of ConTech is something Asite has long recognized.
Over the last 20 years, Asite has been a leader in construction technology innovation, with the dynamic team at the forefront of change.
We empower our clients with the solutions they need to thrive, enabling organizations working on capital projects to come together, plan, design, and build with seamless information sharing across the entire supply chain.
Ready to keep up with construction? Discover how Asite can help you not only maintain pace but excel in the evolving industry. Learn more here.
Asite Insights in your inbox.
Sign up for product news and our latest insights published monthly. It's a newsletter so hot, even global warming can't keep up.