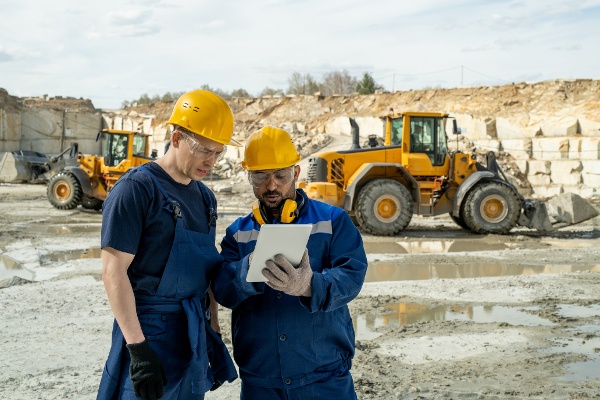 Are you already using a construction project management system that is a little disjointed? Like cobbled together paper plans and disparate systems that involve manual entry?
Like a lot of big and small players in construction, you may be using paper blueprints or a combination of Dropbox, email, and Excel. Or you may have stepped up to out-of-the-box software or a project management tool that integrates with some of your workflows.
No matter your tech tools, trade, or company size, odds are you know how hard it can be to keep everyone—from the field to the back office—on the same page.
Every construction project has so many moving parts—keeping up with people and processes can be overwhelming. You may make unintended errors if you can't publish and share drawings, photos, files, and set tasks from any location. All of this makes for a tough bidding environment when you add in tight profit margins, cost overruns, and tight project delivery deadlines.
This is especially hard on large projects. The Associated General Contractors reported that large infrastructure projects are voluminous—requiring an average of 130 million emails, 55 million documents, and 12 million workflows. Of that, 95.5% of all data captured goes unused.

Stress Less with Fewer Silos
No doubt, siloed workflows where information is not connected only inhibit collaboration. Just imagine if you're generating gigabytes or terabytes of data on every project and the data is housed in different systems that don't talk to one another.
According to Construction Executive: "To be successful, the construction industry needs to free project data from closed systems. There must be a way to give all project stakeholders access to accurate information within the context of how it applies to the overall project that will empower everyone from owners to engineers to contractors to make timely, fully informed decisions that bring projects in on time and within budget."
Life is much easier when a contractor can open a project and see what another estimator is working on or visually show or explain their takeoff with co-workers or even clients. Consider all the data generated on a project. If the data is siloed, each stakeholder only has a limited view of a project.
For example, integrated project management tools can drastically reduce your collaboration and communication struggles. If everyone in the field can easily use their mobile phones to keep track of changes or updates, every stakeholder will have an up-to-date view of every project.
With better visibility comes stronger communication. With stronger communication comes better accountability. When you optimize how your team communicates, you can also ensure everyone in the field is fully invested in making sure projects are completed on-time and on-budget.
---
How Automation Can Drive Productivity
According to the Associated General Contractors (AGC), construction is a major driver of the U.S. economy. More than 7 million employees create nearly 1.3 million structures each year. Of those, many in construction do not sit at a desk daily. This includes a substantial number of plumbers, electricians, and masons. Not to mention, estimators and project managers who have previously relied heavily on desktop programs, pens, and pencils to do their jobs. All of these workers need software and apps for the tablets and phones they use in the field to view and share data on the spot.
In the wake of COVID-19, the issues surrounding productivity have been complicated by a chaotic supply chain and worker shortages. More than 50% of contractors were still reporting delays due to material shortages and another 32% were experiencing worker shortages in March 2021—one year after lockdowns rocked the industry.
Even if you're not ready to go big with digital tech, even minimal automation holds the promise of radically improving productivity for the construction industry. The much-cited 2017 McKinsey & Co. report declared construction as being the second-least digitized sector. In fact, if construction productivity were to catch up with the total economy, it could boost the sector's value by an estimated $1.6 trillion.
It is also interesting to note that report after report has determined that technology is one of the best ways to grapple with attracting and retaining younger workers. As baby boomers continue to retire in droves, it is critical that construction can attract digital natives—millennials and Gen Z-ers.

Taking the Digital Leap
Experts say automating how construction projects get designed, planned, and built could result in cost savings as high as 20% annually for the construction industry. As such, greater predictability in construction timelines would result in significant cost savings. 
What does this mean? Adding drones for inventory management may not be needed or necessary. But taking the digital leap could be as simple as reducing the amount of paperwork by digitizing and automating your administrative processes.
Ask yourself tough questions like "how much of my day is spent manually entering data?" Then, you can begin to build a business case for adding more automation to your construction business.
For example, giving up paper timecards for automated time tracking software and apps could deliver huge benefits. When your crews can enter their time from the field, the office, or their home, it's a lot simpler for your accounting staff to review, edit, approve, and upload timecards directly into the accounting software.
When your timecards are part of an integrated accounting software, you now have the potential to track productivity and costs more effectively. With an integrated set of accounting tools, you can track financial data for each project you manage. An all-in-one package allows you to track job costs, labor, and quantities to specific project activities. You can then isolate framing vs. finishing or materials costs vs. equipment costs.
We can all agree that everyone is hungry for speed, accuracy, and efficiency. Those in construction who take the leap—start small and build on their tech tool arsenal—find the benefits are well worth the investment. They say omitting duplication of effort, minimizing errors, and quicker communication between the field and the office are helping them reap the benefits of automation.
Ready to get started? Find out how Asite can help you collaborate and communicate better with cloud-based project management. Learn more here.
Asite Insights in your inbox.
Sign up for product news and our latest insights published monthly. It's a newsletter so hot, even global warming can't keep up.