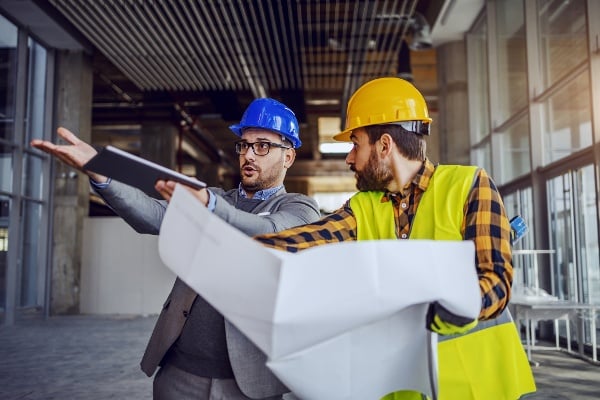 According to research, over 80% of construction workers have experienced stress at work.
This can be attributed to multiple different factors, including:
- Lost Project Data—According to FMI, 96% of data in the E&C sector goes unused, while Emerson states up to 30% of initial data created during design and construction phases is lost by project closeout
- Breakdown in Communication—The industry is notoriously fragmented. According to KPMG, 82% of projects owners feel they need more collaboration with their contractors
- Shortage of Skilled Workers—Job vacancies in the construction industry are on the up. A 2021 survey conducted by the Association of General Contractors of America found that 72% of those surveyed said projects are taking longer than anticipated due to the shortage
- Chasing Down Payments—80% of construction companies say they spend a significant portion of their workweek making sure they get paid, according to Levelset.
- On-Site Safety Concerns—Construction sites are one of the deadliest workplaces. According to the National Institutes of Health (NIH)—the U.S. Medical Research Agency—injury rates in construction are 71% higher compared to all industries on average
- Dealing with Last-Minute Changes—According to the Civil Engineering Journal, projects could experience a 5%-40% increase in costs when changes to design happen further into a project
Sound familiar?
The industry is full of stressors and causes for concern. How do you combat them? Construction management software could be the answer.
---
How the Right Tech Can Calm the Chaos
One thing is for sure on construction projects; no two are the same.
Each project has various moving parts—different workers coming in at different times, different document formats, and different requirements. And with the industry characterized by fragmentation and temporary relationships—this is a recipe for chaos—no one knows who is working on what, project visibility is obscured, and collaboration, what's that?
Construction management software tames this chaos.
All project data and documents are accessed, stored, collaborated on, and shared in one place—a secure, cloud-based platform.
From the office to the jobsite, this software gives you access to all your project information— documents, contracts, reports, bids, timesheets, snags, model information, and more—in a few simple clicks. Projects are transformed, and control, collaboration, and communication are reinstalled.
With this type of software, get ready for a whole host of benefits.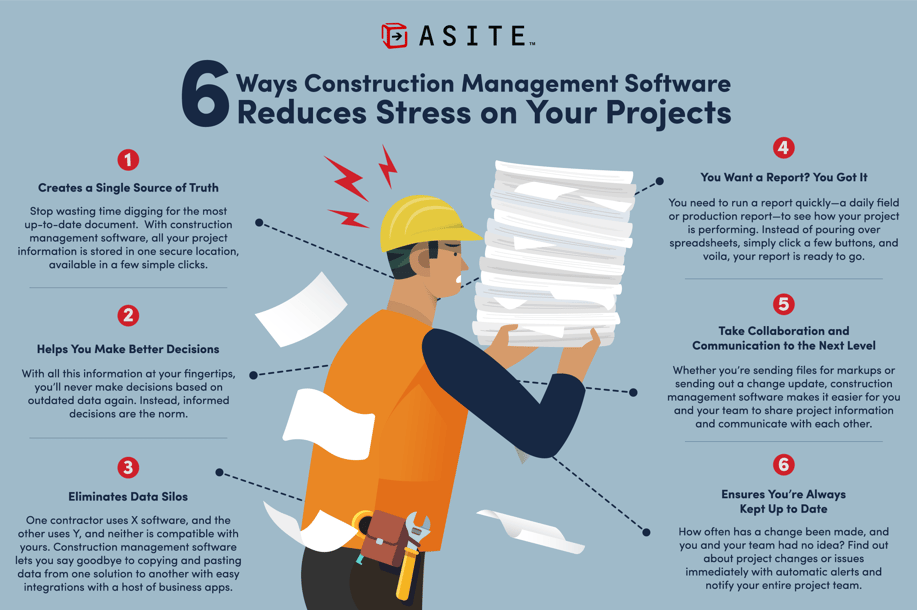 *To download a pdf of this infographic, please click here.
How to Choose the Right Software for Your Team
Implementing construction management software on your project is a no-brainer. The next task is to find the right one for you and your team.
With so many stresses involved in any construction project, choosing the software doesn't have to be another. Just ask yourself these seven questions when selecting your new piece of kit:
1. Does it have the features you need and want?
2. Is it compatible with your other tech tools?
3. What kind of support does it offer?
4. Is the provider reputable?
5. Is it secure?
6. Is it scalable?
7. Is it customizable?
Asite can help you manage project information better and faster, providing you with the flexibility to work the way you want.
With a range of solutions, including the Asite Common Data Environment (CDE) and Adoddle Field for Site—the field management tool, Asite keeps project teams on the same page by providing organizations and their extended supply chain with shared visibility of their projects—say goodbye to project blind spots.
Are you ready to implement construction management software on your projects? Discover how the Asite Platform can help reduce stress, boost productivity, and keep your projects on track. Learn more here.
Asite Insights in your inbox.
Sign up for product news and our latest insights published monthly. It's a newsletter so hot, even global warming can't keep up.