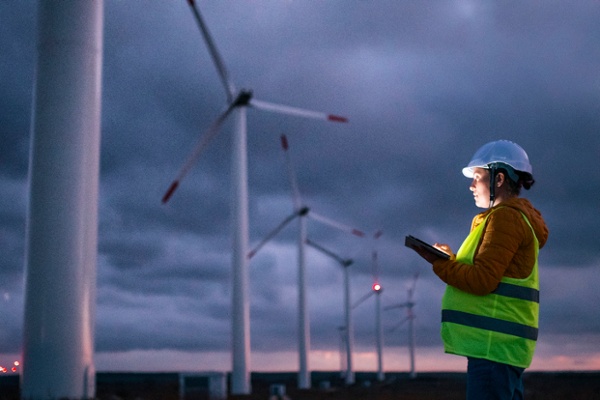 Even though the stats are common knowledge, it doesn't make them any less startling.
The built environment is responsible for 39% of carbon emissions globally and uses 32% of the world's natural resources.
To honor the Paris Agreement, the construction industry has a big mountain to climb. However, many have already laced up their hiking boots and are starting the ascent.
Organizations have begun to set their own goals and targets. As for countries, the UK, EU, U.S., and others have set a goal of carbon neutrality by 2050. The World Green Building Council's Net Zero Carbon Buildings Commitment aims for carbon neutrality by 2030 for all assets under participants' direct control.
As the world pushes to adopt a more sustainable approach to the built environment, tech is at the forefront of helping the construction industry meet its goals.
Digital twins are already being touted as a solution. During the recent COP 26 summit, many called for tech to be pushed to the top of the agenda to mitigate the crisis. Digital twins also promote sustainability for both new builds and existing structures. As Integrated Environmental Solutions notes, digital twins can integrate data from several sources and understand real-world conditions, such as energy flows, environmental conditions, and the makeup of materials.
While tech is taking off when it comes to improving the industry's environmental output, one missing puzzle piece is data.

Increasing Importance of Construction Data
Data is playing an increasingly significant role in the construction industry. How does data have an impact on your projects?
For starters, it provides a unique insight into your project or organization. Not only can you visualize the invisible, but data also makes it easier to make decisions with unprecedented foresight.
Let's consider how much data is generated in construction. For example, a single construction project produces massive amounts of data and information. This data can be generated from various sources, including BIM, building management systems, work scheduling, estimating, and maintenance systems.
Often, this data goes to waste. According to FMI, 96% of data in the E&C sector goes unused, while Emerson states up to 30% of initial data created during design and construction phases is lost by project closeout.
Why? Data silos are often the culprit.
When data is siloed, it is held hostage in software that doesn't integrate with other tools. This makes it difficult to communicate so valuable project data becomes unstructured, uncoordinated, and inaccessible.
It also means you are not realizing the benefits of your data and your ability to enact real change is being left on the table.
None more so than in the construction industry's battle against the climate crisis.
Data can play a huge part in helping the construction industry shed its image as one of the world's biggest carbon emitters.
Speaking at a recent RICS World Built Environment Forum webinar, Asite CEO Nathan Doughty explains how data is fundamental to helping the industry decarbonize the built environment:
Managing

Your Data with

Asite
For the construction industry to maximize the potential of the data it creates, it needs a way to capture, manage, analyze, and integrate it.
At Asite, we help projects and organizations make the most of their data.
Asite allows everyone involved in a project to input their data and information into one secure location. Here, the project data is secure and accessible to all project teams. Through the Asite Ecosystem, vendors are encouraged to tap into this and provide solutions that do the same.
Asite's plug-and-play approach means stakeholders no longer need specific software to view data in a set format. With Asite, you bypass all of these costly and time-consuming roadblocks.
Here, data silos can become a thing of the past, freeing you to resolve other issues.
Want to learn more about how Asite can help you integrate your tools and remove costly data silos? Learn more here.
Asite Insights in your inbox.
Sign up for product news and our latest insights published monthly. It's a newsletter so hot, even global warming can't keep up.