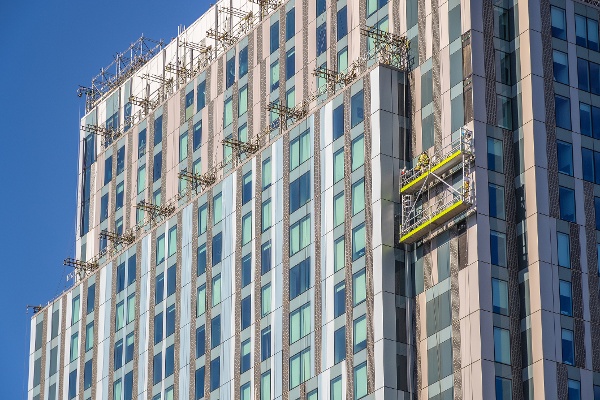 On 14 June 2017, a fire ripped through Grenfell Tower, a 24-story residential tower block in West London, killing 72 people.
While a malfunctioning fridge-freezer started the fire, the combustible cladding led to the building becoming engulfed in flames.
In the four years since one of the UK's worst modern disasters, building cladding has been put under the spotlight, with investigations undertaken to prevent further tragedies and improve building safety.
This cladding crisis, or cladding scandal, revealed 481 buildings have similar aluminium composite material (ACM) cladding—the primary cause of the fire spread—to Grenfell. According to the Association of Residential Managing Agents, approximately half a million people may be living in a building with some form of unsafe cladding.
Remediation works are being undertaken—according to the UK Government, as of December 2021, 93% of all identified high-rise residential and publicly owned buildings in England had either completed or started remediation work to remove and replace unsafe cladding. While 410 buildings (85% of all identified buildings) no longer have dangerous ACM cladding systems.
While these remediation works improve building safety, the onus is now on the building owners, property developers, and housebuilders to take responsibility for updating built assets accordingly to meet safety governance.

A Change in Responsibility for Remedial Works
Since the Grenfell tragedy, the UK Government has taken several steps to address the cladding crisis. This includes the ACM cladding remediation program, which provides financial contributions to remedying unsafe cladding. The Building Safety Fund, which helps fund the removal and replacement of unsafe non-ACM cladding on buildings over 18 meters in height, is another measure the Government has taken.
However, due to gaps in funding—most notably to low-rise buildings (between 11 meters and 18 meters)—thousands of leaseholders have faced considerable costs to pay for the brunt of remedial works.
On 10 January 2022, Secretary of State for Levelling Up Michael Gove announced this would be changing. He outlined measures to ensure no one in low-rise buildings would have to pay to remove unsafe cladding. Instead, responsibility for funding remedial works will pass to the businesses responsible for installing the cladding—developers, housebuilders, and manufacturers. This is set to come in at a cost of £4 billion or roughly $5.3 billion.
Under the new proposals, the Government announced developers who do not pay their share to solve building issues would face legal or tax changes, including:
- Blocking planning permission and building control sign-off to prevent firms from building and selling new homes
- Charging a higher rate of the new building safety levy
- Using cost contribution orders to ensure manufacturers prosecuted for selling unsafe cladding pay their share
It was also stated leaseholders would have up to 30 years to sue builders and product manufacturers for defects on their homes. This 30-year timeframe is currently just in England; however, there are plans to extend it UK-wide.
The industry was given a deadline of March to agree to a plan of action to remediate unsafe cladding issues. So, what was the result?
---
The Industry Commitment
In April 2021, following months of negotiations between the UK Government and the UK construction industry, 36 out of the 53 construction firms invited to sign up to the pledge committed to remediate life critical fire safety works in buildings over 11 meters.
The listed builders—including some of the UK's biggest industry names including Ballymore, Berkeley Group, Redrow Homes, and Barratt Developments—have agreed to pay £2 billion collectively. This £2 billion is just half of the initial £4 billion required. The UK Government Department for Levelling Up, Housing and Communities announced an existing industry levy will be extended with £3 billion collected over the next decade, increasing the overall estimated remediation costs to £5 billion.
For the 17 organizations yet to make a pledge, the government has stated it is in discussions with these developers and called on them to sign the pledge, saying they would face the consequences if they do not—most notably blocking the organizations from building and selling new homes.
---
The Golden Thread of Information
In the aftermath of the Grenfell disaster, an independent review of Building Regulations and Fire Safety was established. The resulting Hackitt Report, published in 2018, has been a catalyst for discussions surrounding managing essential project information.
One of its most transformative concepts is the "golden thread of information."
The golden thread of information refers to quality and up-to-date information records gathered and updated throughout the asset lifecycle. Simply put, information and data are continuously collected—from design to build to use.
The golden thread is a digital record of everything associated with the building—processes, materials, decisions, and usage. A live repository of all asset data, the golden thread introduces formal processes to maintain digital information, assure accuracy, and ensure accessibility and security.
---
Getting Ready for the Golden Thread Mandate
For UK property developers, housebuilders, and the wider construction industry figuring out how to achieve this golden thread of information is crucial as the Government moves to "introduce a requirement as part of the more stringent regulatory regime to create and maintain a golden thread of information."
As detailed by the UK Government, this golden thread is both:
- "The information about a building that allows someone to understand a building and keep it safe, and
- the information management to ensure the information is accurate, easily understandable, can be accessed by those who need it, and is up to date."
The Asite Platform ensures our industry can send, receive, capture, share, and collaborate on all the data we collect.
With the declaration that the golden thread must be kept digitally, the Asite Platform provides projects with a digital, cloud-based centralized repository—the Asite Common Data Environment (CDE).

Create Auditability and Accountability with Asite
The Asite CDE is a central repository. It is used to collect, manage, collaborate, and share project information with the project team. Simply put, it takes all the data and information associated with a project and stores it in one single shared area, making it accessible to the entire team—bringing together stakeholders from across the supply chain—and updating it as the project progresses.
With the Asite Platform, stakeholders also benefit from several other solutions to improve project information management. This includes Adoddle Field for Site, a mobile, and tablet app that ensures working on-site have access to the latest project information, both online and offline. With the app, project teams can efficiently create, view, and manage site tasks – such as defects, punch lists, and snags. The Asite Platform and Adoddle Field for Site work hand-in-hand to guarantee that all changes are seamlessly synchronized with the Asite CDE.
Following project completion, the Asite CDE serves as an invaluable auditable archive. It also exists as a dynamic "as-maintained" record continually updated with asset information.
The Asite CDE supports connectivity and the implementation of a golden thread by providing a single source of truth. All asset information—design, document, images, snag lists, and correspondences—is stored in one shared location.
Want to learn more about how Asite can help you and your team get golden thread ready? Find out how the Asite CDE can help; contact us at sales-ukeu@asite.com or +44 20 4579 0736.

Asite Insights in your inbox.
Sign up for product news and our latest insights published monthly. It's a newsletter so hot, even global warming can't keep up.