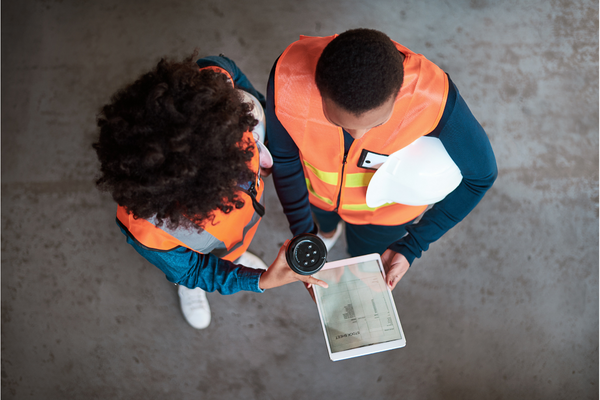 Whether you're a project manager on a jobsite in London or a building owner in Abu Dhabi, you could stand to benefit from a CDE.
And if you already have one, is it the right fit for you and your team?
A Common Data Environment (CDE) is a comprehensive project management solution. It is a central repository where construction project information is housed and updated throughout the asset and project lifecycle. As the single source of information for the project, a CDE holds all project information—documents, contracts, reports, bids, and model information.
With a CDE, it collects, manages, and shares project information with the project team members. While a CDE can take many forms—a project server, an extranet, or even a filing cabinet—to achieve true, seamless collaboration, a cloud-based solution is best.
Here, a CDE holds all information requirements in a shared area. This prevents many issues, including avoiding duplication and saving time and costs.
With this in mind, the next step is to evaluate your current processes and discover if a CDE will help improve your organization's productivity and profitability.
Here are 10 questions to ask to figure out if a CDE is a right fit for you and your team:

*To download a pdf of this infographic, please click here.
Delivering CDEs for Construction Companies Globally
So how do your answers stand up? Think it might be time for a change?
For over 20 years, Asite has provided organizations with the tools they need to thrive.
One example is Asite's work with Virtus Ltd, the UK's Leading Temporary Traffic and Highway Management Expert.
Virtus Ltd is a consultant and design house for traffic management. As leaders in their field, they offer a unique product. However, they realized they could take a big step forward by implementing BIM and adopting a Common Data Environment (CDE).
As a Tier 3 contractor, Virtus Ltd is often dictated to by the requirements and wants of larger operators. Adopting BIM and CDE technology would allow them to carve out a stronger identity and deliver a more robust offering to its clients.
As its ISO 19650 re-accreditation was a high priority for Virtus Ltd, Asite's position as an industry-wide recognized CDE and its BSI Kitemark for BIM Software were big selling points. As Ryan Williams, Digital Development Lead at Virtus Ltd explained: "Asite were holders of the BSI Kitemark for BIM software, so straight away that gave us confidence that if this software is in line with the same 19650 standards as us, that's already half the battle."
Although the company had been previously awarded the accreditation, they found the platform they had been using—SharePoint—wasn't sharp enough. The team described it as too mechanical and not displaying the data professionally.
Not only did Asite provide a cost-effective option for Virtus Ltd, but they also offered the company a high level of professional support. The Asite team's desire to help the company achieve its goals also stood out during its decision-making process.
See more about how Virtus Ltd used Asite to achieve success here:
Take the Next Step in Your CDE Journey
Ultimately, a CDE gives you control over your projects. You can ensure that all stakeholders work within the same collaborative environment from the same shared information.
Other benefits include:
- Facilitates the golden thread of information—quality and up-to-date flow of information throughout the asset lifecycle. 
- Makes all project information readily available to all project team members regardless of time or location.
- Creates a central and secure repository for managing your supply chain.
- Improves tasks throughout the asset lifecycle—construction planning, contract management, defects, asset handover, and asset management.
- Creates a centralized knowledge base—allowing knowledge sharing and bringing learnings from one project to the next.
- Ensures compliance with the ISO 19650 international standard of good practice, which names CDEs as the gold standard for managing project information when multiple parties are involved.
A CDE is your best option when tech takes off and you're met with an avalanche of data and information you need to navigate.
Would you like to see for yourself what a CDE has to offer? Look at how a CDE can benefit your team and boost your bottom line. Learn more here.
Asite Insights in your inbox.
Sign up for product news and our latest insights published monthly. It's a newsletter so hot, even global warming can't keep up.