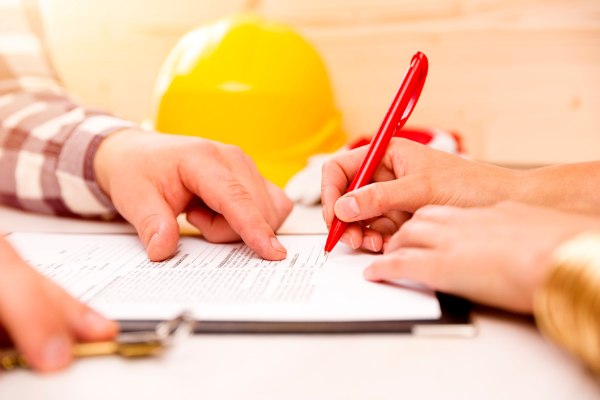 Complicated and sometimes convoluted, laws, rules, regulations, and legislations dictate everything in the built world. This includes planning permission, design, construction, building standards, the environment, property ownership, and working conditions.
Keeping up with legislation is another plate the construction industry must keep spinning.
Highly regulated, the construction industry is also facing multiple pressures. This includes its fundamental role in slowing the pace of climate change, its position as a key driver of global economic growth, and its susceptibility to global challenges.
Across the UK and Europe, governments and other governing bodies, such as the European Council, are constantly seeking to develop new laws and guidelines to improve the construction industry. These improvements can come in the form of reducing the built environment's environmental output, increasing the quality standards new assets need to meet, or ensuring the safety of those working on construction sites.
To help you keep on top of these changes, here are some key laws and regulations that could impact construction in 2022 across the UK and the Netherlands.

UK Legislation
The Building Safety Act 2022
Born out of the devastating impact of the Grenfell tragedy—a fire ripped through Grenfell Tower, a 24-story residential tower block in West London, killing 72 people—the Building Safety Act gives residents more power to hold builders and developers accountable and stricter sanctions against those who threaten their safety.
As it states, it aims to "give residents and homeowners more rights, powers and protections – making homes across the country safer."
One key provision was the change in responsibility for remedial works. The Act states landlords and/or developers are liable for costs associated with historical building safety defects. Under the Act, leaseholders are now protected from cladding-related costs. The Act also limits future liability for repairing other historical defects.
For building owners, builders, and all involved in creating the new asset, the Act creates a clear framework for designing, constructing, and managing safer, high-quality buildings.
Building owners will be required to manage safety risks, with clear lines of responsibility for safety during the asset's lifecycle. Under the new legislation, the UK Government will also require the use of a golden thread of information.
With ISO 19650, projects have a set of standards they need to meet to gain compliance. With PAS 9980, these standards would assess the level of the building's safety.   
What to watch for next: The Building Safety Act is now English law following Royal Assent on 28 June 2022. The majority of its provisions will become law in stages over an 18-month period. One of the most important of these—changes to the Defective Premises Act and Section 38 Building Act limitation periods—will come into effect two months after Royal Assent.
---
The Future Homes and Buildings Standard  
The second stage of a two-part consultation, the Future Buildings Standard, was built on the Future Homes Standard consultation, which focused on Part L (conservation of fuel and power) and Part F (ventilation) of the Building Regulations for new dwellings.  
The Future Home Standard consultation revealed: 
- The industry believes it's not acting fast enough to reach net-zero by 2050  
- Better alignment between local authorities and housebuilders is needed to reach the 2050 target 
- Introducing a new metric to measure efficiency could be beneficial  
- Air source heat pumps, electric cooking appliances, and electric boilers would be a step forward, but only if the electricity supply came from renewable resources 
The Future Building Standard used these, and those of its own consultation, and developed energy and ventilation standards for non-domestic buildings and existing homes. It also included proposals to mitigate overheating in residential buildings.  
What to watch for next: Full technical specifications for the Future Homes Standard will be consulted in 2023. The necessary legislation will be introduced in 2024 ahead of implementation in 2025. 
---
The Public Procurement Bill
Following Brexit, the government sought to redefine how public procurement worked outside of the European single market. The new legislation aims to speed up and simplify procurement processes, create opportunities for small businesses, and innovate public service delivery.
One of the goals of the new Procurement Bill is to create a fully transparent system, one where anyone—regardless of background or position—could view, search and understand what the UK public sector wants to buy, how much it is spending, and with whom. 
In December 2020, the Cabinet Office issued a Procurement Green Paper to drive discussion and proposals for change. This then took shape in legislation, and the Procurement Bill was announced in Queen's speech in May 2022.
Public Procurement accounts for £300 billion annually, or around one-third of the government's expenditure. By looking more closely into procurement, these proposals could help smaller businesses tap into that funding, save the taxpayer money, and drive how companies can help local communities through their work.
An improved and more transparent approach will likely help businesses procure work faster and deliver better results for taxpayers.  
What to watch for next: The Public Procurement Bill 2022 had a second reading in the House of Lords, with the promised secondary legislation and statutory guidance released in due course. The Bill and associated Regulations are expected to come into force in March 2023 with six months' notice provided prior to the implementation.

Dutch Legislation
The Environment and Planning Act
Passed by the Dutch Senate in 2016, the Environment and Planning Act consists of 26 existing acts around the built environment, housing, infrastructure, nature, and water.
The wide-ranging and often deemed complicated Act combines and modernizes laws for spatial planning, housing, infrastructure, the environment, nature, and water. It focuses on a healthy physical environment that meets the needs of society.
It's hoped this will lead to:
- Quicker, cost-effective, and transparent decision-making
- Better solutions to social challenges
- Simplified rules
- Increased flexibility
- Transparent decision-making
With the Act criticized for being complex and potentially difficult to implement, it remains unclear whether the construction industry will embrace or struggle to navigate the new regulations.
What to watch for next: Construction projects and organizations must prepare for the new laws this year, as the Environment and Planning Act is expected to come into force on 1 January 2023.
---
The Wkb (The Building Quality Assurance Act)
The Wkb (quality assurance act for the building sector) aims to put the Dutch "construction consumer" in a stronger position, clarify liabilities, bring together all parties involved in a construction project, and achieve better building quality.
To achieve this, it will change licensing and enforcement regarding building permits and their liability. But it's contractors the Act impacts most.
In what some industry outlets call an "aggravating effect," contractors now hold greater responsibility for meeting regulatory and contractual requirements. They must:
- Provide compulsory documentation the delivered construction meets regulatory and contractual requirements
- Remain liable for attributable defects after project completion
- Pass on these increased responsibilities and liability to their subcontractors and suppliers
- Provide details to their client, noting how they are insured against the consequences of bankruptcy and quality defects
For many construction organizations, it will also be a catalyst to improve their internal quality controls to meet contractors' additional requirements and limit their liability.
What to watch for next: The new legislation will come into effect alongside the Environment and Planning Act on 1 January 2023. Contractors will have until then to get up to speed on their new requirements.
Ready to discover how construction management solutions can help organizations deal with new regulations and legislation coming their way? Take the next step—Download our free State of Construction Report now or contact us to learn more.  
Asite Insights in your inbox.
Sign up for product news and our latest insights published monthly. It's a newsletter so hot, even global warming can't keep up.