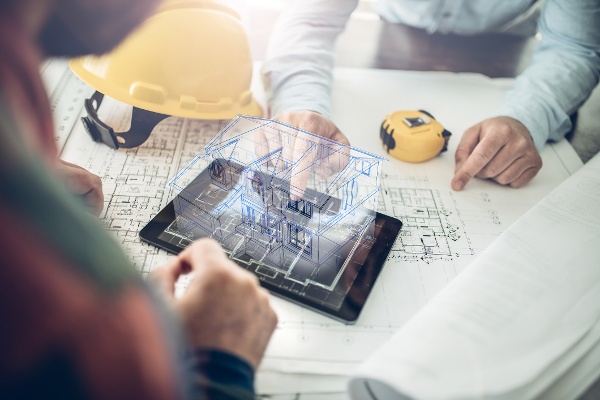 The construction industry has come a long way from drafting assets with pen and paper, moving first to computer-aided design (CAD) and then to Building Information Modeling (BIM) 3D modeling.
Today, BIM is a big business.
The global BIM market will reach an estimated $9 billion by 2025, according to Lucintel, the management consulting and market research firm. This is being put down to rapid urbanization, growth in infrastructure projects, and increased recognition of BIM benefits.
However, many in the industry are yet to board the BIM train. In many regions worldwide, BIM uptake is low, but the tide is turning as more and more people acknowledge BIM as a tool that can help you plan, design, and manage building projects more efficiently.
Better Information Management for Your Project Team
Building Information Modeling (BIM) is a "digital representation of a physical building or infrastructure asset."
Going back to our example of moving on from pen and paper to CAD, BIM provides the context and meaning behind the drawings. BIM takes digital markings and combines them with concepts from software engineering to create objects that have meaning or data associated with them.
An architect no longer sits alone in a room creating a design; today, with the influence of construction technology such as BIM, it is a much more collaborative approach.
Think of a wall in a building; with BIM, you can associate hundreds of pieces of data to it—the materials used, the dimensions, the fire safety rating, what piping runs through the wall, how the wall interacts with its surroundings, and much more.
This creates a better, more collaborative way of working for your project team. Underpinned by digital technologies, BIM facilitates design, construction, and operation processes and helps get your entire team on the same page—or model.

Why is BIM Collaboration so Important?
Effective collaboration processes are at the heart of BIM. Based on defined standards, open workflows, and model-centred communication, it depends on collaboration between project teams for BIM to be successful.
With BIM, the digital representation can be shared with all parties to outline the work planned. Here project teams members get a complete understanding of the project's scope and what is required.
Then, during the project, stakeholders can feed information and data into the digital representation and pull information when required. They can also review the process, mark-up and comment on models, and share these edits securely across the project team to further collaborate.
BIM ensures that all stakeholders are consulted at all stages throughout the project. Also, with BIM, all project information is stored in one central location—the Common Data Environment (CDE).
---
The Benefits of BIM Collaboration
- Reduced Project Errors—As all project information and data are stored in a single, secure environment, problem-solving is improved and the chance for errors to crop up is reduced. According to a survey by Dodge Data and Analytics, 61% of those surveyed report BIM processes reduced project error.
- Better Decision-Making—With regular data exchanges in the digital representation, all information is accurate and up-to-date. This means your entire team is working from the same page and decisions are made on the latest information, and ambiguity is eliminated
- Easier Communication—All models are held in one cloud-based location, allowing all stakeholders to access and share information in real-time, improving communication project-wide. Dodge Data and Analytics report 55% surveyed stated BIM processes reduced the time required for communications
- Supports Sustainability—In the BIM model, you can accurately predict how much material is needed for the project. This helps reduce waste and the overall environmental impact of the project

The Asite cBIM Solution
When it comes to BIM, Asite provides the collaborative solution.
The cloud-based Asite Platform gives projects and their team visibility, security, and control across the entire collaborative BIM process with Asite cBIM.
The Asite collaborative Building Information Model (cBIM) solution facilitates secure communication between those working on a project.
Teams can view, search, and coordinate issues around objects within individual and federated models, enhancing collaboration and visibility throughout the project lifecycle. Additionally, while managing models, users can reference documents and electronic forms stored within the Common Data Environment (CDE) to enrich communications further.
So, how does it work?
Asite cBIM offers a whole host of benefits to project teams, including:
- Creating a Single Source of Truth—All model versions and their associated data are stored and updated in the Asite CDE, creating a single reference point
- Supporting Open and Native Formats—The federation of IFC files is supported, as well as over 50 native formats, including Revit, Rhino, Solidworks, Sketchup, and Point Cloud. COBie data can also be exported to facilitate the management of assets.
- Ensuring Auditability and Version Tracking—A clear audit trail is created as all revisions are timestamped and stored in the CDE
- Easy Storage of As-Built Information—As-built information, which can be associated with model objects, is stored in the cloud to make project handovers easier and faster at any stage in the project lifecycle or after
BIM improves how we work today and has provided a strong foundation for construction's digital future. In fact, according to Dodge Data and Analytics, 82% of BIM users report a positive return on investment. Is it time to get on board?
Ready to Start Your BIM Journey? Take the Next Step

—Do

wnload Our Free BIM Booster Guide

Asite Insights in your inbox.
Sign up for product news and our latest insights published monthly. It's a newsletter so hot, even global warming can't keep up.