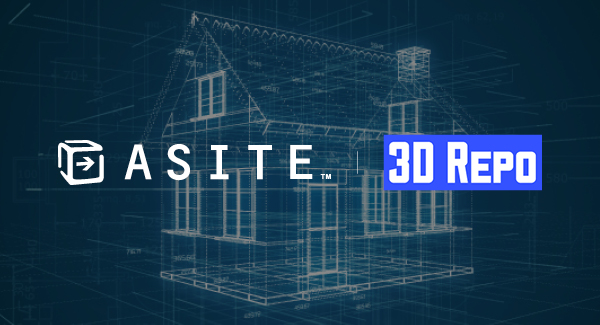 Asite's new integration with 3D Repo will streamline BIM file management, improving collaboration and reducing complexity
London, United Kingdom (June 2020) – Asite is pleased to announce that 3D Repo, the Software-as-a-Service (SaaS) solution for Building Information Modelling (BIM) data, is integrating with the Asite platform.
The new integration sees the two tech innovators join forces to build better solutions and to further streamline workflows for the AEC industry, improving collaboration and reducing complexity for BIM data management.
Nathan Doughty, Asite CEO, said:

"We're delighted to be working with 3D Repo on an integration to align our platforms and create a seamless experience that further improves coordination for our shared customer base, and will ultimately save time on construction projects globally."
Dr Jozef Dobos, Founder and CEO of 3D Repo, said:

"Asite provides a single point of access, validation, and quality assurance for project deliverables which many of our customers are already using. Integrating with Asite is a natural fit for 3D Repo and follows in the footsteps of other existing integrations across the entire market creating a true collaborative ecosystem for the entire AEC industry."
Upon completion, the new integration will streamline the standard process of uploading 3D models and other BIM related deliverables to Asite's Common Data Environment (CDE), with the files instantly and synchronously reflected in the 3D Repo platform.
Uploaded files will automatically sync to 3D Repo back to Asite, delivering a true bi-directional functionality for the end-users.
Synchronizing 3D Repo and Asite's CDE will save valuable time on more construction and infrastructure projects where hundreds or thousands of model federations and other deliverables are uploaded.
The integration between Asite and 3D Repo is part of Asite's commitment to continually deliver at the highest level, producing a platform which enables our clients to deliver capital projects and infrastructure developments around the world.
Our Senior Vice President UK/Europe, Rob Clifton will join the 3D Repo team in a live webinar on 11 August 2020 at 11AM (GMT). Click here to register.
---
Asite's vision is to connect people and help the world build better.
Asite's open construction platform enables organizations working on capital projects to come together, plan, design, and build with seamless information sharing across the entire supply chain.
Asite's comprehensive range of solutions connect dispersed teams across the lifecycle of capital assets, enabling them to build better and build resilience. With Asite, capital project owners stay at the forefront of innovation, maintaining a golden thread of information throughout a project to facilitate the creation of digital twins.
Asite is headquartered in London's Tech City with regional offices in New York, Houston, Dubai, Riyadh, Sydney, Hong Kong, and Ahmedabad.
For more information about Asite, please contact sales@asite.com
3D Repo is a multi-award-winning company offering a Software-as-a-Service (SaaS) platform for Building Information Modelling (BIM) in the cloud. Instead of architects, consultants and contractors sharing massive proprietary files in a costly and time-consuming manner, they can simply point their web browser to an encrypted knowledge base to examine each project stage virtually.
With 3D Repo, users can manage model revisions and highlight potential issues using live collaboration tools, which allow the whole project team to work from a single source of truth. 3D Repo also includes patent-pending technology to identify real-time changes and clashes in 3D models.
By comparing the actual geometry of a model rather than underlying, software specific object IDs or labels, 3D Diff Change Detection can identify changes between models from different sources. 3D Diff Clash Detection automatically highlights intersections, and therefore potential conflicts, between different types of models.
Asite Insights in your inbox.
Sign up for product news and our latest insights published monthly. It's a newsletter so hot, even global warming can't keep up.