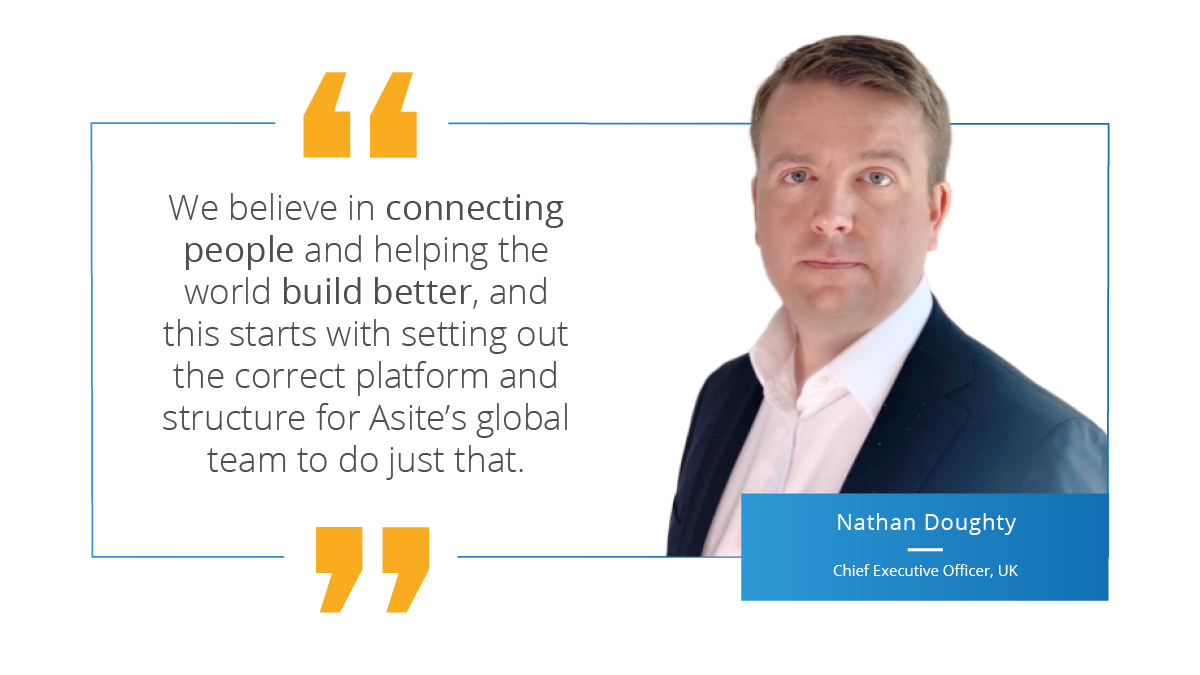 London, United Kingdom – Asite has set out a global operating structure and made a number of senior management team appointments which set the business on a path of global expansion and growth.
---
Asite's business development and growth plans will be driven by four distinct operating regions: UK / Europe, APAC, North America, and India / MENA. These regions will be supported by a robust and mature shared services model from the Asite Group.
Chris Peters has been appointed Senior Vice President (SVP) North America and will oversee the development of the Asite business in the US and Canada. Chris was previously Global Director of Professional Services for Asite, having held that role since 2008 and been with the company since 2003. Prior to Asite, Chris was a Quantity Surveyor working at Davis Langdon and has a wealth of experience in information management for capital projects.
Rob Clifton has been appointed SVP UK / Europe and will head up Asite's continued development in its home region. Rob was previously Digital Engineering Manager and led the UK Professional Services and Customer Success teams, having joined the business in 2015 from Laing O'Rourke. Rob graduated from Loughborough University with a Masters in Civil Engineering.
Denis Antony has been appointed SVP Global Product Management and will act as the primary channel between our customers and the ongoing development of the Asite Platform. Denis joined Asite in 2004 as Business Analyst and took a leadership position in Product Management in early 2010. He is a chartered accountant and has over 22 years' experience in Enterprise Resource Planning (ERP) implementations and managing the finance, accounts and cost control portfolios for capital projects.
Chris and Rob join Atit Patel, who is currently SVP APAC based in Sydney, as Regional SVPs leading the company's growth around the world, backed up by Denis and the global shared services product team.
The India / MENA region will be led by Ritesh Narain, Group Executive Vice President (EVP), who has served as CEO of Asite India since 2005. He will spearhead our 2020 expansion plans in the Middle East and Africa.
These appointments are all promotions from within and highlight Asite's strong depth of talent and experience as well as the great success the company has had over the years at retaining talent.
Nathan Doughty, Asite CEO, said:

"Congratulations to Chris, Rob, and Denis on their well-deserved promotions.

We believe in connecting people and helping them to build better and this starts with setting out the correct platform and structure for Asite's global team to do just that.

Chris is tasked with establishing a regional sales and marketing operation in North America to build on our outstanding set of marquee client accounts in the US. Rob will continue our rapid growth in our home market in the UK and Ireland and pursue a strategy of establishing sales and delivery teams in Europe as we seek to build on our growing customer base on the continent. Atit will continue to grow the business in APAC, building on our established operations in Australia and our growing Hong Kong office. Ritesh will manage the significant expansion of our India and UAE operations as well as our planned establishment of a presence in Saudi Arabia during 2020.

I have great confidence in the abilities of the senior management team to deliver growth in their regions and am pleased to put the energies of the Group fully behind their business development plans and targets."
---
Asite's vision is to connect people and help the world build better.
Asite's open construction platform enables organizations working on capital projects to come together, plan, design, and build with seamless information sharing across the entire supply chain.
Asite's comprehensive range of solutions connect dispersed teams across the lifecycle of capital assets, enabling them to build better and build resilience. With Asite, capital project owners stay at the forefront of innovation, maintaining a golden thread of information throughout a project to facilitate the creation of digital twins.
Asite is headquartered in London's Tech City with regional offices in New York, Houston, Dubai, Riyadh, Sydney, Hong Kong, and Ahmedabad.
For more information about Asite, please contact sales@asite.com
Asite Insights in your inbox.
Sign up for product news and our latest insights published monthly. It's a newsletter so hot, even global warming can't keep up.