London, United Kingdom (May 2020) – Asite is excited to announce that Zoom, the cloud-based video conferencing tool being used by millions around the world, has been integrated with the Asite platform.
Together, Asite and Zoom enable real-time collaboration on shared content, helping teams when working remotely or away from their projects.
The initial Zoom integration will allow users to start instant real-time audio or video meetings with a single click of a button. The ability to schedule and join meetings, amongst other features, will be supported as well in near future.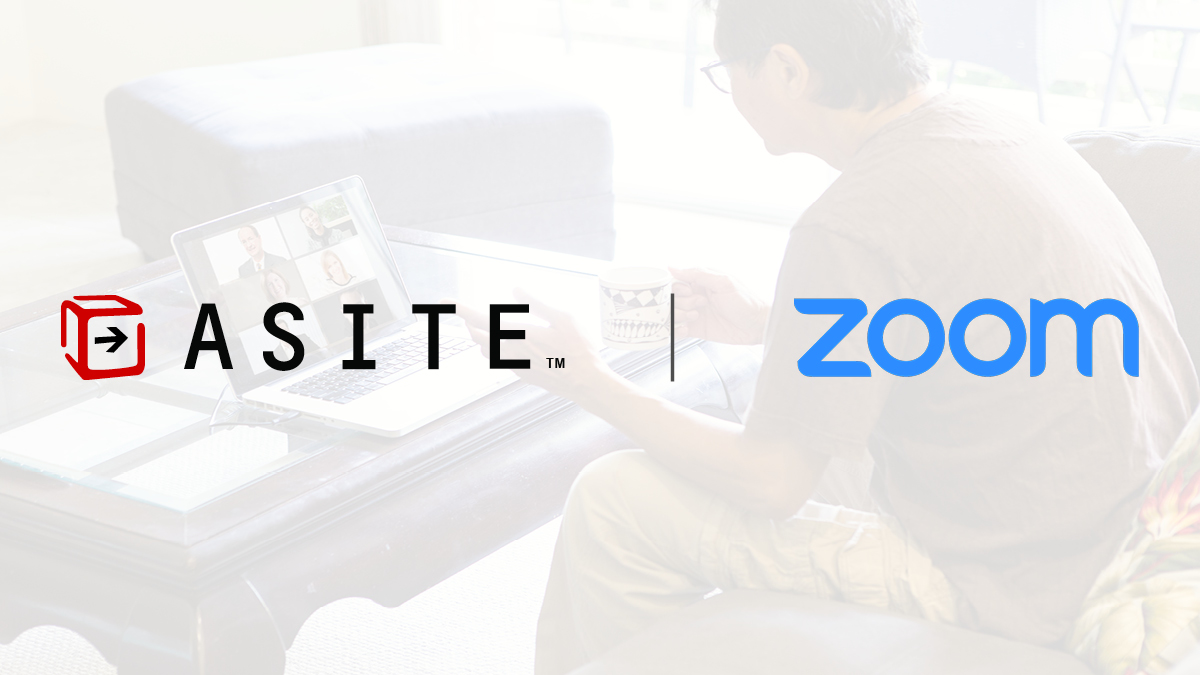 Devendra Gera, Chief Technology Officer at Asite said:

"Like everyone, Asite has been adjusting to this unprecedent situation. We've been working behind the scenes to analyze what different functions would help make our user's lives that little bit easier during this difficult time.With the integration of Zoom, Asite users now have seamless access through the Asite platform and our partner ecosystem to the collaboration tools they need to keep building, and ultimately, build better.

I'm pleased to say we're not stopping there. We're continuing to push our platform to the highest levels. In the near future, Microsoft Teams and Google Meet will also be integrated with the Asite platform and additional enhancements to the new Zoom connector are in the works. Stay tuned."
With the changes in working habits and practices due to the COVID-19 pandemic the majority of people are still adjusting to a new way of working. When the safety measures are eased, it is expected that many of these new working practices will remain, highlighting the need for comprehensive collaboration tools.
Asite platform users will be able to start Zoom meetings - facilitating instant collaboration - and schedule meetings with other team members or stakeholders, regardless of their location. Meeting recipients can join Zoom meetings or calls on their Zoom App without logging into the Asite platform, allowing for seamless information sharing throughout the entire supply chain.
The integration of Zoom with the Asite platform will allow project teams to easily share and look at documents, and virtually be present with the field team onsite from within their Common Data Environment.
---
Asite's vision is to connect people and help the world build better.
Asite's open construction platform enables organizations working on capital projects to come together, plan, design, and build with seamless information sharing across the entire supply chain.
Asite's comprehensive range of solutions connect dispersed teams across the lifecycle of capital assets, enabling them to build better and build resilience. With Asite, capital project owners stay at the forefront of innovation, maintaining a golden thread of information throughout a project to facilitate the creation of digital twins.
Asite is headquartered in London's Tech City with regional offices in New York, Houston, Dubai, Riyadh, Sydney, Hong Kong, and Ahmedabad.
For more information about Asite, please contact sales@asite.com
About Zoom
Zoom Meetings for desktop and mobile provides the tools to make every meeting a great one. Zoom enables quick adoption with meeting capabilities that make it easy to start, join, and collaborate across any device.
Zoom Meetings syncs with your calendar system and delivers streamlined enterprise-grade video conferencing from desktop and mobile.
Today's mobile professionals need to be able to work and video conference wherever they are. Zoom Meetings for mobile provides the same great experience that you'd expect from the desktop client and more.
Asite Insights in your inbox.
Sign up for product news and our latest insights published monthly. It's a newsletter so hot, even global warming can't keep up.