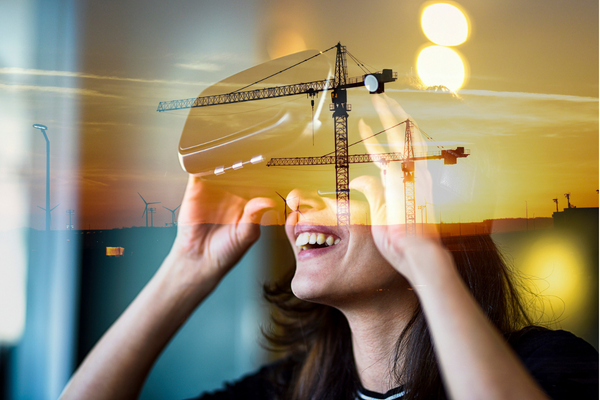 What do you call robots laying bricks? Paper documents being digitized? Or embedded material passports?
That's the construction industry transforming before our eyes with digital leading the charge.
According to USG and the U.S. Chamber of Commerce, 70% of contractors believe that advanced technologies can increase productivity (78%), improve schedule (75%), and enhance safety (79%).
But maintaining the pace and keeping up with this change is no easy feat. Organizations must innovate and get on board with new initiatives to remain competitive.
With this abundance of technology, new ways of working, and broader global conditions to consider, where and how do you focus?
Here are just three trends to keep your eyes on as the industry evolves from a manual to a digital industry.
---
Understanding Digitization, Digitalization, and Digital Transformation
Organizations and projects throughout the construction industry worldwide are embarking on their digital transformation journeys.
It's a monumental shift for an industry that repeatedly ranks as one of the least digitized globally. But it is not without its challenges.
For many, there is still uncertainty and confusion about how to create a digital transformation.
But what's causing it?
Some of this confusion likely lies in the language. More specifically, the difference and understanding of two key terms related to digital transformation—digitization and digitalization. Watch the video to break down their meaning, come to grips with the upcoming move to digital.
How Industry 4.0 is Set to Revolutionize Our Lives
Closely linked to this digital transformation is Industry 4.0.
Repeated industrial revolutions have defined our recent history. First is the arrival of mechanization, electrification, and then automation.
Each revolution builds on the achievements of what has gone before. The fourth industrial revolution—Industry 4.0—is poised to bring about a new chapter, spurred on by extraordinary technological advances.
With over 4.6 billion people worldwide using the internet, over 60% of the world population is set to be impacted by Industry 4.0. So, what can we expect?
Watch the video to take a deep dive into what it means for the construction industry:
How Social Value Can Make an Impact
In January 2021, the Social Value Model came into force in the UK. It places a responsibility on relevant public sector organizations to consider social value in their contracts.
Put simply, organizations must show a commitment to deliver additional outcomes that benefit society to win public sector development contracts.
This reflects the pressure facing the construction industry globally. The industry must perform better—from working conditions to environmental output or its impact on society.
The hard part is how to implement social value initiatives. But there are plenty of opportunities for industry to improve processes, increase productivity, and create a better future.
So, what is social value, and what does it mean for the construction industry? Watch the video to learn more:
Keeping On Top of the Changing Industry with Technology
More than most, Asite recognizes this move to tech. Over the last 20 years, Asite has been a leader in construction technology innovation, with the dynamic team at the forefront of change. Continuous learning, upskilling, and innovation have allowed Asite to keep pace with the changing industry and deliver world-class digital transformation consulting.
Ready to keep up with construction? Discover how Asite can help you not only maintain pace but excel in the evolving industry. Learn more here.
Asite Insights in your inbox.
Sign up for product news and our latest insights published monthly. It's a newsletter so hot, even global warming can't keep up.