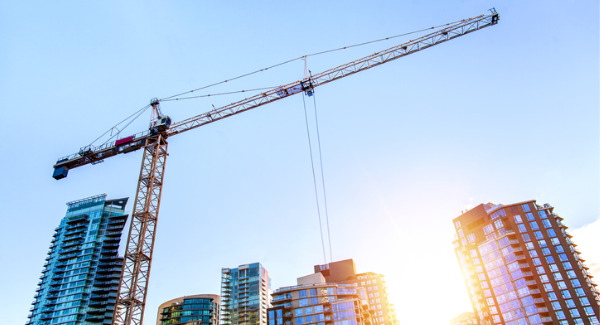 Before you begin any construction project, from a large-scale infrastructure project to a building redevelopment, there are countless factors to consider—labor, materials, and project schedule. But cost is always first and foremost in the mind of any project manager or asset owner.
Especially when you consider, large projects are typically up to 80% over budget, according to McKinsey Global Institute. Likewise, KPMG reports only 31% of all projects came within 10% of the budget.
But what if you are building in one of the most expensive cities in the world? These considerations become even more amplified.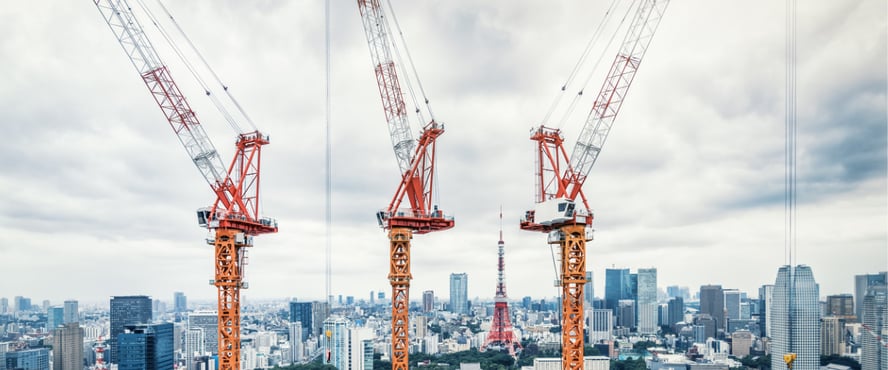 Toyko Leads the Top 10

According to Turner & Townsend's 2021 international construction market survey, Tokyo, Japan, tops the list of the world's most expensive cities to build, with an average cost of $4,002 per sqm.
Hong Kong ranks second at $3,894 per sqm, while San Francisco rounds out the top three at $3,720 per sqm.
Here is the list of the top 10 most expensive cities to build, according to Turner and Townsend:
1. Tokyo
2. Hong Kong
3. San Francisco
4. New York City
5. Geneva
6. Zurich
7. Boston
8. London
9. Los Angeles
10. Macau
North America sees the highest percentage of costly construction cities of the global markets, with four listed in the top 10—San Francisco, New York City, Boston, and Los Angeles.
The 2021 report tells a vastly different story from the previous Turner and Townsend report, published in 2019, seeing San Francisco top the list with New York City, London, Zurich, and Hong Kong rounding out the top five.
For London, the comparison makes for a particularly interesting read. The UK capital fell five places—from third in 2019 to eight in 2021. Turner and Townsend, in their report, attribute this to the advancement of other construction markets and the effects of both Brexit and the COVID-19 pandemic, which reduced construction demand.
For the top spots, Tokyo was not even listed in the top five in 2019, while that end-of-decade report marked the first time New York City had been knocked from the top spot by San Francisco, which remains the most expensive North American city.
These high expenses can be attributed to a range of factors—average hourly construction wage, availability and cost of materials, and real estate and land value—which vary from country to country and city to city.
However, a few factors are common across construction projects globally.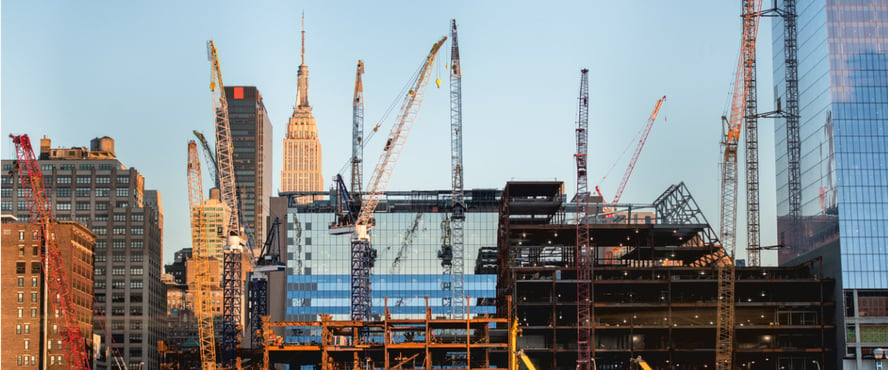 What is Driving Up Cost?
The construction industry globally is grappling with similar issues—supply chain disruption and lack of skilled workers.
As discussed by the Turner and Townsend report, international cities—Tokyo, Sydney, San Francisco, Los Angeles, Chicago, Mexico City, Sao Paulo, Birmingham, Glasgow, and Dublin—have seen a 40% increase in the price of steel, softwood, and copper piping.
According to the U.S. Chamber, 9 out of 10 contractors are concerned about a possible labor shortage in the global workforce. At the same time, 57% have trouble finding skilled workers.
These factors fuel the already staggeringly high construction costs. In some cases, they become barriers to industry growth.
Take building materials, for example. Materials shortages are having a significant impact on the industry, with construction sites worldwide waiting for materials to arrive. With materials sitting in shipping containers waiting to be delivered or simply unavailable due to work stoppages or strong demand, construction sites worldwide come to a standstill. With no materials to build, our industry becomes stagnant.
As we approach 2022, the rising prices experienced throughout the construction industry show no signs of slowing down. According to Turner and Townsend's International construction market survey, these high prices will continue throughout 2022 and into 2023.
Time to Embrace Digital Tech in 2022
More than 30% of the Turner and Townsend survey respondents said they expect a one- to two-year recovery before the construction industry returns to its pre-pandemic output level. How can the construction industry navigate this altered industry and ensure their projects stay on track?
The answer may be digital.
As we all know, the construction industry regularly tops the poll of least digitized industries. However, this year, no doubt spurred on by the COVID-19 pandemic, the industry is beginning to embrace digital.
As the industry turned to remote working and social distancing limited the number of workers on-site, those in construction began to realize the benefits digital could bring—easily accessible information, increased collaboration, enhanced project visibility, improved productivity, and time and cost savings.
Digital is also driving construction demand. According to the Turner and Townsend survey, data centers were the "most buoyant construction sector across all 90 markets." The reason? Constant growth in technology and digitalization.
With this tremendous digital growth and digital outlook for the future, the time to embrace digital is now.
Is 2022 the year you invest in construction tech and help improve your projects and drive down costs? Learn more here.
Asite Insights in your inbox.
Sign up for product news and our latest insights published monthly. It's a newsletter so hot, even global warming can't keep up.