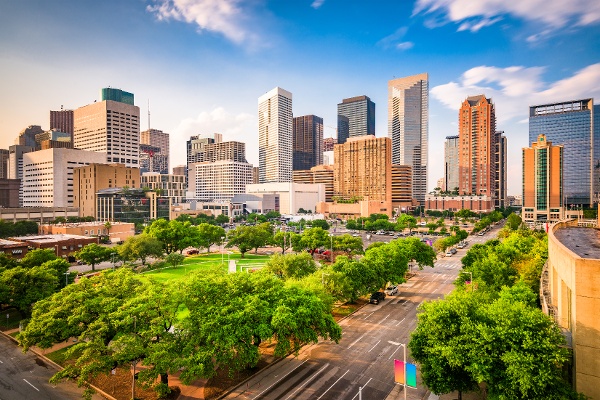 Responsible for 39% of carbon emissions globally and using 32% of the world's natural resources, the construction industry has a long way to go to overcome its image as one of the world's biggest carbon emitters.
As the world pushes to adopt a more sustainable approach to the built environment, embracing more environmentally friendly construction materials is one way to help the industry become greener from the inside out.
But, for contractors, choosing which green materials to try is tough. How do you weigh cost vs. sustainability? How to you gain leadership buy-in? How do you choose the right green material for your project?
Here are three new materials to get you started:
---
1.

Overcoming the Environment's Arch-Nemesis: Concrete
Around since the time of the Ancient Romans, concrete is a staple on jobsites worldwide. With multiple processes involved to transform this grey powder to finished building blocks, concrete may not be the first material you think of when considering green alternatives.
However, it's the material that needs the most work.
If the cement industry were a country, it would be the third-largest CO2 emitter globally—responsible for 7%-8% of global carbon emissions.
With the construction industry annually churning out 4 billion tons of cement—the glue that holds concrete together—it's time for a greener alternative.
Self-healing and precast are just two of the concrete alternatives on the rise.
Self-healing concrete is a method of healing structure cracks without manual intervention. Dormant bacteria are embedded into the concrete. Water—which seeps in when cracks appear—activate these bacteria. Upon activation, the bacteria excrete calcite—a healing component that fills the cracks.
Being tested globally, this new technology makes concrete more resilient and sustainable—stronger structures that last longer mean less concrete for rebuilds.
Precast concrete is produced using a reusable mold or "form." It is then cured in a controlled environment, transported to the construction site, and lifted into place. While this uses the traditional methods of making concrete, one development has seen the creation of precast concrete that cures in 24 hours using carbon dioxide instead of water. The special binder produces the concrete at lower temperatures with a patented curing process. It's projected this new concrete can potentially reduce the carbon footprint of precast concrete by 70%.
---
2.

Flipping the Script on Wood in Construction: Cross-Laminated Timber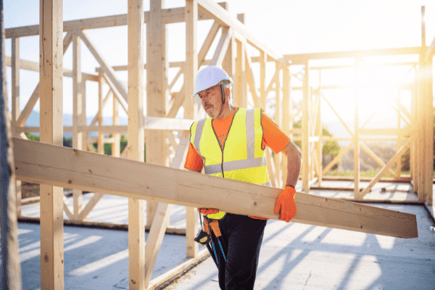 According to the U.S. Forest Stewardship Council, lumber and wood panels—if produced in an environmentally responsible and socially beneficial way—are expected to post the strongest growth among green products.
Here, cross-laminated timber (CLT) is leading the charge.
To create CLT, wood boards that have been trimmed and kiln-dried are glued on top of each other in crosswise layers. Here, each layer needs to be placed against the grain of the adjacent layer. Think of it like Lego—place one block on top of another to form a more stable structure. These board stacks then become slabs and can be used in any aspect of a build—floors, walls, even entire buildings.
These slabs can match or exceed the performance of traditional materials, all while substantially reducing greenhouse gas (GHG) emissions and reducing waste and pollution. Timber building components consume only 50% of the energy required to produce concrete and 1% needed to make steel.
Here, CLT is flipping the script. The idea of wood being an unsafe and unstable construction material may become a thing of the past as it quickly becomes a viable alternative to concrete and steel.
---
3.

Embracing the World's Strongest Material: 3D Graphene
Graphene is one of the strongest artificial materials in the world. When added to a material, graphene makes it stronger, durable, lighter, more elastic, and resistant to cracks and moisture.
However, it is also one of the thinnest materials known to man. This makes working with it on construction projects incredibly difficult. This is where 3D printing comes in.
3D graphene is a more workable material. With the potential to be 10 times as strong as steel while coming in at just 5% of its weight, the jobsite can easily incorporate the material.
One of the most significant uses of 3D graphene is concrete—incorporating the material into the jobsite staple.
Researchers at the University of Exeter in the UK found that the inclusion of graphene in currently used concrete would lead to a 50% reduction of the amount of concrete material required. This translates to a 446kg per ton reduction of the carbon emissions from cement manufacturing.
3D graphene is being used on HS2 in the UK—a planned high-speed railway line and one of Europe's largest infrastructure projects. Here, the material will reinforce concrete structures, remove the need for steel, and reduce the amount of concrete used. It is expected this initiative will contribute toward reducing carbon output by up to 50%
---
Leaning into Green Materials
It's not easy going green. And for the construction industry, which can be accused of being stuck in its ways, the challenge can be even more daunting.
With the eyes of the world on the construction industry and their environmental output, however, pressure is on leaders and workers alike to change their mindset and push green forward.
In the U.S., this seems to be coming to fruition. According to research, North America dominates the Green Building Materials Market, supported by the government's regulations towards the usage of green building materials.
According to Leadership in Energy and Environmental Design (LEED)—developed by the US Green Building Council—the U.S. demand for green building materials is expected to expand by more than 15% over the coming years, generating sales of over $100 billion. The U.S. currently has over fifty regional and national green labeling programs which seek to regulate construction techniques among others.
In Australia, the built environment is the fourth largest climate emitter due to embodied carbon—the amount of carbon that goes into a building. Its two biggest offenders? Concrete and steel. Due to the urgent need to find more sustainable building materials, the green building materials market is projected to reach $38,513.8 million by 2030.
With the right technology behind them to support these materials, the construction industry can create a better way of working that will have a lasting impact on the world around us. Ultimately, the goal is to make sure sustainable methods and materials are at the core of the build world.
The easiest way to get started on your sustainability journey is moving from paper to the cloud. Find out how Asite can help you store, track, and manage all your documents and drawings on a single platform. Learn more here.
Asite Insights in your inbox.
Sign up for product news and our latest insights published monthly. It's a newsletter so hot, even global warming can't keep up.