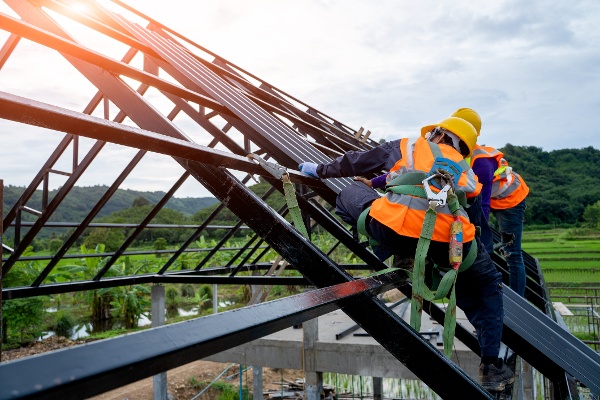 Whether you're a construction superintendent on the jobsite or the CEO back at the office, worker safety should be your No. 1 concern.
Jobsite laborers around the globe work in a hazardous environment. Predominantly open to the elements—the cold and the heat—they must deal with heavy machinery, precarious heights, and bulky materials—steel pipes, timber blocks, and concrete panels.
In fact, the Occupational Safety and Health Administration (OSHA)—part of the United States Department of Labor—attributes most injuries and deaths on a jobsite to the "Fatal Four"—falls, electrocution, being crushed, and being struck by an object.
With construction sites proving perilous, what can you do to keep your workers safe?
---
[Video] 4 Ways to Keep Your Team Safe on the Jobsite
Here are four simple strategies you can put in place to keep your team safe on the jobsite:
Summer Safety in the Middle East

As we head into the warmer months in many parts of the globe, keeping workers from overheating is also a serious concern.

This is particularly critical in the Middle East during the summer months.

In the United Arab Emirates (UAE), with daytime temperatures regularly exceeding 40°C (104°F) and sometimes reaching over 50°C (122°F) during the summer months, the Government placed a ban on all work performed under the sun and in open places—including construction workers—between the peak hours of 12:30 pm and 3 pm.

These restrictions on working hours during the summer were first introduced in 2007. The restrictions resulted in accidents on construction sites dropping by over 50% during July and August, compared with the same period in 2006. In 2010, the restrictions were extended to cover the period from mid-June to mid-September.

With construction workers making up most outdoor workers, this has a huge but necessary impact on construction sites across the region.

During these summer months, constructions workers put down tools and sites close during peak hours, with workers given the opportunity to rest and rehydrate away from the sweltering heat. Construction momentum slows as the UAE Government, and the industry put workers' health and safety first.

There are times when construction must continue—such as cement pouring. If it is not possible to do the work at other times, or work is required to prevent risk or repair damage, workers must be provided with cold drinking water, cooling facilities, and several other health and safety measures.

Since 2007, the restrictions have become an annual occurrence, with many outdoor workers—those in the construction industry making up the majority—hailing the measures as "life-saving."

How Tech Can Improve Worker Safety
Alongside strategies and initiatives, tech is becoming a common resource to help projects protect their workers.
According to USG + U.S. Chamber of Commerce, 79% of contractors believe advanced technologies can enhance safety.
But what tech can be most effective? Here are two solutions you can use to bolster your safety efforts:
- Plan Effectively with a CDE
A Common Data Environment (CDE) is a central repository where construction project information is housed. It is the single source of information for the project. It is used to collect, manage, collaborate, and share project information with the project team.
While you may be unsure how this helps keep your team safe, the importance of having the right information at the right time can not be understated.
Here, a CDE lets you plan effectively and streamline processes.
Let's take working with contractors, for example. An electrician arrives to install the electrics on your new building. But they are working from documents posted to them weeks ago. During that time, the plans were updated to pre-route water pipes and change and position of the electrics.
With a CDE, the contractor has access to the up-to-date document within a shared, collaborative environment.
The same goes for planning. Often, contractors have arrived on the job site, but cannot carry out their work as materials haven't arrived, or the contractor before them isn't finished yet.
A CDE puts an end to this type of project chaos and keeps your team safe, protected, and productive.
- Mobile Tools Keeping Teams Safe On-Site
Consider this, you're working on-site, and you've noticed a few issues that need to be logged. Maybe an electric wire has come loose, or some scaffolding is unsteady. Without mobile tools, you might wait to mention them to your colleagues and supervisor when you return to the office or find them on the jobsite.
Depending on a multitude of factors, this could be hours later, and in that time, the issue remains unresolved.
With mobile tools—and a tech stack that supports your ability to communicate issues with or without WiFi—instead of waiting to mention it hours later, you can take a photo immediately and log it into the system.
The potential hazard is noticed and quickly resolved, and you've prevented a potentially life-threatening injury.
Ready to learn more about how you can utilize construction technology to improve safety on your projects? Learn more here.
Asite Insights in your inbox.
Sign up for product news and our latest insights published monthly. It's a newsletter so hot, even global warming can't keep up.