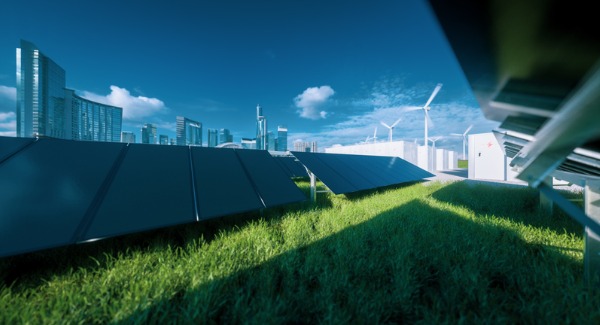 Our industry's role in the climate crisis is no secret—a staggering 40% of all emissions come from the built environment.
This is not only from creating new buildings but also from the energy production of existing ones. It is predicted that 80% of today's buildings will still be in use in 2050; however, 75% of this stock is energy inefficient.
As we begin to feel the effects of climate change—extreme weather events, drought, and melting ice caps—it's clear it's time for a change. And for the construction industry, there is no time to lose. The message from global leaders is clear—if we do not begin to embrace and adopt new ways of working quickly, the damage done to the planet will soon be irreversible.
So, how do we begin to enact change? Digital technologies are becoming the most common answer.
While the COVID-19 pandemic has played a positive role in increasing the adoption of digital tech, there is still some work to do to change the mindset surrounding embracing these tools. Many in the industry remain averse to tech. We will steer the construction industry towards a more sustainable future only when we overcome this barrier.
With the ability to save money, time, and the planet, we're deep-diving into why it's more important than ever that we embrace smart construction.

Cleaning Up the Industry with Digital Twins
The problem in the built environment is undeniable; we are exceeding the limit of carbon emissions feasible for a sustainable and healthy planet and have been doing so for some time.
So, how do you fix a problem so severe and longstanding? Smart construction practices.
Let's take digital twins, for example.
Digital twins are being touted as the answer to mitigate the crisis. Already adopted globally, with governments building digital twins of entire cities, the innovative tech helps make decisions with predictive technology built into assets. It allows asset owners or managers to assess its previous, existing, and future energy outputs and, in turn, enables them to optimize the asset in the future.
Here, asset managers can specifically target the areas performing poorly and improve their environment output. For example, a digital twin can alert asset managers to areas in a building where heat is escaping—poorly insulated rooms or single glazed or broken windows. The asset manager can then use this information to resolve the issues and improve the asset's environmental performance.
Digital twins allow resilience to be built in when creating new assets and retrospectively optimizing old ones.
As part of the recent World Built Environment Forum Dubai 2022 summit, hosted by the Royal Institution of Chartered Surveyors (RICS), Asite Chief Growth Officer Rob Jackson participated in a discussion that delved deep into this area. During the discussion, Rob explained the steps necessary to achieve a state in which we can see smart construction, such as digital twins, play a pivotal role in the climate emergency.
He notes that before we can reap the rich rewards of smart construction, we need to move away from the existing, adversarial practices that have become synonymous with the construction industry – towards a more collaborative approach:
"Our sector has been historically very fragmented and siloed in terms of how we design, build, and operate assets. I have been advocating for years a shift towards collaborative delivery, putting minds together, becoming less adversarial to how deliver, build, and manage our assets. This is a fundamental rule of digitalization, it is facilitating our ability to collaborate and it is driving that change by creating a seamless flow of information throughout the lifecycle of a built asset."
So how do we achieve this?

Getting Future-Ready with Digitization
To embrace what smart construction offers, we need to move away from the siloed and fragmented way of working that currently exists.
By digitizing project processes, we can begin to take those steps.
So, what does this include? It means using digital platforms to structure and organize data to standardize and simplify. By standardizing our data, we can enable benchmarking, which sets out a clear guide for the best industrial practices. For example, the ISO 19650 standards, which allow us to structure information across the lifecycle of a built asset.
This siloed way of working is also clear in the lack of collaboration between organizations. In fact, according to KPMG, 82% of asset owners feel they need more collaboration with their contractors.
Here, we are missing out on the advantages of collective learning from counterparts who have similar experiences, practices, and problems. At the end of the day, climate change is a global issue that requires a global response, and the only way we can achieve that is through enhanced collaboration.
Therefore, perhaps we should stop asking 'What is the cost of going digital?' and instead ask 'What is the cost of us not going digital?'
Again, it's smart construction to the rescue. Using digital technology solutions, information and data can be seamlessly transferred, while projects can better integrate and collaborate. For example, we can pull and push from different platforms by hosting all data within a single, secure repository. This means saying goodbye to replicating efforts and hello to considerable time and resources savings.
And the best way to do this? A Common Data Environment.
According to KPMG by implementing information technologies, such as a Common Data Environment (CDE), you can save up to 18% on costs across the lifecycle of a built asset. Due to enhanced information sharing, you can reduce the likelihood of project delays, bottlenecks, and costly errors.
Technology has helped create a newfound 'symbiosis between financial and environmental goals, meaning we no longer have to suffer significant monetary losses to tackle the climate change emergency.
Therefore, perhaps we should stop asking 'What is the cost of going digital?' and instead ask 'What is the cost of us not going digital?'.
---
Preparing for Battle
Smart construction will play a vital role in the climate battle that is to come. But to be battle-ready and make the most of what smart construction has to offer, we first need to understand, organize, and structure our data. This will allow us to collaborate more effectively across our projects.
So, how do we do it? It means embracing digital technologies that allow you to aggregate information and give you complete visibility over your projects.
Once this is achieved, we can begin to build a more sustainable future—saving money, time, and the planet.
Want to learn more about the benefits of smart construction? Our latest report helps you make the business case for introducing digital technology into your organization. Read it here.

Asite Insights in your inbox.
Sign up for product news and our latest insights published monthly. It's a newsletter so hot, even global warming can't keep up.