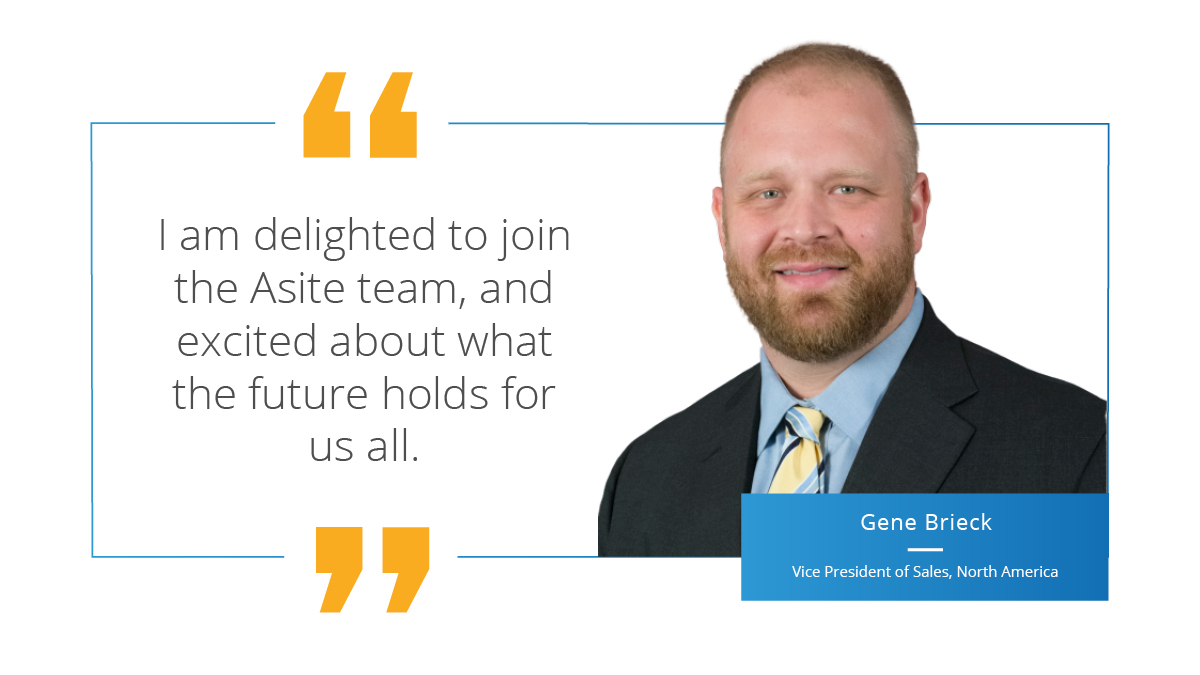 New Vice President of Sales will focus on growing Asite's presence in North America

Houston, Texas (May 2020) – Asite is pleased to announce the appointment of Gene Brieck as Vice President of Sales, North America.
Gene joined the team in April and brings with him a wealth of experience in building strong organizations through organic growth.
Gene thrives on working for driven organizations with an entrepreneurial spirit. Prior to joining Asite, Gene spent more than 15 years in developing businesses in the oil and gas, and engineering and construction industries, helping to grow software, IT, and management consulting firms.
Gene holds an MBA from Rice University, and is a member of the Board of Directors of CanCare, a Houston-based non-profit organization. CanCare's mission is to lift up and inspire cancer patients and caregivers through one-on-one support, empathy, and hope—so no one endures cancer alone.
Gene Brieck, Vice President of Sales said:

"In the era of digital transformation across industries, the drive to invest in, and scale the growth of, Asite in North America is an amazing opportunity for Asite, myself, and—most importantly—the customers based here.

I am delighted to join the Asite team, and excited about what the future holds for us all."
Chris Peters, Senior Vice President of North America said:

"I'm incredibly excited to welcome Gene to the Asite team. His appointment is an important move in expanding Asite's presence in North America. His experience and understanding of how our customers work will help Asite achieve our mission to become the global leader in digital engineering.

Gene's start comes at a time where our industry, and the world, is facing unprecedented circumstances, and I'm certain Gene will help customers find the solution that is right for them as we navigate through these times together."
---
Asite's vision is to connect people and help the world build better.
Asite's open construction platform enables organizations working on capital projects to come together, plan, design, and build with seamless information sharing across the entire supply chain.
Asite's comprehensive range of solutions connect dispersed teams across the lifecycle of capital assets, enabling them to build better and build resilience. With Asite, capital project owners stay at the forefront of innovation, maintaining a golden thread of information throughout a project to facilitate the creation of digital twins.
Asite is headquartered in London's Tech City with regional offices in New York, Houston, Dubai, Riyadh, Sydney, Hong Kong, and Ahmedabad.
For more information about Asite, please contact sales@asite.com
Asite Insights in your inbox.
Sign up for product news and our latest insights published monthly. It's a newsletter so hot, even global warming can't keep up.