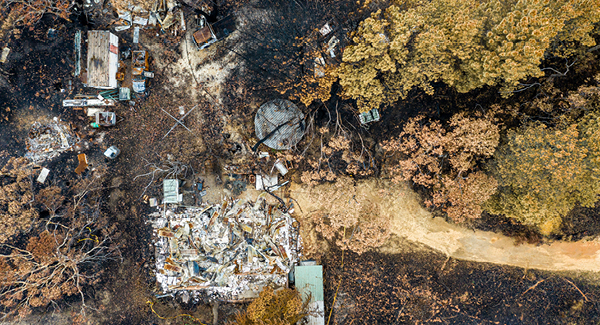 Asite will work with Laing O'Rourke as they lead the clean-up operation following the devastating bushfires in New South Wales.
Sydney, Australia (May 2020) –Following their long-standing partnership, Asite's Common Data
Environment will assist Laing O'Rourke's Bushfire Recovery Program in New South Wales, Australia.
Laing O'Rourke, a world leader for innovation and excellence in the global construction industry, will lead the clean-up operation following the bushfires that devastated much of New South Wales.
Asite's platform will support the project throughout its duration, providing information management capabilities, ensuring collaboration, accuracy and security. The project is anticipated to be completed by mid-2020.
Atit Patel, Asite SVP for APAC said:

"The work being undertaken by the Federal and State Governments, and Laing O'Rourke marked the beginning of the recovery from the devastating bushfires.

Here at Asite, we are proud to be part of the clean-up and rebuilding process, and are honored our platform will be utilized to work on this important project that has impacted so many people's lives and the environment.

We're continuing to work quickly, efficiently and safely with Laing O'Rourke to ensure the people affected can rebuild as quickly as possible."
The project, jointly funded by the Federal and State Governments, will focus on the clean-up of damaged residential and commercial structures and infrastructure.
Laing O'Rourke began work on the project in February 2020, with teams on the ground working with affected communities across the region. Working with the Public Works Advisory to use local suppliers and contractors during the operation is one of the key project requirements set out by the two Governments in an effort to maximise local knowledge and expertise, and assist the economic recovery of the communities.
The bushfires destroyed 2,399 homes and destroyed or damaged more than 10,000 buildings throughout New South Wales. This project, led by the Australian arm of Laing O'Rourke will mark an important step in the rebuilding process.
Asite's platform will be utilized to ensure all project information is held in a single centralized repository, providing project stakeholders with the ability to access, edit, track and manage all information assets in one location. The solution will also greatly reduce the risk of data loss as information is maintained within a full audit trail throughout the lifecycle of the project.
---
Asite's vision is to connect people and help the world build better.
Asite's open construction platform enables organizations working on capital projects to come together, plan, design, and build with seamless information sharing across the entire supply chain.
Asite's comprehensive range of solutions connect dispersed teams across the lifecycle of capital assets, enabling them to build better and build resilience. With Asite, capital project owners stay at the forefront of innovation, maintaining a golden thread of information throughout a project to facilitate the creation of digital twins.
Asite is headquartered in London's Tech City with regional offices in New York, Houston, Dubai, Riyadh, Sydney, Hong Kong, and Ahmedabad.
For more information about Asite, please contact sales@asite.com
About Laing O'Rourke
Laing O'Rourke is a privately owned, internationally focused engineering enterprise with world-class capabilities spanning the entire client value chain.
They operate an integrated business model comprising the full range of engineering, construction and asset management services delivering single-source solutions for some of the world's most prestigious public and private organisations.
The company has operations in Europe, Australia and the Middle East and has a mission is to be the recognised leader for innovation and excellence in the construction industry by 2025.
Asite Insights in your inbox.
Sign up for product news and our latest insights published monthly. It's a newsletter so hot, even global warming can't keep up.