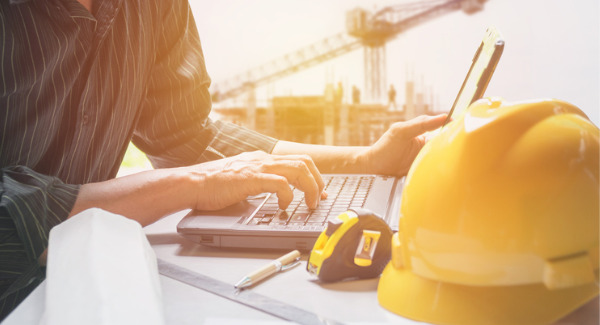 For many, ISO 19650 compliance can sometimes feel like a daunting task—a total revamp of your set ways of working or a process that only large-scale construction companies or megaprojects need to undertake.
This could not be further from the truth.
AECO organizations of all shapes and sizes—from government and state organizations to transport authorities, housebuilders, even SMEs—can stand to benefit from implementing and utilizing the innovative standards. And implementing them doesn't need to be an arduous process.
More Than Just a CDE
An ISO 19650-compliant Common Data Environment (CDE) ensures that all stakeholders across design, manufacturing, construction, and operational processes work from the same information as required or at the right time.
However, to become ISO 19650 compliant, a CDE alone is not enough.
As well as implementing a CDE, the project team must also follow standardized processes that can be enabled and enhanced by the technology. This includes:
---
1.
A Standardized Naming Convention
One of the first and most accessible ways to become compliant with ISO 19650 is by implementing a standardized naming convention.
Here, several attributes—metadata—are brought together to create your document reference. This unique ID does not change.
Each National Annex—a region-dependent appendix to the common international standard—will define the naming convention standards which will differ from county to country. For example, the current UK National Annex comes in the form:

While the current Irish National annex states naming conventions should be in the form:

Implementing a standardized naming convention makes it easier to find your documents, avoid duplication, and facilitate an audit trail across your project or portfolio of projects.
---
2. Automated Workflows in Line with ISO 19650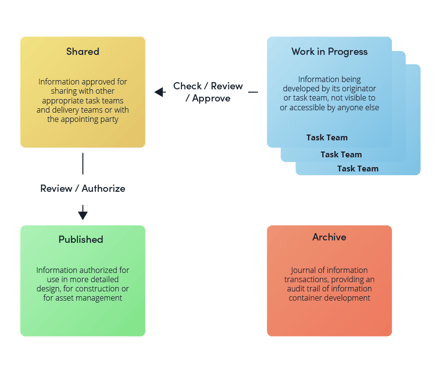 Once you have implemented a standardized naming convention and assigned metadata to create a document reference—attributes are automatically selected when uploading a document—ensuring effective collaboration around these documents is the best next step.
Throughout the asset lifecycle, documents move through different states. In these states, different people have visibility over this document. The document must pass through gateways to move to these different states—check, review, approval, or authorize processes.
Here, different status codes—or Purpose of Issue—can be assigned to a document to trigger a workflow and send it to the relevant stage.
For example, if you need to share a document with a task team, you can simply upload it to your CDE and populate it with the relevant status code. The document will automatically send to the appropriate team—no need for mass emails or multiple Teams messages.
Ultimately, automated workflows ensure the right people are seeing the right document at the right time.
---
3. Cloud-Based Model Management
The next step in ensuring ISO 19650 compliance is implementing cloud-based model management.
Previously referred to as "Volume Strategy," now called "Federation Strategy," this relates to viewing, managing, and coordinating your 3D models within your CDE.
Different 3D models come together by merging individual discipline-specific models together to create a single project model.
By bringing all models together in a cloud-based environment, model coordination is facilitated. With this cloud-based viewer, model viewing becomes more accessible—you no longer require a fancy computer or specific desktop-based model viewing software.
This provides project stakeholders with a space to upload, review, and detect clashes between project models. Increased accessibility also means the wider project team can view the model, introducing new perspectives on the project and allowing the earlier identification of issues and risks.
Stakeholders will benefit from taking an integrated approach, and collaboration is promoted. Design errors are ironed out quickly, clashes are detected and resolved, and estimations are improved.
---
4. Digital Information Delivery Planning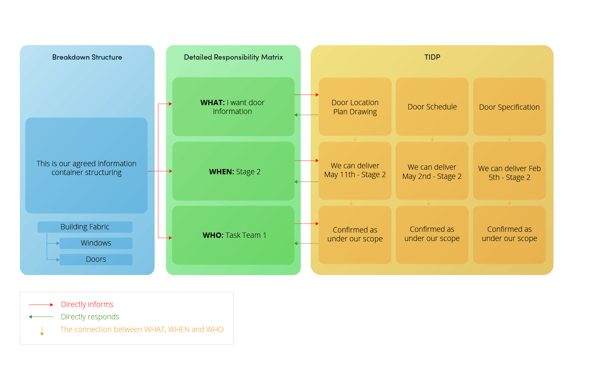 Once you have started using models, have implemented automated workflows, and set a standardized naming convention, it's time to introduce an Information Delivery Plan (IDP).
An IDP is a proactive approach to managing information.
In any project, you already know:
- What your deliverables are
- Who is responsible for delivering them
- When they are due
- In what format and quality they need to delivered
Typically, this is received as drawing registers or TIDPs in Excel spreadsheets, which is then combined by the main contractor or the "lead appointed party".
Here, with and IDP, you can create placeholders for the documents you expect before they are delivered. These placeholders can be assigned to the relevant people. Ultimately, an IDP gives you a mechanism to track whether required documents are delivered or not.
---
Kick-Starting Your ISO 19650 Journey
While there is more to becoming compliant, these four steps give your project or organization the perfect starting point for your ISO 19650 journey.
And once you've begun the benefits and rewards From here, your team will begin to see the benefits and reap the rewards of adopting the international standards.
Want to learn more about how your organization or project can become ISO 19650 compliant? Book a demo now.
Asite Insights in your inbox.
Sign up for product news and our latest insights published monthly. It's a newsletter so hot, even global warming can't keep up.