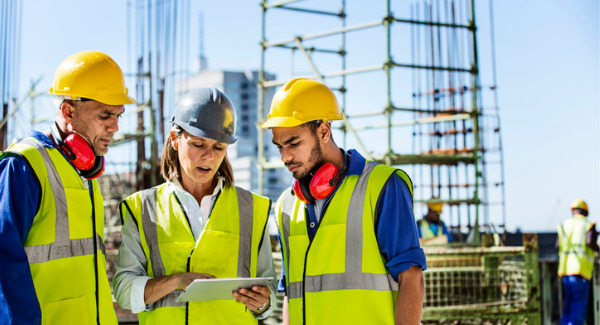 This interview was orginally published in BIMregister.
Your own platform for construction communication.
With Asite as a partner, your construction communication is well organized. BSI recently awarded Asite the 'BSI Kitemark' seal of approval for Building Information Modeling software. "With the platform developed by Asite, a project receives excellent support to comply with the BIM standard ISO 19650," says the certification institute. Arushan Mahendrakumar of Asite explains how he supports companies in their construction communication. The Asite Platform, which can be adapted to your requirements, provides a project overview, helping you work faster, reduce costs, and deliver your project with all its necessary documents.
At the end of March, Asite was one of the first companies in the world to be certified with the new BIM Software standard. With the Kitemark awarded by BSI (British Standard Institution), the company achieves exceptionally high product and service quality. Asite demonstrates that it plays a key role by offering its platform, knowledge, and experience in implementing the ISO 19650 standard in the (construction) industry. ISO 19650 is the standard for managing information over the entire life cycle of an asset using Building Information Model (BIM).
"We are proud of the result that we achieved," said Asite Digital Engineering Lead Arushan Mahendrakumar. "Although we had to do relatively little for it because we had been working according to ISO 19650 for years and help companies to do this with our platform."
As Asite also wants to expand its services to continental Europe, it has opted for the Netherlands as a spearhead. According to the company, work with BIM is well advanced in the Netherlands and Asite recently joined BIMregister to connect with key BIM players in the Netherlands.

Platform Geared to the 'BIM Alliance' and is 'BIM Smart'
Asite works for clients in civil engineering, housing, transport, rail infrastructure, and construction. It ensures that companies can access their data anytime, anywhere via the cloud, mobile app, or local computer.
In the United Kingdom, companies are obliged to work according to standards for large-scale and government projects. BIM has proven to be a good information carrier in this regard as companies work with the ISO 19650 standard. Here, Asite essentially standardizes communication and information throughout the project. From the subject to the transfer of the information, Asite manages the collaboration between parties.
Asite provides Supply Chain Management (SCM), Project Portfolio Management (PPM), Asset Performance Management (APM) and offers a platform for communication around BIM.
Mahendrakumar: "We are building a platform that fits the project and that gives participants access to information that is relevant to them. We offer the parties the building blocks with which they can set up their construction communication and documentation in their own way. Smart software unlocks the building model and the communication around it. Every customer has their own preferences as to how they want to set this up. We don't tell them how to do it. They know this best themselves, but we help them to maintain the information flows in such a way that they comply with the ISO standard, or their own wishes. At the end of the construction process there is a transferable document in which all information is clearly arranged, according to the standards. stored."
Asite builds good relationships with its customers. Working with Asite Platform saves time, results in fewer errors, and reduces costs. At the start of each project, both parties come together to implement the right solution. Asite searches for the most efficient way of working for the project. The Asite team creates secure communication channels and not only ensure the platform is technically well put together, but ensure it also fits in with the company culture and the partnership of the project.
They listen carefully to the sentiment surrounding a project and respond to this with their experience. The platform adapts and is aligned with the 'BIM alliance,' and is 'BIM smart.'

No Complicated Subscriptions
"With Asite, anyone can view the model and see the underlying communication without expensive licenses or complicated subscriptions. Anyone can view the drawings without having to run heavy software packages. We facilitate the working method and communication between teams. The number of licenses, workstations, or use of storage space should not be the limiting factor. Everyone should be able to use it," says Mahendrakumar.
For a project or a conglomerate of companies around a construction project, Asite determines the costs based on a percentage of the project costs. For a company, Asite determines costs based on a percentage of annual turnover.
If this doesn't match their project portfolio (numerous income streams are possible), Asite calculates the total construction value a company is involved in per year and bases the costs on that. This style of agreement gives organizations unlimited access to their projects and unlimited storage space for their data.
Asite assigns a contact during the implementation process. During the project, there is a customer success liaison from Asite as a point of contact. In addition, there is a support service available day and night via email and telephone and a sales manager for other questions.

Secure Data Storage During the Design and Construction Phase
"We work a lot for the government in the UK, so we have to be very strict about security and meet all criteria," says Mahendrakumar. "Parties such as the UK Atomic Authority, for which we work, demand a high degree of security, and we also offer this to our other customers. We provide secure backups and data protection." During the design and construction phase, Asite ensures that the data storage and communication are strictly and securely adhered to the proofiles defined by the organization or project.

---
BIM Strategy Within Asite
Asite helps companies who have to comply with the ISO 19650 standard by 2022 with government construction projects. These cover about 30% of the assignments and include projects on buildings, roads, bridges, and tunnels.

Mahendrakumar: "We listen to our customers and translate their wishes into new functionality. Asite is constantly adding updates to its software, driven by the demands of our customers and the market. Asite has teams specialized in various functions to drive updates and improvements."
Mahendrakumar has a background in civil engineering and programming. He knows the implementation practice and what software is needed to support it. He leads digital engineering and BIM strategy within Asite. In addition, he works on the development of workflow programs in project development and supervises the customer service department. Mahendrakumar regularly gives lectures on communication and BIM.
Asite expects that in the Netherlands, too, higher requirements will soon be imposed on the communication and documentation of construction projects based on the Building Information Model. With the certified Asite Platform, Dutch companies now receive support from a top English player in market.
Ready to learn more about BIM and how the Asite Platform can help you become ISO 19650 compliant? Get started now.
Asite Insights in your inbox.
Sign up for product news and our latest insights published monthly. It's a newsletter so hot, even global warming can't keep up.