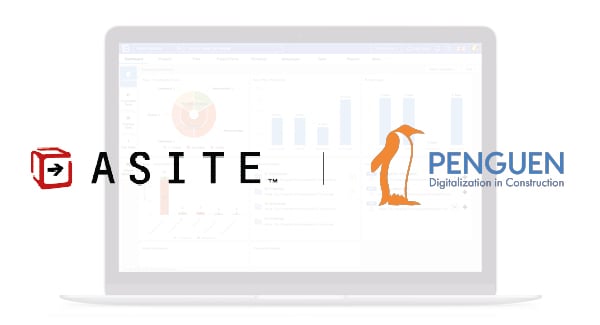 Penguen, who specialize in helping to digitally transform construction, will support Asite with their European expansion
London, UK and Istanbul, Turkey (November 2020) – Asite is thrilled to join forces with Penguen, a construction technology and consulting company that specializes in digital transformation in the construction sector.
Penguen will partner with Asite, becoming a Value-Added Reseller for the Turkish market and Turkish contractors working globally, as part of the growing Asite Ecosystem. Penguen and Asite will work together to bring the Asite Platform to the construction industry across the region and helping to streamline processes and improve collaboration.
Nathan Doughty, CEO of Asite said:
"Our business is developing exponentially in Europe, the Middle East and Africa (EMEA), and we value strategic partnerships with highly reputable companies. This has led us to partnering with Penguen and we appreciate their experience not only in the Turkish market but all over EMEA.

We have been keeping an eye on Turkish contractors and capital projects for a while now as they figure prominently in the ENR 250 and other global industry indexes. In addition to our cooperation with Penguen, we have localized our product portfolio in Turkish and we will offer consulting and support in Turkish as well. We are strong believers in the huge potential of the Turkish market and Turkish contractors who have delivered over 8,900 capital projects in 113 countries since 1973"
Tolga Canozkan and Ozan Kucuk, Co-Founders of Penguen Bilişim said:
"As Penguen Bilişim(Contech), we had a chance to digitalize over 45 construction projects in 11 countries since 2010. We not only offered software solutions but also played trusted advisor roles during the digital transformation of construction companies with our experienced technical and consulting teams.

Our customers have been asking for interoperability, intelligent reporting, mobility, basically a complete solution for a while. A solution which covers variety needs and is flexible at the same time; from BIM to Document Control, Dashboards and Intelligent Reporting to Automated Workflows. This is how we crossed paths with Asite.

Asite's visionary approach and continous innovation mixing with its customer centric approach are main values that differ Asite from competition. We are so looking forward to extending our partnership and accomplishing "firsts" with Asite."
Penguen is an industry-leading team of engineering and architecture professionals, with experience in the construction industry as well as software and technology applications providing services to clients across several countries.
Working to increase client efficiency and profitability, Penguen has over 10 years' experience working with organizations across the construction industry to digitize construction sites and help facilitate digital transformation.
The new partnership will support Asite and its product offerings in the region, including the Asite Project Portfolio Management (PPM) solution, the Asite Supply Chain Management (SCM) solution, and the Asite Asset Performance Management solution (APM).
The Asite Common Data Environment (CDE), as part of the PPM family, provides clients with shared visibility of their capital projects, facilitating collaboration and ensuring the project maintains a single source of truth. This includes document management, collaborative BIM, and Field capabilities.
As part of the SCM family, the Asite Supplier Relationship Management (SRM) solution provides a number of integrated applications, which facilitate the bi-directional flow of information between stakeholders and contractors, allowing clients to manage their supply chains digitally. Digital Twins are also supported through the APM solution which allows teams to monitor their complex and ever-changing register of capital assets without time-consuming and expensive audits.
---
About Asite
Asite's vision is to connect people and help the world build better.
Asite's open construction platform enables organizations working on capital projects to come together, plan, design, and build with seamless information sharing across the entire supply chain.
Asite's comprehensive range of solutions connect dispersed teams across the lifecycle of capital assets, enabling them to build better and build resilience. With Asite, capital project owners stay at the forefront of innovation, maintaining a golden thread of information throughout a project to facilitate the creation of digital twins.
Asite is headquartered in London's Tech City with regional offices in New York, Houston, Dubai, Riyadh, Sydney, Hong Kong, and Ahmedabad.
For more information about Asite, please contact sales@asite.com
About Penguen Bilişim
Penguen is helping construction companies build civilizations in a more quality, cost effective and less time consuming way. Penguen is looking for an answer to "what can tech do to the cities? to construction? to enrich our lives, and to empower us?"
We are huge believers in collaboration and have 10+ years' experience in digital transformation in which we digitalized over 45 projects in 11 countries since 2010. Our experienced consulting team blends industry knowhow with software expertise in order to increase profitability and efficiency of construction industry. Combination of industry specific experience and technology is so empowering that we can offer solutions.
At Penguen we extremely do value collaboration, communication and coordination. Penguen is founder and board member of buildingSMART Turkiye, member of the Leading NGO of the Turkish construction sector Association of Turkish Construction Material Producers and Software Industrialists Association of Turkiye.
Penguen is headquartered in beautiful city of Istanbul.
For details https://www.penguen.ist/yazilim/
For more information about Penguen, please contact info@penguen.ist
Asite Insights in your inbox.
Sign up for product news and our latest insights published monthly. It's a newsletter so hot, even global warming can't keep up.