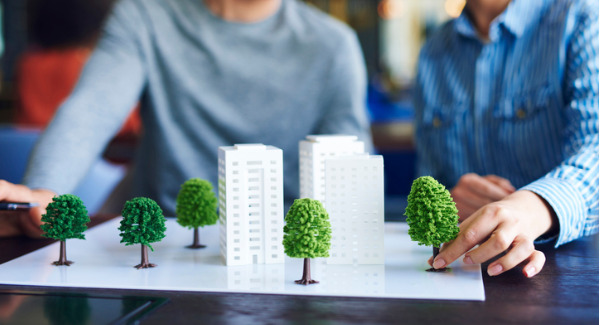 Health and safety initiatives are nothing new in the engineering and construction industry. But maximizing ESG—environmental, social, and governance (ESG)—efforts and compliance is becoming big business.
How big? At the start of 2020, global sustainable investment—investment approaches that consider ESG factors—reached $35.3 trillion in five major markets, a 15% increase over two years, according to research from the Global Sustainable Investment Alliance.
However, ESG compliance is not a tick-the-box exercise. Running a one-day health and safety course or introducing recycling bins on-site, while are good initiatives, will not cut it alone. The focus has shifted from employee volunteer efforts to integrating ESG into business strategy.
According to EY— the multinational professional services network—recognition of ESG's importance in growth and risk management has grown. Those in the AECO industry must consider how to make a lasting impact.
This means stakeholders are placing huge pressure on companies of all sizes and industries to recognize, adhere to, improve, measure, and report performance against ESG metrics, according to World Finance.
With ESG compliance becoming a dominant factor across industries, let's take a deeper dive into what it is and means for the construction industry.
---
What is ESG?
ESG is a set of standards for how a company operates. It is quickly becoming the go-to method for evaluating a company by investors.
As the name suggests, the standards are broken down into three categories—environmental, social, and governance.
- Environmental criteria focus on how the organization operates in regards to nature.
- Social criteria focus on an organization's relationships—with employees, customers, the supply chain—and its impact on its local community.
- Governance criteria focus on how the organization is run, such as its leadership team's makeup, codes of conduct, and shareholder rights.
Under each of these three categories, there are many issues for construction organizations to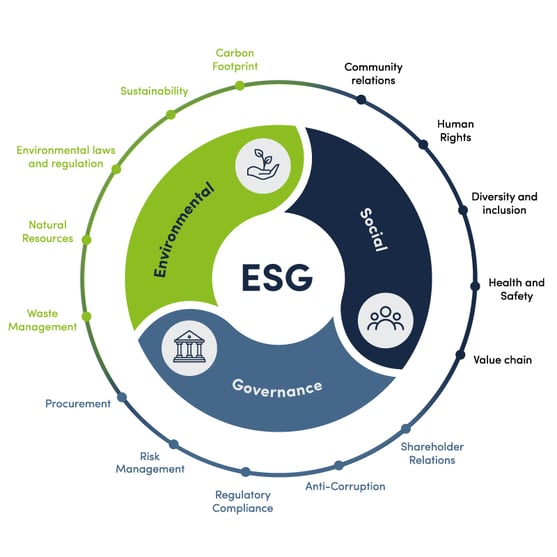 These metrics are shaping the development and operation of businesses worldwide.
Industries and organizations are increasingly challenged by ESG regulations, required reporting, and wider societal demands, and the construction industry is no different.
---
What Does ESG Compliance Mean for the Construction Industry?
As one of the world's biggest carbon emitters—responsible for 39% of carbon emissions globally and using 32% of the world's natural resources—it is clear the construction industry has a lot of work to do regarding the environmental aspect of ESG compliance.
However, it is not all environmental. Across the three categories, the construction industry is being charged with improving performance.
EY lists the construction industry's core pillars for ESG as:
- Environmental—carbon reduction and introducing environmental initiatives.
- Social—health and safety on the construction site and high reliance on labor
- Governance—large and complex contracts, competitive bidding processes, and engagement with all stakeholders to prevent bribery, corruption, and anticompetitive behaviors.
In some parts, improving these areas has already started, and construction technology is leading the charge.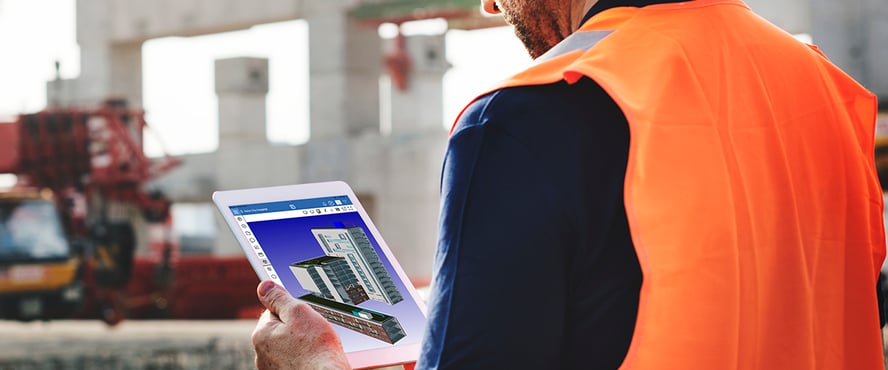 How ConTech is Improving ESG Compliance
A Global Data poll found 61% of those working in the industry said that they had witnessed clients increasingly demand the use of sustainable construction methods. At the same time, the COP26 summit saw digital twins being pushed to the top of the agenda to mitigate the climate crisis.
Mobile tools—tablets and smartphones—are making a huge difference to on-site safety in improving social criteria. With the ability to log into your project management software on-site, hazards can be communicated and resolved in a few simple clicks. In fact, 79% of contractors believe that advanced technologies can enhance safety, according to USG + U.S. Chamber of Commerce.
Many interactions between stakeholders—contracts, bidding, and eprocurement—are moving online to improve performance on the governance side of things. This eliminates ambiguity. All information is stored in a central location, accessible to all parties. Here, risk is reduced, and the blame game doesn't get a chance to start up.
While work is being done to improve performance across all three categories, there is still a long way to go. As well as introducing initiatives, the construction industry needs to make an overarching commitment. And it needs to be one that can be tracked.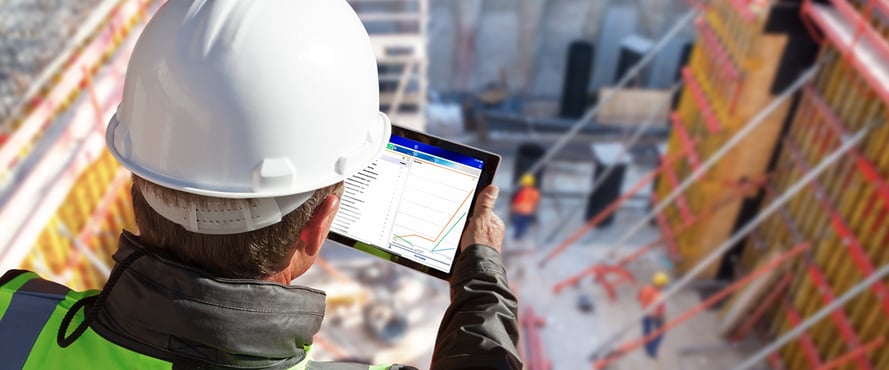 Asite and ESG Compliance
Supporting your organization and projects in becoming ESG compliant needn't be a daunting undertaking. At Asite, we have been helping our clients meet their ESG goals and improve overall performance.
According to one of our NHS projects, they chose the Asite Platform because the cloud-based platform aligns with their sustainability and environmental vision. By selecting a more sustainable system—the Asite Platform—the project team could collaborate without the need for travel, specific servers, or local computers. This reduced project spend and prevented pandemic-induced delays from throwing the project off-track.
The Asite Platform also helped a Heathrow project deliver on its carbon footprint reduction goals to align with the International Finance Corporation (IFC) Sustainable Development Goals (SDGs). Here, the Asite open API supported this delivery by allowing different solutions used on the project to communicate automatically—eliminating the need for unsustainable manual processes.
Finally, one of Asite's key estate managers also achieved similar results.
Before using Asite, this key university project was routinely losing valuable insights as previous projects were not connecting with future projects. This meant project teams could not use data from an old project to drive better decision-making for future activity. With the Asite Platform, data could be gathered, stored, and used again, minimizing mistakes, implementing best practices, and reducing project spend.
Here Asite's Microsoft Power BI integration comes into play. Here, the integration allows Asite users to aggregate, analyze, visualize, and share their data on Asite via Power BI reports. The accessibility to this data will enable users to make more data-driven informed decisions. Health and safety, defects, and Project Financials dashboards can be customized to give users greater project visibility and improve performance.
Making ESG Part of Your Business Strategy
A survey by EY found that 98% of investors evaluate ESG performance based on corporate disclosures. This makes becoming compliant and monitoring and reporting on your ESG compliance vital.
With the right tech and tools at your disposal, this can become a more manageable task.
Now is the time to ask the tough questions: What goals are you setting? Do you have a CEO endorsement? Are you participating in industry-wide initiatives? Do you have the right tools to become ESG compliant.
Take the next step. Learn more about how construction technology can step up your ESG compliance now.
Asite Insights in your inbox.
Sign up for product news and our latest insights published monthly. It's a newsletter so hot, even global warming can't keep up.