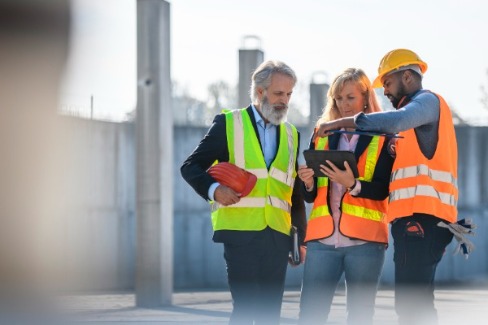 Is bad document management eating into your time and budget? Or perhaps collaboration is your team's Achilles' heel?
According to Dropbox Business, in the U.S. construction industry, 25% of work time is spent on tasks that don't add critical value. This, along with other team-specific challenges, resulted in 32% wasted time and 28% comprised speed to delivery.
So, what if there was a way to put an end to these issues, embrace collaboration, and improve your project's performance? Well, there is, and it's called a Common Data Environment.
What is a Common Data Environment?
A Common Data Environment (CDE) is a central repository where construction project information is housed. It is the single source of information for the project and is used to collect, manage, collaborate, and share project information with your entire project team.
Often, a CDE is cloud-based, meaning it can be easily updated throughout the asset lifecycle and accessible to your team members in a few simple clicks.
Ultimately, a CDE is your one-stop-shop for project information, holding all relevant information—documents, contracts, reports, bids, timesheets, snags, model information, and more—in a single secure location. With a single source of truth created and maintained by your CDE, you can get ready to enjoy a whole host of benefits.
How essential is a CDE to a construction project KPMG states that between £5.10 and £6 or $6.70 and $7.90 of direct labor productivity gains could be made for every £1 or $1 invested in information management. Cost savings of between 1.6% to 18% at different asset lifecycle stages are also possible.
Money is not the only thing that can be saved. According to a recent Asite survey, document controllers using the Asite CDE stated they saved over nine hours a week on average on their document management. When it came to on site staff, they enjoyed timesaving at least three hours a week by using the Asite Platform.
With these time and cost savings up for grabs, here are seven more ways a CDE can improve how you and your team improve performance: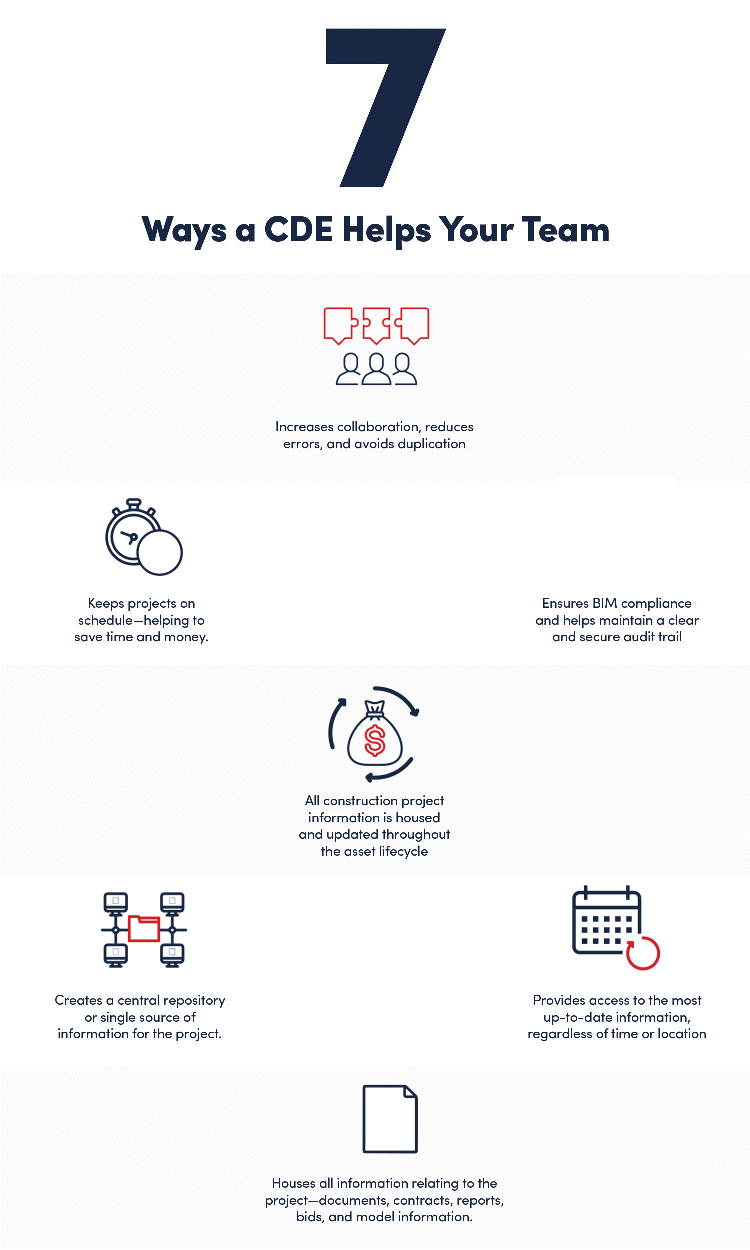 *To download a pdf of this infographic, please click here.
How the Asite CDE is Transforming Projects Globally
The Asite Common Data Environment helps projects better manage their information. Sitting in the Project Portfolio Management solution, the CDE keeps project teams on the same page by providing organizations and their extended supply chain with shared visibility of their projects.
As well as being easily integrated with other solutions, the industry-leading solution is BIM-compliant and is used on some of the most significant projects around the world, including railways, metros, highways, and airports.
Northern Natural Gas utilizes the Asite Platform across their interstate pipeline system. Supported by the Asite CDE, Asite allows organizations to work from a single source of truth and provides visibility across the extended supply chain. The digital solution supports Northern's processes to ensure compliance with regulatory requirements.
New York's Metropolitan Transport Authority (MTA) also uses the Asite CDE. It enables project teams to share, collaborate, communicate, and report on data across over 300 active projects. The secure and robust solution works to connect the MTA's substantial supply chain to support the modernization of the public transport system. This positively impacts the lives of its nine million daily customers.
Further afield in the UAE, Asite is used by Aldar, the leading real estate developer in Abu Dhabi. Here, the Asite CDE provides a holistic view across Aldar's vast and wide-ranging capital projects, including streamlined document management to store, track, manage, and access all project assets from one centralized repository.
Is your project next? Want to start reaping the rewards of a CDE? Discover how a CDE can benefit not only your team but boost your bottom line.  Download your CDE report here.
Asite Insights in your inbox.
Sign up for product news and our latest insights published monthly. It's a newsletter so hot, even global warming can't keep up.